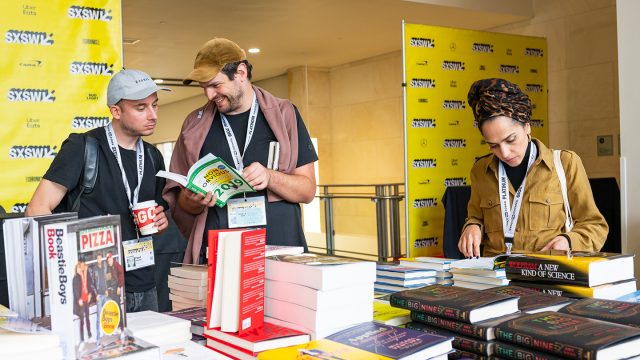 Temperatures are already rising here in Texas. With summer just around the corner, we've created the perfect summer reading list comprised of best-selling books from our 2019 speakers and SXSW Bookstore. Get ready to kick back, enjoy the sun, and read some of the buzziest and most forward-thinking authors of 2019.
Each year in March, the SXSW Conference brings together creative thinkers and industry leaders from around the world. Outside of sessions, attendees have the ability to meet their favorite authors and speakers during book signings at the SXSW Bookstore. Featuring hundreds of titles, the bookstore showcases works of all genres from SXSW speakers including Stacey Abrams, Deb Gabor, Michael Pollan, Amy Webb and more.
Get to know some of the amazing speakers that joined us in Austin for SXSW 2019 and browse our list of best-selling books below.
SXSW 2019 Best-Sellers
Lead from the Outside – Stacey Abrams
Lead from the Outside is the handbook for outsiders, written with an eye toward the challenges that hinder women, people of color, the working class, members of the LGBTQ community, and millennials ready to create change. Watch National political trailblazer Stacey Abrams discuss her book and more during her session at SXSW 2019.
The Big Nine – Amy Webb
Amy Webb reveals the pervasive, invisible ways in which the foundations of AI are broken. Within our lifetimes, AI will, by design, begin to behave unpredictably, thinking and acting in ways which defy human logic. Watch the full SXSW session to learn more about the "big nine" corporations jeopardizing our future for short term financial gain.
Non-Obvious 2019: How to Predict Trends and Win the Future – Rohit Bhargava
In this latest edition of the annual WSJ best-seller, trend curator Rohit Bhargava reveals his award winning process for curating trends along with featuring 15 new trends changing the world. Discover how to use the power of non-obvious thinking to grow your business, make a bigger impact in the world and even predict the future.
Team Human – Douglas Rushkoff
In Team Human, digital theorist Douglas Rushkoff discusses civilization and human nature. In one hundred lean and incisive statements, he argues that we are social creatures that succeed through collaboration.
Keep Going – Austin Kleon
New York Times best-selling author Austin Kleon has created a guide to maintaining the creative spirit. Keep Going offers timeless, practical, and ethical principles for anyone trying to sustain a meaningful and productive life.
How to Change Your Mind – Michael Pollan
A blend of science, memoir, travel writing, history, and medicine; Michael Pollan explores the human brain and our concept of 'self' in his most recent work, How to Change Your Mind.
Branding is Sex – Deb Gabor
Deb Gabor explains how proper brand positioning gets your customers in the mood. Get your sexy back and move from being "just friends" with your customers to being long-term "friends with benefits." Branding Is Sex provides you with a concrete foundation and a basic how-to plan for building or re-igniting your brand without needing a PhD.
Limitless – Laura Gassner Otting
What if success doesn't equal happiness? In her book, Laura Gassner Otting teaches you how to take actionable steps to transform your vision for your career and align your energies and actions to do meaningful work. Often described as "a kick in the ass surrounded by a warm hug," Otting brings both tough love and wisdom and offers a no-holds-barred look at what it really takes to be better at work and life.
Wisdom@Work: The Making of a Modern Elder – Chip Conley
In Wisdom@Work: The Making of a Modern Elder, Chip Conley creates an open dialogue about ageism in the workplace and differentiates the term "elder" from "elderly." Learn how to become indispensable in the second half of your working life.
Zucked: Waking Up to the Facebook Catastrophe – Roger McNamee
Roger McNamee, a noted tech venture capitalist, early mentor to Mark Zuckerberg and investor in Facebook, woke up to the serious damage Facebook was doing to our society and set out to try to stop it. Watch the full SXSW 2019 Keynote to learn more about McNamee's hard hitting account of the existential threat Facebook poses.
Heartificial Empathy – Minter Dial
Heartificial Empathy explores the power of empathy, one of the most untapped levers of productivity in business. In the new tech-infused era, where companies continue to scramble with digital transformation, empathy is a killer app. Yet, it can't be taught. Empathy can only be learned. Listen to Minter Dial's full session discussing empathy from SXSW 2019.
The Product Field Reference Guide — Klaus-Peter Frahm, Michael Schieben & Wolfgang Wopperer-Beholz
This beautifully designed book is for product people working in complex environments, be it as CEOs or product managers, founders or consultants. It is for people working in product management, UX, marketing, and engineering who know that communication and alignment across disciplines and silos is often hindered by a lack of shared vocabulary and big pictures. The Reference Guide is not for people looking for silver bullets or the next buzzword to monetize, nor is it for people unwilling to engage with the topic of product innovation intellectually. Listen to the full SXSW session and gain new insight on the very nature of product innovation.
Get inspired by a wide array of visionaries from SXSW 2019. Watch videos from the event on our YouTube channel and explore our Photo Galleries. Stay up to date on everything SXSW and follow us on Facebook, Twitter, Instagram and SXSW News.
Photo by Ann Alva Wieding
The post Hot off the Press: Your Summer Reading List of Best-Sellers from SXSW Speakers appeared first on SXSW.