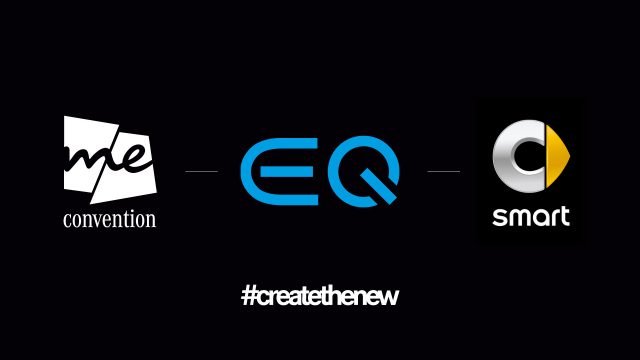 Inspiration, ideas and intriguing personalities — there just isn't enough time to see everything and everyone you find interesting at SXSW. To save you some time and make your visit as valuable as possible, me Convention, EQ, and smart have put together an exciting plan for you to get ready for the future at SXSW 2019.
Join the forward-thinking movement
First off, gather inspiration on how to prosper in a world that is changing at an exponential rate and cast your vote on the most important skills of tomorrow in the me Convention forest in the ACC. This interactive installation — open March 8 – 16 — is filled with inspiring ideas and new perspectives on our shared future, and gives you a first glimpse of this year's upcoming me Convention from September 11 – 13 in Frankfurt. This hands-on conference across the pond brings together the brightest minds to debate, devise and develop the scientific, societal and global solutions of tomorrow.
Next up, the smart fail-forward slam welcomes you on March 9 with three renowned experts and very special guest, pro skater and entrepreneur Paul Rodriguez. The fail-forward slam brings world-leading advice and take-home lessons from the smart urban pioneers pivot program to the audience. Three selected start-ups and their three cutting-edge advisors from the program will share their insights from the workshops held the day before. Join the fail-forward slam on March 9 at the Hilton Hotel in room #406 from 5 to 6 pm, hosted by Shira Lazar, the well-known creator, executive producer and host of What's Trending on YouTube, to hear their stories, learn from their lessons and get inspired! Apply now for the pivot program HERE.
Experience the new era of mobility at the EQ Home Opening the doors to its EQ Home on March 9, Mercedes-Benz' new brand for electric mobility creates a space for all great minds out there to gather and exchange their ideas and inspirations during SXSW. Get to know multidisciplinary innovators while you engage with energizing art installations, game-changing performances, and the all-new electric Mercedes-Benz EQC, from March 9 -11 — all accompanied by delicious BBQ. Stop by the EQ Home at 1205 Cesar Chavez Street.
Find new solutions for our future cities The sky's the limit! Think beyond our two-dimensional city traffic together with smart, and find new solutions for urban mobility to ease the city life. Check out the smart EQ fortwo performance on 6th Street —between San Jacinto and Trinity—from March 10 – 12 each day at 3 pm. Enjoy art and music performances
Just around the corner, on Trinity St / 6th Street, you can experience music like never before! Visit the opening of the SXSW Conference's music tracks on March 12 with the smart mobile disco and a very special guest DJ from 4:30 – 6:30 pm! The smart mobile disco is a smart EQ fortwo turned into a portable club installation featuring boasting big sound, state-of-the-art lighting, and a DJ booth suspended in the air over a very special dancefloor: smart's 3D vision of a futuristic city.
But the party doesn't stop on March 12! After the kick-off show of the smart mobile disco, local DJs will take over to keep the street thumping for the following four days (March 13 to 16, 4:30 to 6:30 pm). Back in the ACC on March 13, a unique artist will turn your joint feedback in the me Convention forest into art. Enjoy his live performance and wander through his installation from March 14 to 16 to get pumped with inspiration one more time before you leave.
Where, what, when?
me Convention forest & booth: March 8–16, 9:00 am – 6:00 pm, Austin Convention Center at /// partied.routine.refers
smart's fail-forward startup slam: March 9, 5:00 – 6:00 pm, 500 E 4th St at Hilton Hotel, room #406 at /// teach.famed.happier
EQ Home: March 9 – 11, 11:00 am – 12:00 am, 1205 Cesar Chavez Street at /// vanilla.hype.birds
smart EQ fortwo performance: March 10 – 12, 3:00 pm, on 6th Street at /// basin.prepares.navy
smart mobile disco: March 12 – 16, 4:30 – 5:30 pm on Trinity St / 6th Street at /// fled.prompts.neck
me Convention art performance: March 13, 9:00 am–6:00 pm, Austin Convention Center at /// partied.routine.refers
Photo and content provided by Mercedes-Benz
The post Here is Your Ultimate Plan to #createthenew at SXSW appeared first on SXSW.