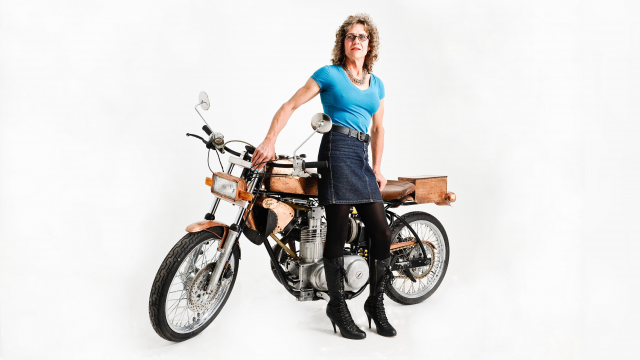 The 2019 SXSW Film Festival is almost upon us and we can't wait to have you here! Before you make your way down to Austin, TX, get to know films from our lineup a little bit better with our Filmmaker In Focus series. Dive into our Q&A with one of the directors of Why Can't I Be Me? Around You, Harrod Blank. Blank co-directs the film with Sjoerd Dijk. Why Can't I Be Me? Around You will World Premiere in Documentary Feature Competition.
In your own words, what does this film mean to you?
Harrod Blank: My work so far has been on art cars and really about identity and so this film fits right in there. It's about being true to your own identity at all cost.
What motivated you to tell this story?
HB: I broke down outside of Albuquerque, NM in the Camera Van on the last city of the theatrical tour of Automorphosis (film on art cars). The only mechanic that could fix the van was Rusty who said, "I can fix your van, but there is one thing you got to know…I've got breasts." Well then I became the assistant and as I was draining the oil Rusty said, "Can you believe that my father took me off salary and is only paying me by the hour now just because I got these breasts? And all my motorcycle gang friends abandoned me because of these breasts." I just couldn't believe that. Because I am a filmmaker, I thought "geez I should really film this," and I went to Walmart to buy a camera and start filming.
What do you want the audience to take away?
HB: Being your true self is worth what ever it costs.
What made you choose SXSW to showcase your film to the world?
AGB: I have a lot of friends in Austin and have been to SXSW a few times now!
Add Why Can't I Be Me? Around You to your SXSW Schedule. Stay tuned as we share more interviews with our SXSW 2019 filmmakers!
Join Us For SXSW 2019
Register and book your hotel now to save! The Film Badge gets you primary access to all SXSW Film events including Film Keynotes and Featured Sessions, world premieres, round tables, workshops, parties, and more. Over the course of nine days, the SXSW Film Festival hosts over 450 screenings! Film registrants also have primary access to Convergence events, including the Comedy Festival and nine unique Conference tracks, as well as secondary access to most Interactive and Music events.
Why Can't I Be Me? Around You – Mike Neese
The post Harrod Blank Tells Us How He Found His Documentary Subject – SXSW Filmmaker In Focus appeared first on SXSW.