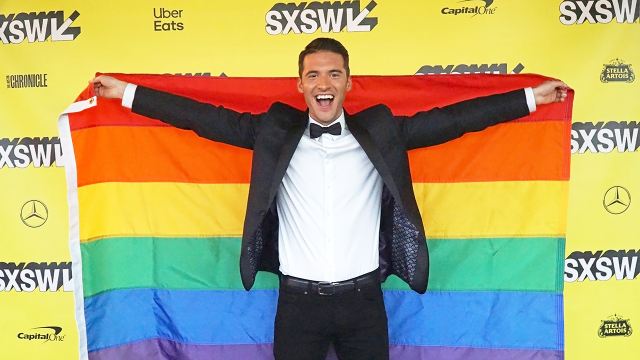 Each year at SXSW, industry leaders and creatives come together to celebrate the beauty and strength of the LGBTQ+ community in many forms – from performances and films to discussions exploring themes of gender identities in art and media, activism, and community building.
We know Pride month was in June, but here in Austin we're ready to celebrate Pride all summer! To get ready for Austin Pride this weekend, we're looking back on our LGBTQ+ – lesbian, gay, bisexual, transgender, queer – alumni that participated in SXSW 2019 across the Conference as well as the Film and Music festivals with a LGBTQ+ Alumni Photo Gallery.
2019 Highlights
At SXSW 2019, we welcomed back Recode editor-at-large, New York Times contributing opinion writer, and SXSW Interactive Hall of Fame Honoree Kara Swisher. Swisher sat down for two conversations this SXSW – one with Senator Amy Klobuchar in the Conversations About America's Future series, and one with comedian Kathy Griffin. In Griffin's SX debut, the pair delivered an unforgettable and uncensored Convergence Keynote in which they went behind the scenes on Griffin's infamous photo that changed her life and career as well as the aftermath of the series of events that unfolded in the controversial wake.
Out Magazine's "Out 100 2010" and Filmmaker Magazine's "25 New Faces of Independent Film 2006," PJ Raval has continually created films that center queerness and discussed his path towards finding his calling as a filmmaker during his Film Keynote. Raval also discussed the intersectionality of being an immigrant and a gay man in communities that didn't reflect him and how he decided to make the queer films that he wanted to see even though mentors and teachers were telling him not to.
We look forward to continuing to uplift and celebrate the diverse perspectives that the LGBTQ+ community brings to our industries and fields in our SXSW programming each year.
Check out photos from all over the event including King Princess, Phillip Picardi, Claud, Taylor Bennett, Jacob Tobia, Laura Jane Grace, and more!
Follow Along on Instagram
See if you can spot us in this year's Pride parade – we hope to see you out there! Can't join us in Austin yet? Tune into our Instagram to follow along with the celebration this weekend and beyond for more SX updates. For a sneak peek of what we'll be wearing, check out last year's PRIDE parade photo gallery!
Attend SXSW 2020
Join us for SXSW from March 13-22, 2020! Check out how to attend and plan your housing for SXSW 2020. Stay up-to-date on SXSW News by following us on Facebook, Twitter, and Instagram.
State of Pride – 2019 Documentary Spotlight – Featured Image by Ziv Kruger
The post Get Ready for Austin Pride With This LGBTQ+ Alumni Photo Gallery appeared first on SXSW.