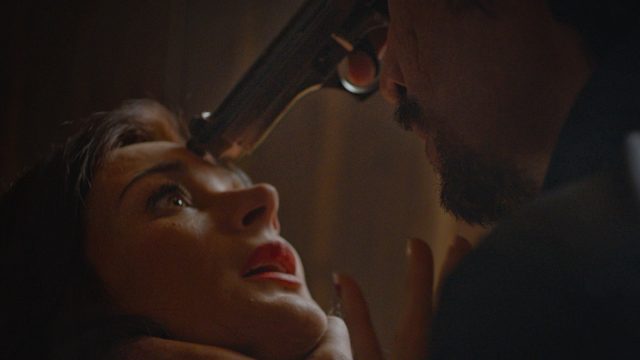 The 2019 SXSW Film Festival is almost upon us and we can't wait to have you here! Before you make your way down to Austin, TX, get to know films from our lineup a little bit better with our Filmmaker In Focus series. Dive into our Q&A with directors Gabriela Calvache as she tells us about her film La Mala Noche, which will World Premiere in the Global section.
In your own words, what does this film mean to you?
Gabriela Calvache: This movie is one of the most painful experiences that I've had in my life. During the time that I was researching for this film, I fell into depression caused by the deep sadness instilled in me after hearing all these heart-wrenching stories from these women who confided their stories to me. These women underwent the most atrocious situations we can possibly imagine. My challenge as a scriptwriter and director was to bring those stories to life through the character of Dana, who in La Mala Noche is an intelligent, brave woman with an endless drive to survive.
What motivated you to tell this story?
GC: There is a kind of slavery that feels much like freedom, disguising itself as work and willpower, but it is slavery nonetheless. Of all the stories of sexual exploitation that I had access to, the ones that most disturbed me are those of women who were not incarcerated but who "voluntarily" agreed to their exploitation. I was deeply moved by the case of Nigerian women who, after being captured by the mafia, work as prostitutes by themselves in distant countries without anyone forcing them to do so. So many women live under human traffickers, seemly free, obeying their captors, paying their fees. But, why? La Mala Noche is an attempt to understand the motivations of any women that must endure this situation.
What do you want the audience to take away?
GC: I would like to spark the audience's curiosity, make them leave the cinema with the sheer desire to search for more, to learn more and talk to other people about it, and gain a deeper understanding of the situation of the woman they've just met in this film. La Mala Noche is a film that seeks to bring forth questions rather than answers.
What were you doing when you found out you were coming to SXSW?
GC: I usually don't get headaches, but that Saturday, January 5th, my head ached so much that I could see lights in the air. My daughters took advantage of this opportunity to play doctors, and to be cured, I had my face covered in wet towels when I heard the phone beep. I peeked with one eye and saw that SXSW had written to me, it was Janet Pierson wishing me a happy new year… NO! It was Janet Pierson wishing me a good year and asking La Mala Noche to be part of the 2019 SXSW Film Festival. I jumped and ran with the towels on my head and there were two little doctors warning me not to get up so quickly! The headache vanished and I started laughing and crying at the same time.
What made you choose SXSW to showcase your film to the world?
GC: I like the globalized feeling that SXSW brings forth in their festivals. I dream so much of discovering the world through the films, talks, games and music showcased in this festival. I'm sure something inside me will be transformed at this event. I believe it's an incredible privilege and honor to be part of a festival that interprets cinema as part of a cultural system and not as an isolated art.
Add La Mala Noche to your SXSW Schedule. Stay tuned in the coming weeks as we share more interviews with our SXSW 2019 filmmakers!
Join Us For SXSW 2019
Register and book your hotel now to save! The Film Badge gets you primary access to all SXSW Film events including Film Keynotes and Featured Sessions, world premieres, round tables, workshops, parties, and more. Over the course of nine days, the SXSW Film Festival hosts over 450 screenings! Film registrants also have primary access to Convergence events, including the Comedy Festival and nine unique Conference tracks, as well as secondary access to most Interactive and Music events.
La Mala Noche – Photo by Gris Jordana
The post Gabriela Calvache Talks About Her Thriller La Mala Noche – SXSW Filmmaker In Focus appeared first on SXSW.