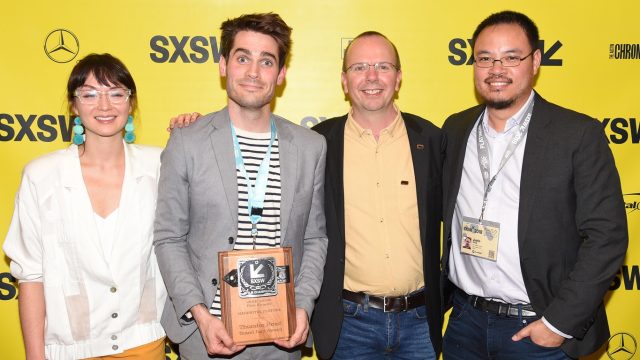 Filmmaker Jim Cummings is no stranger to the SXSW Film Festival. He's produced many films that have word premiered at the festival and last year he was included in our SXSW Film 25 Alumni Series. In 2016, Cummings received a Special Jury Recognition for Acting in the short Thunder Road, a film which he also directed, wrote, and edited. In 2017, he brought the short Robbery and then returned to SXSW in 2018 to unveil the feature version of Thunder Road where it won the Narrative Feature Grand Jury Prize!
Thunder Road opens in theaters on October 12 and will be available digitally on October 26. Before you watch it, read our interview with Cummings where he discusses his passion for SXSW and why Thunder Road was a story the world needed to see.
In your own words, what does this film mean to you?
Jim Cummings: Thunder Road is a love letter and apology note to my mom and to all of the other parents who had to put up with a difficult child. It's a document of my love for people, of life-affirming art, and also I hope that it's proof of life for DIY filmmaking.
What motivated you to tell this story?
JC: I really wanted to wake people up like Springsteen did. I wanted to encourage people to stop being spectators of their lives, to change if they're unhappy.
What do you want the audience to take away?
JC: Oh man. I don't know. I would love for people to be more considerate of their lives and their legacies here on this planet.
What were you doing when you found out you were coming to SXSW?
JC: I was editing the film. I was in my office mixing the parking lot monologue and I got the email and ran around the office shouting and giving high-fives.
What made you choose SXSW to showcase your film to the world?
JC: It is the perfect audience. I have screened the film around the world since, but the SXSW crowd appreciated the comedy and the drama, they don't take themselves too seriously, they love big comedy, but appreciate humanity on film, too. We got big laughs in the theater and big hugs in the lobby.
Do you have a past experience at SXSW that impacted your decision to come back?
JC: Seeing Krisha. I sprinted in a suit (this was when I was still a producer) to the Alamo Ritz at 11am, made it just in time, laughed throughout, and then spent 2 hours crying and walking around the river.
Describe what you were feeling during your SXSW premiere?
JC: Anxiety. Nobody had seen it in a crowd before. I didn't know if any of the jokes would land, I was nervous. There's a photograph that a friend took of me right outside the theater and I look white as a sheet. But then everybody loved it and I was able to sit back with my girlfriend and enjoy the movie with the crowd. It was great.
What was going through your head when Thunder Road took home the Narrative Feature Jury Award?
JC: So there's footage of it. A friend was filming on his phone and documented my sprint to stage. It's on my Vimeo. I keep saying "holy shit," sorry mom. I remember the way they announced it the jurors said, "This next award goes to a writer… director… and actor" and I put my face in my hands and my team kept slapping my back and for the rest of the night we celebrated and talked shop. It was unbelievable, still is! I'll stop in the middle of the day and turn to a friend and say "I can't believe we won."
Join Us For SXSW 2019
Register and book your hotel now to save! The Film Badge gets you primary access to all SXSW Film events including Film Keynotes and Featured Sessions, world premieres, round tables, workshops, parties, and more. Over the course of nine days, the SXSW Film Festival hosts over 450 screenings! Film registrants also have primary access to Convergence events, including the Comedy Festival and nine unique Conference tracks, as well as secondary access to most Interactive and Music events.
Follow us on Facebook, Twitter, Instagram, and SXSW News for the latest SXSW coverage.
See you in March!
Jim Cummings with the 2018 Narrative Feature Jury – Photo by Matt Winkelmeyer/Getty Images
The post Filmmaker Jim Cummings Talks About His SXSW 2018 Narrative Feature Jury Winner Thunder Road appeared first on SXSW.