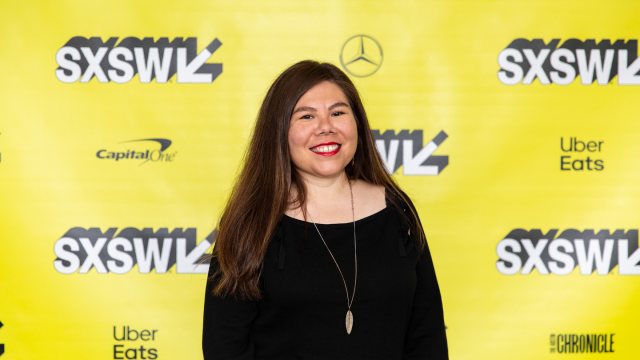 Chelsea Hernandez is a Mexican-American filmmaker based in Austin, Texas. Her work focuses on the unique perspectives of various issues and topics through the lens of ordinary people who challenge the status quo and injustices in this world.
Hernandez co-directed the film An Uncertain Future with Iliana Sosa which follows the story of two expectant mothers in Austin – one undocumented and one a US citizen – as they contend with increased ICE raids and mounting hostility towards immigrants under President Trump. The short screened in the 2018 Texas Shorts Competition and took home the Jury Award.
In 2019, Hernandez returned to the SXSW Film Festival for the world premiere of her documentary feature debut Building the American Dream. In this film, Hernandez shares the narratives of three immigrant families, who are rising up to seek justice and equality in an industry rife with exploitation.
"As a woman of color working in a male-dominated industry and living during tough political times, it was really important to me that my films, which are about immigrants living in the US, have a platform like SXSW to open hearts and minds."
Additionally, she also participated in the Conference as a speaker in the Featured Session: The Female Gaze with fellow female filmmakers Karen Maine and Kestrin Pantera.
Read Hernandez's SXSW memory below – and don't forget the Official Deadline to submit to the 2020 SXSW Film Festival is September 19.
"Growing up in Austin, major festivals like SXSW were just part of everyday life (#NBD). But as I got older and sought out a film career, I recognized the worldwide influence SXSW brought to the greater Austin area.
Since 2008, I attended SX every year as a movie-goer, watching 30 movies during the week. It was exciting, thought-provoking, and inspiring. I remember seeing The Eyes of Me, a documentary about students attending the Texas School for the Blind, which was down the street from where I lived. Director Keith Maitland was in attendance, as well as some of the students featured in the film. It was so uplifting to hear firsthand how Keith made the film and the influence the filmmaking process had on the participants. He put a spotlight on a place that I passed almost every day and uncovered the humanity behind those doors. That window into documentary filmmaking was what led me to carve a path for myself.
Fast forward to today, I am so thrilled to have brought a short and feature to SXSW. As a woman of color working in a male-dominated industry and living during tough political times, it was really important to me that my films, which are about immigrants living in the US, have a platform like SXSW to open hearts and minds, to have engaging conversations with the film participants and audiences. There's no other place like a film festival where you can watch a film and then meet the director and the people in the film right after! It's incredible.
The participants in my feature Building the American Dream all came in for the premiere. It was empowering for them to watch the film with a big audience, in a beautiful theater, and then walk up on stage to a standing ovation. That right there is the power of filmmaking with the platform of a fantastic festival like SXSW. The moment brought back those inspiring feelings I encountered back in 2009 when I saw The Eyes of Me. It was a full circle of emotions and validation that what I was doing as a filmmaker was right.
After that screening the festival continued to spark creativity and joy. Having industry and media reps at your fingertips was incredibly helpful as I navigated a new world with a feature film under my belt. The mix of technology and panels during the fest added much needed knowledge to my emerging career.
I was honored to speak about women in the film industry with Alicia Malone of Fandango and two incredible female filmmakers Kestrin Pantera (Mother's Little Helpers) and Karen Maine (Yes, God, Yes). It was a chance for us to be honest about the industry, but also laugh about it, too. I will always remember Kestrin's comment about motherhood and film. She thought having kids would throw her whole career out of whack, but it actually made her more organized and thus, 'Moms get shit done.'
After the week of films, panels, and parties, I felt warm and fuzzy inside by the memories created. I can't wait to create more films and more SXSW memories for years to come." — Chelsea Hernandez
Join Us in March
Register to attend SXSW 2020 and get ready to experience World Premieres, screening Q&As, Keynotes, Featured Sessions, and more.
Follow us on Facebook, Twitter, LinkedIn, Instagram, and SXSW News to stay current with all things SXSW.
Chelsea Hernandez during the World Premiere of Building the American Dream – Photo by Christy Pohler
The post Filmmaker Chelsea Hernandez Shares Her Love of Documentaries at SXSW appeared first on SXSW.