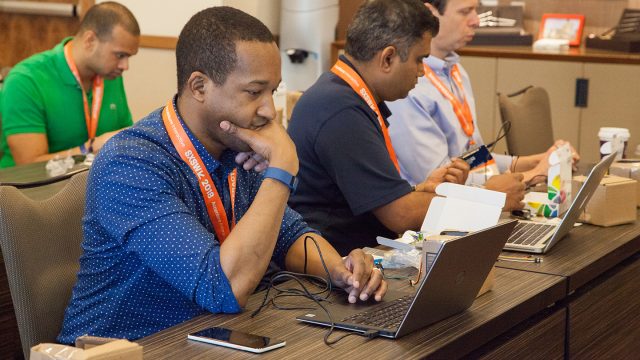 When we experience something we don't like, we fight back – it's a natural response. Even when the technology doesn't exist or the issue seems too daunting, we fight back anyway by any means necessary. The Intelligent Future Track embraces these transformative technologies that are embedded in everyday life.
Join us March 8-14 during the SXSW Conference for discussions exploring the impact of technology such as artificial intelligence, deep machine learning, connected devices, and more. These sessions feature individuals pushing back against corporate control, decision making outside of user control, and other seemingly uncontrollable problems. The harder the oppressive forces push, the more these individuals roll up their sleeves and fight back – and they're here to teach you how to follow their lead.
Intelligent Future Session Highlights
Want to Mend the Web? Equip the Users
With the dominance of invasive ads and biased algorithms, the web is no longer the safe haven it was meant to be. And although users are getting better at recognizing these pitfalls, the current solutions that are in place – letting the market sort things out or creating regulations that are difficult to agree on and enforce – aren't doing enough. But what if there was another option: rebalancing the end user-platform dynamic using cutting-edge tech and proven business models. Right now, platforms like Facebook have all the tools and control: advanced tracking technology, impenetrable algorithmic systems, and ubiquitous AI. But what if end users had the same power – what if users had an entire industry advocating just for them comprised of powerful tools to swat away pernicious bots, protect personal data, and negotiate with platforms. Richard Whitt, Mozilla Fellow, will discuss this vision where digital bodyguard meets digital fiduciary.
Take Back Control of Your Device & Online Life!
The internet has been a great invention in terms of giving power to the end user, but big players are trying to lock us into their ecosystems. Thankfully, Europe has anticipated some of these threats and has adopted regulations on net neutrality and personal data – but we have to prepare for the next threat: the tightening control on devices' access to the internet and our freedom to choose. Regulations already exist that unfairly restrict our devices and app stores, but soon voice assistants will make everything so comfortable that users will become complacent letting them choose for us. Sébastien Soriano, Chairman of Arcep, will discuss how to take back control without impeding innovation.
Reforming Civilization With AI
Since the beginning of civilization, humanity has experienced rapid growth and expansion, and after each "revolution" we have lived longer, healthier, and more fulfilling lives. Currently, we're on the brink of another revolution, and AI sits at that revolution's core. How do we prepare, and what changes will this revolution usher in? Shalev Lifshitz, TKS Activator at The Knowledge Society (TKS), is one of the youngest AI researchers in the world, and at only 16 is working on a breakthrough that will pave the way towards a new AI era. In this talk, he will showcase how AI is driving this revolution and disrupting industries – all while striving towards human-level intelligence.
Going Small To Make Big Change: Future Of Nanotech
Have you ever wondered how some of the most complex problems in industries like healthcare, energy, agriculture, and more have started? The short answer is that their root causes start on a nanoscale – a scale that is governed by quantum mechanics and nanoscience. Imagine being able to fundamentally understand how nanoscience works and being able to leverage it to unlock the secrets to solving some of the most complex issues of our time. Samarth Athreya, 15-year-old TKS Activator at The Knowledge Society (TKS), will speak to how he is leveraging the power of nanotechnology to solve some of the worlds most important issues.
Reversing Aging with CRISPR-Cas
For many diseases, aging is the main risk factor, from cardiovascular diseases to cancer. In light of this problem, Hannah Le, the 18-year-old TKS Activator at The Knowledge Society (TKS), was compelled to try to discover whether we can reverse aging using a novel genetic engineering tool called CRISPR-Cas. With this tool in hand, Le was able to double the lifespan of fruit flies by editing only two genes. By successfully completing her experiment, Le's work joins thousands of experiments around the world where we can successfully reverse aging in small animals. The future of this tech is bright and moving towards scaling up to eventually be able to prolong human life.
Check out other Intelligent Future sessions as well as other Keynotes and Featured Speakers like Bruce Sterling, Douglas Rushkoff, Joanna Shields, and Apollo 50: Celebrating the Past to Awaken the Future:
Browse More Intelligent Future Sessions
Enjoy primary access to all Intelligent Future Sessions as well as other Conference Sessions with an Interactive badge, and secondary access to most other events. For primary access to everything the SXSW Conference and Festivals have to offer, a Platinum badge will have you covered.
Crossover Track Recommendations
Learn more and unlock your badge's full potential when you explore sessions on the other 25 Conference Tracks that relate back to Intelligent Future:
Attend SXSW 2019
So, are we going to see you in March?
Get your SXSW Badge and reserve your hotel today to attend SXSW 2019 and experience these Conference sessions along with 10 days of screenings, showcases, exhibitions, networking, and more this March 8-17 in Austin, TX.
Follow us on Facebook, Twitter, Instagram, and SXSW News to stay current with all things SXSW.
Featured Image by Carol Watson
The post Creating Technology for an Intelligent Future appeared first on SXSW.