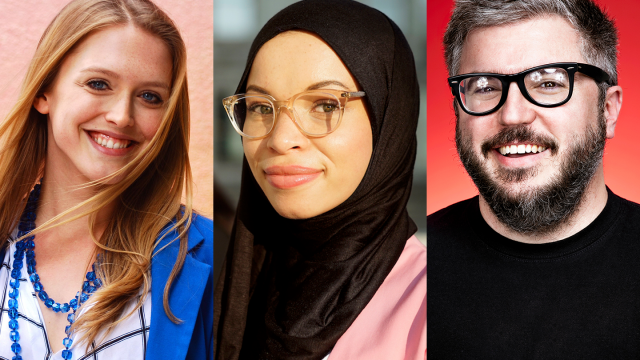 The SXSW Conference includes 24 programming tracks divided amongst Interactive, Film, Music, and Convergence, presented in a variety of session formats. SXSW Convergence programming features a range of topics that straddle the cultural and technological intersection at the heart of SXSW.
For SXSW 2018, we have developed two full days of programming dedicated to LGBTQIA+ focused topics. From March 10-11, the LGBTQIA+ Series of Sessions will examine topics such as community alliances, the gender spectrum, activism, visibility, the movement towards equality, and more.
Here's a few LGBTQIA+ sessions at SXSW 2018 you shouldn't miss.
Add Your Name: The Role of Men for Gender Equality
More than ever men are asking how they can find their role in the movement for gender equality. The answer: Connect it to their values and allow them to find the meaning and action in it. It is essential that men join women in creating equitable and equal opportunities in the workplace and beyond. This session will teach ways to get involved and how to educate yourself on steps to take to bring us closer to gender equality. Wade Davis will leave attendees more self-aware and ready to show up as partners in action for gender equality.
Diversity in Tech: It's Not Just a Gender Problem
It's no secret that Silicon Valley has a diversity problem, but even as more companies are transparent about workforce demographics, the data doesn't go far enough. Despite greater transparency around women and minorities, companies aren't thinking about people with disabilities and members of the LGBTQ community the same way. Join us as we discuss the root of these diversity problems and how companies can create an inclusive culture where everyone feels empowered to show up as their true self.
Couples Who Eat, Sleep & Build Businesses Together
When it comes to running a business as a couple, there are no "normal" business hours. People ask, "How do you do this as a couple? How does it work?" In the case of the founders of Lick Honest Ice Creams and Beekman 1802, the real-life couples built their companies while maintaining their values as a couple. It's not easy but having your partner in life to help get you through the ups and downs of building a company is possible and actually beneficial to the success of the business.
Join Us for SXSW 2018
Purchase your SXSW Badge and reserve your hotel today to experience these sessions along with 10 days of screenings, showcases, exhibitions, networking, and more this March 9-18 in Austin, TX. Take the Tracks Quiz to discover which badge will suit your needs.
Already have your badge? Learn how to upgrade to Platinum for primary access to all of SXSW and then begin building your 2018 SXSW Schedule.
Follow us on Facebook, Twitter, Instagram, and SXSW News for the latest SXSW coverage, announcements, and updates.
2018 SXSW Speakers (l-r) Alicia Roth Weigel – Photo courtesy of the speaker; Blair Imani– Photo courtesy the speaker; Alonso Duralde – Photo courtesy of the speaker.
The post Explore LGBTQIA+ Series of Sessions at SXSW 2018 appeared first on SXSW.