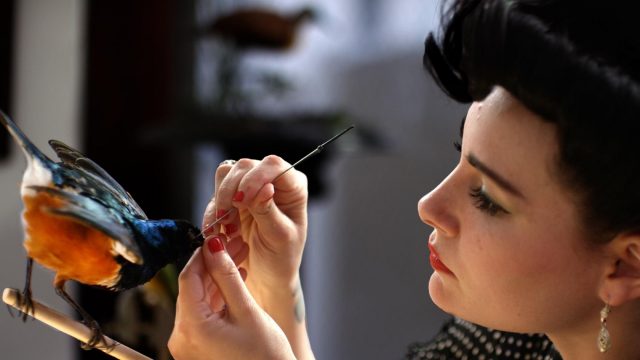 The 2019 SXSW Film Festival is almost upon us and we can't wait to have you here! Before you make your way down to Austin, TX, get to know films from our lineup a little bit better with our Filmmaker In Focus series. Dive into our Q&A with director Erin Derham, as she tells us about her film Stuffed, which will World Premiere in Documentary Feature Competition.
In your own words, what does this film mean to you?
Erin Derhmam: This film is my coming of age story. I started telling this story as a means of teaching viewers about environmental conservation through the unlikely vehicle of taxidermy. I wanted to make a unique, art film that was full of life, subtly hinting at the importance of protecting wild places and animals. After over two years of research, interviews, and filming around the world, I finally feel worthy of being called a film director. Not because of the films potential prestige but because of the growth this subject and these characters created inside me. The people I met, the rescue animals I held in my arms, the art I saw through a new lens, all led to a beautiful transformation and one main professional conclusion: the more we listen to each other the better this world will be.
What do you want the audience to take away?
ED: I want you to first and foremost take away the lesson that things and people are not always as they seem. That is a lesson we could all stand to be reminded of throughout life. Before I started researching taxidermy, I was disgusted with the thought and couldn't imagine the vile person that would do such a thing. I am a vegetarian, animal lover, and prior to this film, I was against all forms of hunting. With only a few weeks of research, I realized my short sighted ignorance on the subject. These people love animals and want more than anything to be with them in the field, watching their movements and sketching. They want to make art in an attempt to replicate the awe of nature, and most of all, they want to protect nature and animals for future generations.
How did you find your subject?
ED: Two years ago, after deciding to partner with Rachel Price on my next film, she and I brainstormed subjects pertaining to the environment. We have both always wanted to make a non "finger-waggy" documentary about important issues, but in a fun, edgy way. I sent her three formal proposals on subjects I had researched and then Rachel sent me a text, "How about Taxidermy?" I was immediately disgusted. I thought, "WHAT?! I'm a vegetarian! I love animals! Why would I ever make a film about deer heads on the wall. Rather than say that, I reminded myself that Rachel is very intelligent, an animal lover, and pro researcher. I spent the weekend researching taxidermy and by Sunday evening I knew this was our film! I could see within just two days that taxidermy is an art form, that taxidermists love animals, and this field of art is directly connected with animal rescue and environmental conservation.
What were you doing when you found out you were coming to SXSW?
ED: I was running out the door to take my dog for a walk when my producer called. My 4 year old was screaming at me to hurry up, and I was just holding the phone with my jaw open. I have wanted that exact call for so long, that it felt the moment needed a little something. I turned on a fun Rainbow Kitten Surprise song that's in the movie and starting jumping up and down dancing with my golden retriever, Winston. He was so happy for me!
What made you choose SXSW to showcase your film to the world?
ED: SXSW has always been my dream film festival to premiere my film. Stuffed is meant to be informative and inspiring but first and foremost, it is meant to entertain, to make you smile. That is why we put so much of our budget and time into the score. The music of a film is always my favorite way to punch the emotion of a story and I really think Austin and SXSW audiences will appreciate that the most.
Add Stuffed to your SXSW Schedule. Stay tuned in the coming weeks as we share more interviews with our SXSW 2019 filmmakers!
Join Us For SXSW 2019
Register and book your hotel now to save! The Film Badge gets you primary access to all SXSW Film events including Film Keynotes and Featured Sessions, world premieres, round tables, workshops, parties, and more. Over the course of nine days, the SXSW Film Festival hosts over 450 screenings! Film registrants also have primary access to Convergence events, including the Comedy Festival and nine unique Conference tracks, as well as secondary access to most Interactive and Music events.
Photo by Jan Balster
The post Erin Derham Discusses Her Taxidermy Documentary Stuffed – SXSW Filmmaker In Focus appeared first on SXSW.