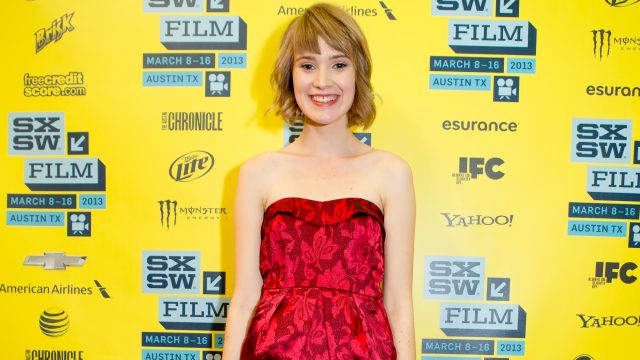 At SXSW 2018 we celebrated the 25th Edition of the SXSW Film Festival and had the pleasure of sharing stories, memories, and reflections from our distinguished alumni. We had a blast telling these tales and want to keep the party going! Today we move the spotlight to Emily Hagins.
Hagins has had four world premieres at the SXSW Film Festival: My Sucky Teen Romance (2011), Chair Love: Some Strings Attached 2011), Grow Up, Tony Phillips (2013), and Hold To Your Best Self (2018), which was a part of our inaugural Independent Episodics program. Here's what she has to say about her SXSW journey, starting when she was a high school senior:
"SXSW changed my life by giving me huge learning opportunities at pivotal points in my careers as an aspiring filmmaker.
Before I ever had a film programmed at the festival, I would volunteer on the Film panels crew in high school. I loved learning from all the filmmakers that would come in and share their stories, and was so inspired by them that I hoped to one day make something good enough to play at SXSW too.
In 2011, during my senior year of high school, my third feature (My Sucky Teen Romance) was programmed at SXSW. Coincidentally, the day of our premiere was the same day I got rejected from the one film school I had applied to. As bummed as I was, I was also relieved because college wasn't really something I could afford at the time. But after a great premiere at the Paramount and selling the film to a distributor at SXSW, I felt like everything would be okay — film school wasn't the only path out there, as long as I had an open mind to growing and learning in other ways. So SXSW has always had a special place in my heart as an extremely nurturing, creative, and inspiring film festival. There really is nothing else out there like it."
Join Us For SXSW 2019
Register and book your hotel now to save! The Film Badge gets you primary access to all SXSW Film events including Film Keynotes and Featured Sessions, world premieres, round tables, workshops, parties, and more. Over the course of nine days, the SXSW Film Festival hosts over 450 screenings! Film registrants also have primary access to Convergence events, including the Comedy Festival and nine unique conference tracks, as well as secondary access to most Interactive and Music events.
Follow us on Facebook, Twitter, Instagram, and SXSW News for the latest SXSW coverage.
See you in March!
The post Emily Hagins – SXSW Film Festival Alumni Stories appeared first on SXSW.