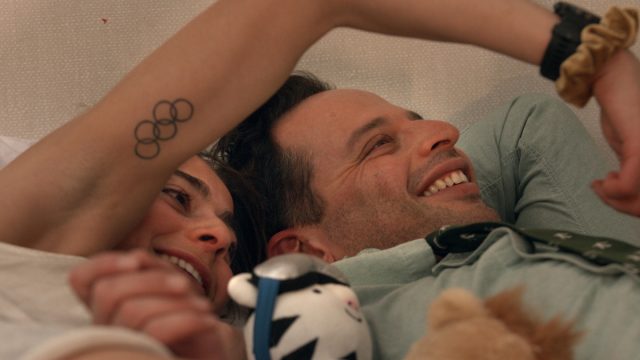 The 2019 SXSW Film Festival is almost upon us and we can't wait to have you here! Before you make your way down to Austin, TX get to know films from our lineup a little bit better with our Filmmaker In Focus series. Dive into our Q&A with director Jeremy Teicher, as he tells us about his film Olympic Dreams, which will world premiere in the Narrative Spotlight screening section.
In your own words, what does this film mean to you?
Jeremy Teicher: To me, Olympic Dreams is about learning to chase what you want in life and embracing the unknown. Olympic Dreams also represents a personal cinematic achievement: I was a one-person-crew responsible for directing, shooting, and recording sound all at once (often in sub-zero conditions at real Olympic venues and the actual Athlete Village). Nick Kroll and Alexi Pappas improvised the dialogue, and I feel that the three of us truly created magic together.
What motivated you to tell this story?
JT: Alexi Pappas, the star, co-writer, and co-creator of Olympic Dreams, is an Olympic athlete herself – she competed in the 2016 Rio Olympics in the 10,000 meters. Pappas's personal experience as an Olympian was the main inspiration for our story. We wanted to show what it feels like to be in the highly coveted Athlete Village at the most important moment in your life… all the while trying not to ask yourself, "what happens next?"
What do you want the audience to take away?
JT: Olympic Dreams opens a window into a highly exclusive world that many people hear about but very few ever get to see. I hope that audiences take away a deeper understanding of what the Olympic experience feels like from the inside, and also perhaps a personal reflection on what it means to chase a dream.
What were you doing when you found out you were coming to SXSW?
JT: Alexi and I were cooking her post-long-run meal when we got the phone call. Needless to say, there was lots of yelling and jumping around the kitchen.
What made you choose SXSW to showcase your film to the world?
JT: SXSW embraces what makes Olympic Dreams unique: it was just Alexi, Nick, and me out there making a film that blends fiction with reality to tell a story in the Olympic Athlete Village, a location that's never been captured before in a narrative film. SXSW champions bold, off-the-beaten path cinema and we are proud to be part of this tradition.
Add Olympic Dreams to your SXSW Schedule. Stay tuned in the coming weeks as we share more interviews with our SXSW 2019 filmmakers!
Join Us For SXSW 2019
Register and book your hotel now to save! The Film Badge gets you primary access to all SXSW Film events including Film Keynotes and Featured Sessions, world premieres, round tables, workshops, parties, and more. Over the course of nine days, the SXSW Film Festival hosts over 450 screenings! Film registrants also have primary access to Convergence events, including the Comedy Festival and nine unique Conference tracks, as well as secondary access to most Interactive and Music events.
Follow us on Facebook, Twitter, Instagram, and SXSW News for the latest SXSW coverage.
See you in March!
Olympic Dreams – Photo by Jeremy Teicher
The post Director Jeremy Teicher on Olympic Dreams World Premiere – SXSW Filmmaker In Focus appeared first on SXSW.