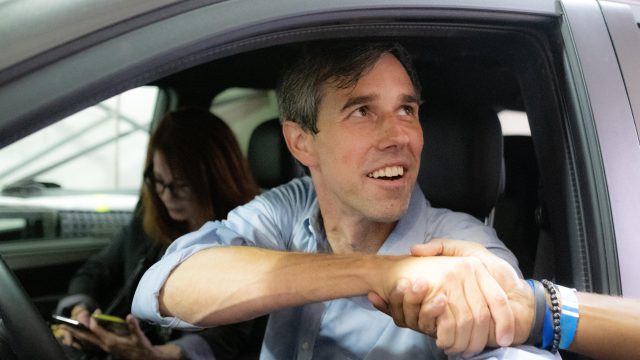 Dive into our Q&A with director David Modigliani, his film Running With Beto world premiered at the 2019 SXSW Film Festival and won the Audience Award in Documentary Spotlight. Watch Running With Beto on May 28 on HBO.
In your own words, what does this film mean to you?
David Modigliani: To me, the film is an exploration of the human experience of politics in this country. It's about a group of people who respond to a crisis in democracy by allowing themselves to be vulnerable – by taking risks and trying new things: from Beto and his family, who ran a wildly unconventional campaign, to his team of political newcomers, to the three first-time activists in this film, who give us a window into a moment in Texas and in the country as a whole. By seeking to reveal, through a very real, flawed, authentic characters, that you don't have to be perfect to run for office, or an expert to get involved in a political campaign, the film is an invitation into the democratic process.
What motivated you to tell this story?
DM: The day after the 2016 presidential election, I felt acutely how disconnected we are from one another, how much we dehumanize each other through politics, how poorly we understand one another — and how much all of that drives people away from the political process in this country, leaving a relatively small group of people to elect our leaders and make decisions that impact our lives in profound ways. As a storyteller, I wanted to find and tell a story that might humanize the political process and inspire people to get involved in it. Like many, I was drawn to Beto's realness and his willingness to experiment and try new things. The type of campaign he was going to run, the opponent he was facing, and the political moment in this country all pointed toward a fascinating story that was about to unfold in my own backyard in Texas – a lens into a fundamentally unique campaign through a very accessibly human central character in Beto.
How did you find your subject?
DM: Beto and I met at first base. I was holding him on base after he had just hit a single at the Long Time, the homemade baseball field that's home to our independent sandlot team, The Texas Playboys. Beto plays center field for Los Diablitos, the El Paso team that formed to play the Playboys when we visited El Paso for a border barnstorm a few years ago. When the Diablitos came to Austin to play us in April of 2017 and Beto spoke to our small crowd that day at the Long Time, he had been running for Senate for about six weeks. It was immediately clear to me, after the speech he gave on top of a hay bale in his dirty uniform, that he was a no-bullshit generational political talent. As a storyteller, I was even more intrigued by the unorthodox, risk-taking campaign he was going to run: visit every county, no PAC money, no consultants, and no apologizing or moderating positions for political optics. Having lived in Texas for 15 years, I understood that the national conversation was going to run right through the middle of Beto's race against Ted Cruz – from guns to immigration – and I wanted to capture an intimate experience of the wild campaign that was about to unfold.
What do you want the audience to take away?
DM: Above all, I wanted the audience to be moved by a great story with compelling characters who experience real struggle, joy and change in their lives. And I hope they feel inspired, no matter their party or political beliefs, to get involved in the democratic process.
What made you choose SXSW to showcase your film to the world?
DM: My very first feature documentary, Crawford, premiered at SXSW in 2008. I had never seen the film on anything bigger than an editing room monitor, so when I went into the Paramount Theatre for a tech check and it came up on screen, I literally almost fell over a chair.
There is no better place to screen a film than at the Paramount, to the SXSW audience, which is one of the most engaged audiences I've ever seen. Obviously, our film takes place in Texas, but it's an international story, and SXSW is a truly international festival with folks from around the world watching these films. It's also an extremely relevant story to our culture at this moment, to the zeitgeist, and, as opposed to a siloed, film-only event, SXSW as a whole brings together people from across our culture in one conversation. We hope this film will be part of that intersectional conversation.
Dive into SXSW 2019 Photo Galleries from March 8-17 including sessions, screenings, showcases, and more. And as always, follow us on Facebook, Twitter, Instagram, and SXSW News to stay current with all things SXSW.
Running With Beto – Photo by Matt Winkelmeyer/Getty Images for SXSW
The post Director David Modigliani Follows Beto O'Rourke Behind the Scenes – SXSW Filmmaker In Focus appeared first on SXSW.