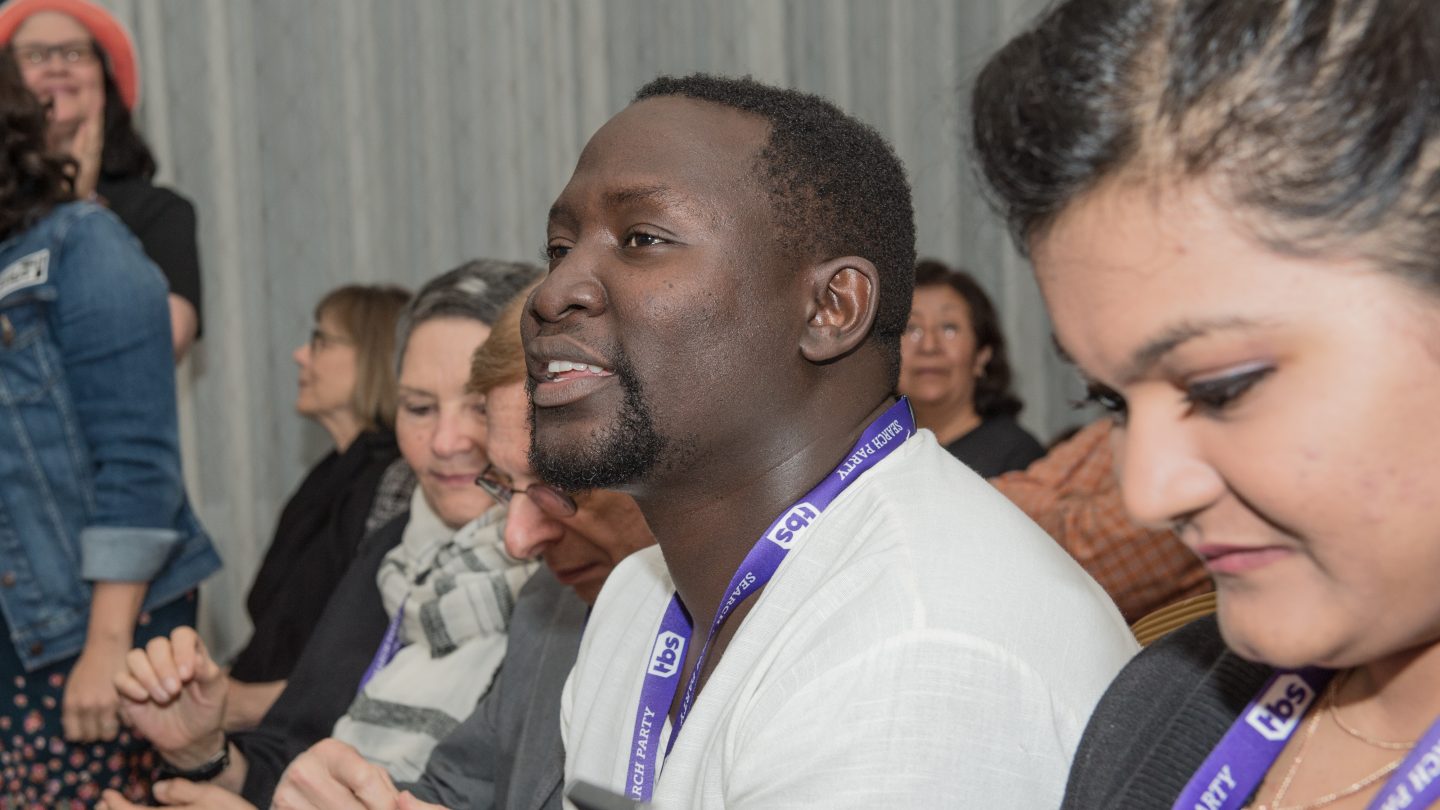 The Dewey Winburne Community Service Awards celebrate the spirit of community in Austin that we think is unique to SXSW. Each March, ten recipients are recognized for their use of digital technology to help others, and are given the opportunity to spread the word about their work to the SXSW community. Read the story of 2016 award recipient Richard Bbaale below and learn more about 2017 nominations.
How Banana Plants Helped Richard Bbaale Help Women in Uganda
Richard Bbaale is the founder & CEO of BanaPads, a social enterprise manufacturing affordable, eco-friendly sanitary pads. The 2012 Global Social Benefit Incubator Social Enterprise keeps rural girls in school while providing employment and training to local women entrepreneurs using the micro-consignment distribution model.
Bbaale shared the moving story of how women's health care became his mission at the Dewey Awards ceremony at SXSW this March. He was viciously attacked one day in his hometown of Kamapala, Uganda. Badly injured, a woman found him where he lay unconscious in a latrine. Bbaale and the woman developed a close friendship during his subsequent recovery.
But Bbaale was puzzled by her frequent disappearances. He eventually realized that she was unable to afford sanitary products during her menstrual cycle. Girls often miss school and low-income women are more susceptible to infections among other devastating consequences of this taboo topic. Forced to use anything they can find, including mud and leaves, women and girls in these circumstances suffer terrible shame.
One hundred precent biodegradable, BanaPads are produced locally using the pseudostem of a banana plant, a readily available resource in Uganda that would otherwise be left to rot in the fields. Because it is a recyclable product, 30 million tons of waste will be reduced in the landfills.
Bbaale and his team are helping women in places like Uganda and Tanzania while also providing employment and training to local women entrepreneurs using the micro-consignment distribution model. His acceptance speech at the Dewey Awards was eye-opening and incredibly heart-wrenching, and we thank him again for traveling all the way to Texas to share his story.
2017 Nominations Now Open
Know someone doing amazing work to help others in their community? Nominate them for a Dewey Winburne Community Service Award by July 22, 2016. Chosen honorees will receive a $1,000 grant for their favorite 501(c3) or equivalent charitable organization and will get a chance to share their story at SXSW in 2017. (The Dewey Awards honors individuals – to learn more about our grants for organizations, see the SXSW Community Grants.
2016 SXSW Dewey Winburne Community Service Award winner, Richard Bbaale. Photo by Robert Santos.
---
Related News:
The post Dewey Awards Spotlight: "How Banana Plants Helped Women in Uganda" appeared first on SXSW.