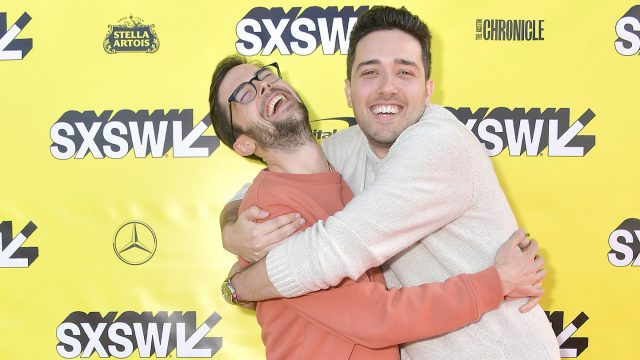 We chatted with directors and screenwriters Dan Berk and Robert Olsen about their crime thriller Villains, which world premiered at the 2019 SXSW Film Festival in Narrative Spotlight.
The film follows Mickey (Bill Skarsgård) and Jules (Maika Monroe) who are lovers on the run, headed southbound for a fresh start in the Sunshine State. When their car dies after a gas station robbery, they break into a nearby house looking for a new set of wheels. What they find instead is a dark secret, and a sweet-as-pie pair of homeowners who will do anything to keep it from getting out.
"Villains has felt like an establishing moment for us – something we can point to and say 'this is who we are as filmmakers' without any caveat."
Read the pair's interview below and learn about their motivation to tell this story, what they want viewers to takeaway, and more. Plus, get advice for first-time filmmakers and those submitting to the festival – the Late Deadline for film submissions is October 17.
Villains opens in theaters on September 20, watch the trailer here.
Interview with Dan Berk and Robert Olsen
In your own words, what does this film mean to you?
Dan Berk and Robert Olsen: All of our films are incredibly important to us, but Villains stands out as a really essential step in our journey as filmmakers. It's our third feature, but in some ways it feels like our debut because it's the first time we've had the resources at our disposal to actually exercise our vision the way we intended when we wrote the script.
On our first movie Body, we shot the film in eleven overnights and had a production budget of $50K. Needless to say, this really limited our ability to move the camera and generally design the visuals with a strong philosophy. It was more about achieving meat-and-potatoes clarity.
Our second film The Stakeholder, we were working within the parameters of an established world (it being a sequel to Stake Land). Now that world was established by Jim Mickle and Nick Damici – which meant it absolutely kicked ass, but it wasn't ours in the way that Villains is. In both cases, we were in love with the films we ultimately made, but those restrictions existed and separated the movies from our initial vision. Villains has felt like an establishing moment for us – something we can point to and say "this is who we are as filmmakers" without any caveat.
What motivated you to tell this story?
DB/RO: Sometimes you set out to make a movie with a specific goal in mind, like a moral prescription or a comment on some historical analog. Then, you try to find the best possible characters to tell that story. Other times, you stumble upon the characters first and allow their dynamics to guide you toward a theme; Villains was the latter.
We knew we wanted to tell the story of Mickey and Jules, these lovers-on-the-run whose relationship we saw so clearly in our mind – but we didn't know what we wanted to pit them against. An obsessive FBI agent? A jealous ex? Zombies? The story didn't start to unfold for us until we discovered what we felt was the most narratively interesting antagonist – a bizarro-world version of themselves.
Once George (Jeffrey Donovan) and Gloria (Kyra Sedgwick) were in the mix, we realized that this was going to be a story about the two-sided nature of love. In Mickey and Jules' case, their love empowers one another toward their better selves. It isn't obsessive, or desperate, or overly dependent. For George and Gloria, their love – however well-intentioned – has warped them over the years, and applies a kind of toxic, downward pressure to the couple overall.
What do you want the audience to take away?
DB/RO: Along those same lines, we hope that the takeaway of the film is to strive to find that good side of love, and (maybe more importantly) to be on the lookout for the bad side.
What made you choose SXSW to showcase your film to the world?
DB/RO: We've played several short films at SXSW over the past decade since we got started, and even one feature that we produced (Chadd Harbold's Long Nights Short Mornings – go watch it!), and what has always remained consistent has been: it's hands-down the most fun festival in the world; and more importantly, it has an incredibly confident, bold sensibility – which seems to overlap almost exactly with the kinds of films we love, and the kinds of films we hope to make. We knew that if Villains made it down to Austin for its premiere, we'd be in incredible company, and audiences would have a blast. Which we were, and they did!
Do you have any advice to filmmakers submitting to SXSW or any advice to first-time filmmakers?
DB/RO: We can't speak for every other filmmaker, and only have our own experience to draw from – but we'd advise aspiring filmmakers to embrace practical realities when conceiving and writing their first project. Sometimes there's an instinct to feel icky or like you're creatively "selling out" when you consider budget at too early a stage in the creative process.
But the truth is – if you really, actually want to get a movie made, you've gotta be thinking about those more "producorial" questions right alongside the purely creative ones. Does it take place in more than one location? Are you going to be relying on a lot of CGI? Are your protagonists children? Does the story require animals? Does the whole thing take place at sunset? Of course you can go out and try to make any movie you want to make, just know that a producer will ask you those questions at some point, and they'll be hoping your answer to all of them is "no."
There's a strange chicken-and-egg dynamic in Hollywood where you can't really make a feature until you've made a feature. We figured that out early and it was the driving impetus behind us writing Body, a movie we knew we could pull off for a shoestring budget. If we'd dug our feet in and were only willing to make a movie if it allowed us all the bells and whistles, we might've never gotten to Villains; where we finally did feel that creative freedom.
The simple summative statement would be – a career in film is a marathon, not a sprint – and you'll probably be pretty clueless for your first 3-5 features. So just get a few in the can however you know how, and don't be afraid to start small!
Join Us in March
Register to attend SXSW 2020 and get ready to experience World Premieres, screening Q&As, Keynotes, Featured Sessions, and more.
Follow us on Facebook, Twitter, LinkedIn, Instagram, and SXSW News to stay current with all things SXSW.
World Premiere of Villains – Photo by Michael Loccisano/Getty Images for SXSW
The post Dan Berk and Robert Olsen Talk About Their Crime Thriller 'Villains' – SXSW Interview appeared first on SXSW.