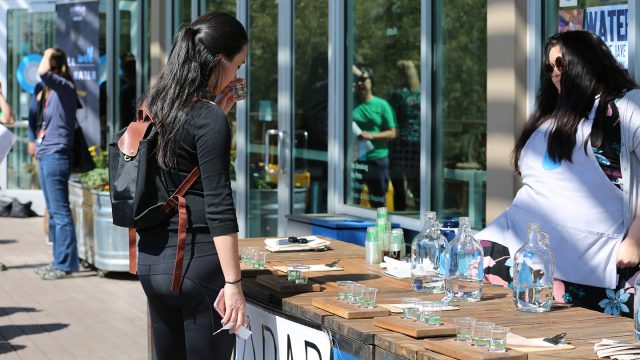 Climate change is one of the biggest threats facing our environment. As part of the Tech Industry & Enterprise Track of the SXSW Conference, we're looking at how climate change is impacting our oceans and the work that scientists and companies are doing to stop further damage.
Join us in the Hilton Austin, Salon B on March 11-12 to be a part of the conversation around curbing climate change and the vision on how to move forward, not only stop the negative impact on the environment, but to create a sustainable future.
Future of Oceans Series Highlights
Blame our Brains: Overcoming the Ignoring of Warming Oceans
A large portion of the public continues to resist the realities and implications of the changing global climate, despite the sheer amount of research, documentation, and reporting that is currently happening covering the sea levels rising, the Arctic ice melting, the ocean temperatures warming, and the coastal erosion that is occurring. In order for any science or tech solution to address these changes and be a success commercially, the public must first accept the uncomfortable and evidence-based truths being presented. Understanding how the human brain processes unpalatable information is the first step in overcoming resistance to these ideas and ensuring broad support and adoption of innovations such as a genetically modified salmon, saltwater resistant crops, and many other necessary adaptations to adjust to a rapidly changing environment. Sweta Chakraborty, Founder & Principal of Adapt to Thrive, and Ingmar Rentzhog, CEO & Founder of We Don't Have Time, give this talk that will explain how our cognitive shortcomings can and must be overcome not only to survive, but also to thrive.
Project Greenland: Visualizing Sea Level Rise
For journalists and scientists, climate change is hard to document due to the imperceptibility of the changes – a tenth of a degree increase in temperature, fewer inches of rain, a slowly melting ice sheet. Over six months in 2018, Reuters set out on a project to document the challenges and successes of a group of scientists studying Greenland and how the island contributes to rising sea levels. Through a multi-part series incorporating video, drone, still photography, 3D graphics, data, satellite imagery, and animation, Reuters visualized the scientific efforts to track global sea level rise and the inherent difficulties these scientists must overcome. In this session, NASA scientist Josh Willis will discuss how he had his Oceans Melting Greenland team chase the research needed to understand the extent of which warming oceans are melting our coastal glaciers with Elizabeth Culliford, Digital Editor at Reuters, and Lucas Jackson, Senior Photographer at Reuters.
The State of our Ocean: Solving the Next Generation's Challenges
Last year, the Intergovernmental Panel on Climate Change (IPCC) warned us that limiting a drastic temperature increase to our atmosphere would require rapid, far-reaching, and unprecedented changes in all aspects of society due to the ocean being threatened by plastic pollution, coral bleaching, and other environmental threats. To stop these threats from progressing further, we need a fundamental and immediate transformation within our governing systems, businesses, and civil society if we, as the last generation capable of making significant strides in protecting our environment, are to rise to this challenge. By cultivating the next generation of leaders and developing innovative solutions, Daniela Fernandez, Founder & CEO of Sustainable Ocean Alliance has developed a playbook that will influence the new wave of entrepreneurs and redefine the relationship between emerging technologies and climate action.
Transforming Ocean Research Through Blockchain
The negative effects of climate change – like ocean acidification, rising temperatures, and deoxygenation – damage fisher livelihoods and coastal economies while data insufficiencies make identifying mitigation or adaptation strategies tough. SmallScaleOA (SSOA) incentivizes data-sharing for coastal research and transparent, traceable seafood. Hear Katharine Leigh, Founder & Leader of SmallScaleOA, discuss how through the use of phones, satellites, blockchain, and IoT, SSOA will exponentially decrease data collection costs, increase the inclusivity and community-relevance of scientific research, and fill knowledge gaps, while equitably compensating data producers and processors.
A Wave of Change: Solving Ocean Challenges Through Entrepreneurship
Emerging technologies are being applied to solve some of the most critical threats facing the ocean. This panel will feature brilliant ocean entrepreneurs developing scalable businesses aimed at reducing plastic pollution and mitigating habitat destruction from harmful fossil fuels. Join Sampriti Bhattacharyya, Founder of ONET Global/Hydroswarm, Chelsea Fawn Briganti, CEO of Loliware, Jose Humberto, Founder & CEO of ETAC Inc, and Jia Yun (Jeanny) Yao, Co-Founder & COO of BioCellection Inc, as they explore how the next generation of entrepreneurs from around the world are tackling the greatest environmental challenges of our time by leveraging innovative technologies and creative business models.
Check out the rest of the Future of Oceans Series!
Browse More Future of Oceans Series Sessions
We hope to see advocates, activists, and enthusiasts alike at SXSW!
Attend SXSW 2019
Get your SXSW Badge and reserve your hotel today to attend SXSW 2019 and experience these Conference sessions along with 10 days of screenings, showcases, exhibitions, networking, and more this March 8-17 in Austin, TX.
Follow us on Facebook, Twitter, Instagram, and SXSW News to stay current with all things SXSW.
Featured Image by Randy & Jackie Smith
The post Climate Change and the Future of Oceans Series at SXSW 2019 appeared first on SXSW.