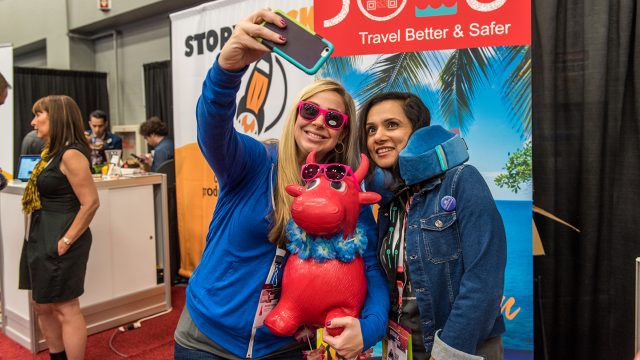 Hey, startups! SXSW is introducing a new opportunity for you to build brand awareness among thousands of Trade Show attendees. Watch your startup come to life by applying to be a part of The Hub at Startup Village.
SXSW helps startups prosper and created The Hub at Startup Village to act as a megaphone for high-potential businesses on the rise. That's why approximately $4.63 billion has been invested in startups participating in events at SXSW between 2009-2017*. Additionally, Startup Village is located within the Trade Show—the largest exhibition at SXSW with more than 74,000 attendees in 2017—to allow optimum exposure for your startup. This year, we've created The Hub to kick your business promotion up a notch.
This area of Startup Village consists of 20 exhibition spaces and is dedicated to emerging startups by helping them cultivate publicity with tens of thousands of Trade Show attendees. Each startup exhibits for 3 hours on the Trade Show floor and time slots are scheduled around the following categories:
Payments & Privacy
Lifestyle, Style & Sports
Food & Health
IoT & VR/AR
Social Impact
Travel & Transportation
Music, Entertainment, & Content
With special startup rates, you won't want to pass up this chance to take your startup to the next level. Apply to The Hub today!
*Does not include certain undisclosed funding. This data is as of June 6, 2017.
Photo by Merrick Ales
The post Build Buzz for Your Startup Through The Hub at Startup Village appeared first on SXSW.