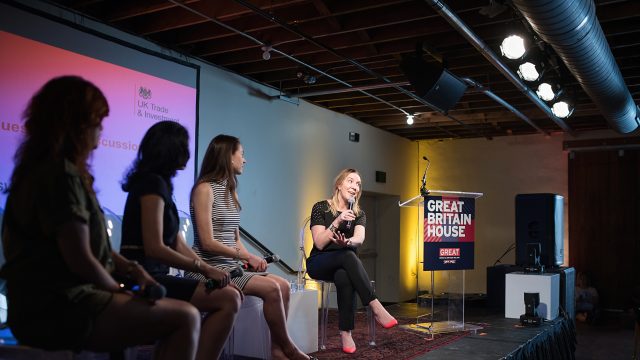 Content provided by UK Department of International Trade
A virtual orchestra, British music, VR experiences, power-generating sidewalks, and a Union Jack-adorned pool table. These are just a few reasons to visit the Great Britain House, a three-story enclave of Britishness taking over Speakeasy on Congress Ave for the SXSW Interactive Festival.
And it's not just Speakeasy turning British this week, there is the UK Pavilion at the SXSW Trade Show and the British Music Embassy at Latitude30.
With more than 1,500 delegates, The Brits consistently have the largest international showing at SXSW and this year is no different. More than a dozen British organizations have come together to bring the Great Britain House to life, and as part of it all, over 26 UK organizations will showcase their amazing creativity and technology.
It'll all be under the theme of 'Imagination,' in which SXSW attendees are encouraged to imagine how technology and innovation can enable a better world, a better future, and a better self.
Alongside panels on topics from the use of AI in art and culture to data science in government, there'll be whisky, bowling and, of course, tea.
Britain is proud of its innovative past, present and future. Tech is one of the fastest-growing sectors in the UK, an industry worth £58 billion a year, and they'll be in Austin to show it off. Join them and they'll tell you all about it.
See the full UK at SXSW schedule.
Great Britain House
Saturday, March 11 – Monday, March 13
Speakeasy
412 Congress Ave

UK Trade Show Stand
Sunday, March 12 – Wednesday, March 15
Austin Convention Center
500 E. Cesar Chavez St.

British Music Embassy
Monday, March 13 – Saturday, March 18
Latitude30
512 San Jacinto Blvd.

Photo by Lauren Lindley
---
Related News:
The post Brits Imagine A Better World, A Better Future, A Better Self at SXSW appeared first on SXSW.