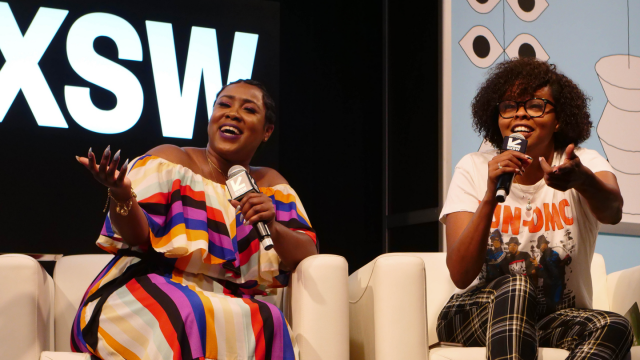 Content creators and storytellers of diverse backgrounds continue to break into the film and television industry. Producers and distributors are recognizing the importance of these new, unique voices representing the next generation of media consumers.
Throughout sessions for the 2020 Conference the discussion continues around the re-shaping of this industry as the fight for social justice marches on. During the Film & TV Industry Track, explore sessions that examine the current and future states of film and television which echo the message that any person, idea, piece of news, series, or film can make a big impact.
Diversity & Representation
In recent years, we've seen how the inclusion of underrepresented voices has turned many everyday people into activists. Nina Yang Bongiovi, Bryan Smiley, Sophia Yen, and Bert – key players in social justice from a variety of professional backgrounds – are using their Hollywood stature to create positive change in our society and want to share how you can do the same during Breaking Into Hollywood and Creating Change.
Representation is still a major hurdle in the entertainment industry. For too long, various groups have been erased from cultural dialogue with their voices systematically silenced or portrayed through crude stereotypes. It is because of those stereotypes that Native people are now reclaiming their narrative. During Decolonize Hollywood: Why Indigenous Voices Matter, filmmakers, actors, and writers explain the importance of having Native voices on your next project as a means of re-shaping the Hollywood and American narrative.
Media & Social Change
Amidst the noise of the 2020 election, how can creative media stories have meaningful social and political impact? From the Screen to the Streets: Media & Activism will take a deep dive into how advocates, storytellers, productions, companies, and distributors have successfully worked together from global to local levels.
Speakers Bing Lui, Denae Peters, and Nanfu Wang (2017 SXSW Special Jury Winner for Documentary Feature Competition) believe that social interaction is what leads to social action. Explore more about this notion during Is Empathy Enough: What Drives Social Change.
Film Highlights
Check out the Film Festival and Film-related Conference Tracks like Making Film & Episodics, Experiential Storytelling, and XR for even more Film programming.
Join Us for SXSW 2020
Register and book your housing for SXSW 2020 early for the best rates. While you await the 2020 Film lineup (coming in January), browse the latest confirmed programming for SXSW on the online SXSW Schedule including Conference sessions for Film Tracks and more.
Follow us on Facebook, Twitter, Instagram, explore our YouTube Channel, and SXSW News to stay current with all things SXSW.
See you in March!
Rotten Tomatoes 'Your Opinion Sucks' – Photo by Will Blake
The post From the Screen to the Streets: Social Change in the Film & TV Industry appeared first on SXSW.