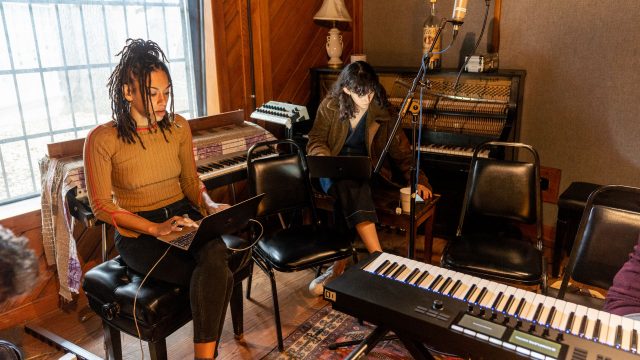 The wait is officially over! Returning for SXSW 2020, applications to participate in SXSW Songs are now open. SXSW Songs is a unique pop songwriting camp for established producers, songwriters and artists with commercial co-writing credits. Held at Arlyn Studios from March 15-17, the three-day program is designed for global songwriting creatives with a track record of successful collaborations who are looking to connect with an exceptional community of peers from around the world. Previous participants call SXSW Songs a 'once-in-a-lifetime', 'immersive' experience with a one-of-a-kind mix of international talent.
Recently released cuts of songs written at SXSW Songs include Grey (feat. Robinson) "First Time" on Island Records and Olivia Lunny's "I Got You" from Canada's The Launch Season 2 via Scott Borchetta's Big Machine Label Group. SXSW Songs puts songwriting at the heart of the event that showcases the top trends in creativity and innovation for the year ahead.
How SXSW Songs Works:
Participants are selected by an international advisory board drawn from management companies, music publishers, and performing rights societies. Invited participants will take part in three full days of songwriting sessions with a peer group of established international producers and songwriters.
Producers, writers, and artists receive daily team assignments from SXSW Songs advisors. Each team will complete one finished song per day. Then, at the end of the camp, all songs will be played at the Official SXSW Playback Party Event on Wednesday, March 18.
We're looking for producers and songwriters with:
Commercial success within the past 2 years
Prior co-writing and/or song camp experience that shows you can perform well in a fast-paced, creative environment
Genre compatibility
Whether you're looking to break a rut or just have fun making music with new friends, SXSW Songs is the perfect place to find inspiration. Applying early will save you hard-earned cash, so don't wait to jump on it! Check out more details in the SXSW Songs Application.
Deadlines:
Early: Thursday, October 24, 2019
Late: Thursday, December 19, 2019
Registration for SXSW 2020 and Housing is now open – join us next March 13-22 in Austin, TX.
Photo by Merrick Ales
The post Apply to SXSW Songs 2020: SXSW's Unique Songwriting Camp appeared first on SXSW.