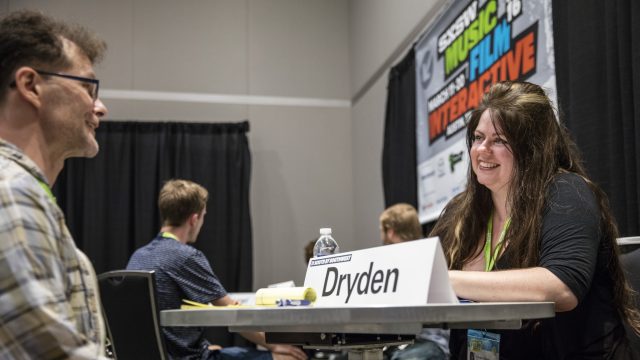 Step up your networking game and connect with our newly announced Film Mentors and Round Table participants during the 2017 SXSW Conference!
These 39 newly added Film Mentors and Round Table participants join our previously announced list of industry experts, and represent a diverse group of filmmakers, publicists, festival programmers, distributors, agents, and more. So whether you're itching for feedback on your latest project, looking for advice on your next career move, or interested in engaging in an enlightening discussion on a specific topic, connecting with these SXSW Film Mentors and Round Table participants offer the perfect opportunity to meet with industry professionals beyond your current rolodex.
Film Mentor and Round Table sessions are just one of many great networking opportunities that come with your SXSW Film or Platinum badge. In addition to primary access to all SXSW Conference Film & Convergence Tracks, Film Festival screenings, and Comedy Festival showcases, you can now enjoy expanded access to Interactive and Music events with a Film badge. Soak in the inspiration and knowledge first-hand by registering to attend by Friday, November 18 to save $300 off the walk-up rate. Stay tuned to sxsw.com for even more announcements as March draws closer.
The 2017 SXSW Conference will take place Friday, March 10 – Saturday, March 18 and runs concurrently with the SXSW Film Festival. Browse the full list of confirmed participants on the 2017 SXSW Schedule below.
Second Wave of 2017 Film Mentors & Round Table Program Participants
Aaron Hillis (Indiegogo)
Aaron Katz (Oscilloscope)
Adam Galen (Preferred Content)
Amy E Mitchell (Amy E Mitchell, PLLC)
Andrew Peterson (IFP Minnesota)
Ben Curtis (Brillstein Entertainment Partners)
Brian Behm (Rooster Teeth)
Britta Erich (Creative Europe Desk Hamburg)
Chris Ohlson (Revelator)
Dan Fisher (Gravitas)
Deborah Osborn (bigBonsai)
Deena Kalai (Deena Kalai, PLLC)
Greg Rhem (HBO)
Hayden Goldblatt (Frankfurt Kurnit Klein & Selz)
Hugues Barbier (Ithaca International Fantastic Film Festival)
Jacqueline Lyanga (AFI)
Jewerl Keats Ross (Silent R Management)
Jonathan Shukat
Jordana Mollick
Katharine Emmer
Kathleen Drumm (TIFF)
Kati Nuora (The Finnish Film Foundation)
Keith Leopard (Uncork'd Entertainment)
Kristin McCracken
Lee Meltzer (PMK-BNC)
Lorne Price (National Film Board of Canada)
Lois Vossen (Independent Lens)
Matt Grady (Factory 25)
Mat Levy (Passion River)
Molly Thompson (A&E Indie Films)
Parker Davis (Agent, Verve)
Peter Fried (The Montecito Picture Co)
PJ Raval (Unraval Pictures)
Rachel Walker (Sundance/LA Film Fest)
Rebecca Sosa (Film Independent)
Renee Robinson (Film Commissioner of Jamaica)
Shanida Scotland (BBC Storyville)
Susana Gomes (Internationale Filmfestspiele Berlin)
Vicky Boone (Vicky Boone Casting)

Note: Film Mentor and Round Table Sessions are open to all Film and Platinum badgeholders and require advance sign up via the SXSW Schedule in February.

Photo by Amanda Piela

---
Related News:
The post Boost Your Circle of Connections: 35+ Film Mentors & Round Table Participants Added appeared first on SXSW.