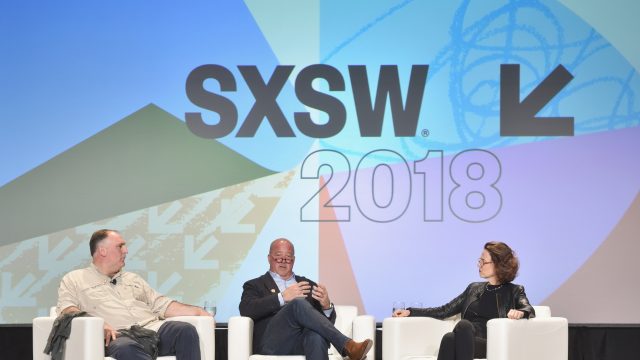 Take a few mindful minutes with SXSW Featured Speakers like Headspace meditation app founder Andy Puddicombe and culinary expert Andrew Zimmern. Tune into the Better Mind and Body curated playlist for lessons from extreme bionics to tips for drinking coffee.
Discover unimaginable abilities of the human body and its limits with past SXSW sessions including The Four-Hour Body with Tim Ferris, The Future of Human Ability with Hugh Herr and Aimee Mullins, Re-Connecting the Mind to the Body with Bernard J Tyson, and more.
The speakers in this playlist make up only a fraction of the incredible talent and industry leaders in attendance at the SXSW Conference each year.
Better Mind and Body Playlist
Hugh Herr, Aimee Mullins & More | Extreme Bionics: The Future of Human Ability | 2018
Learn from this all-star IEEE panel about how we'll soon connect our biology with technology more seamlessly than ever before, extending and transcending human physicality, cognition, creativity and sensory abilities. Speakers discuss new advancements in genetics, regenerative medicine, and biomechatronics that promise to transcend human limitations and end disability as we know it; from optogenetic interfaces with the human nervous system to synthetic appendages that move and feel like biological counterparts.
Andy Puddicombe | Why Happiness Is Hard and How to Make It Easier | 2016
Andy Puddicombe, meditation teacher, former Buddhist monk and co-founder of Headspace takes us on an exploration of the human mind. What does it mean to be happy? Why do we struggle when we have so much? What is the relationship between hope and fear? How can we find a sense of meaning and purpose in our life? How can we tap into our creative potential for the benefit of others? Looking through the lens of mindfulness and science, Puddicombe will show you how to train your mind for a healthier and happier life.
Andrew Zimmern | JUST Food: What It Looks Like When We Start Over | 2016
Our current food system is broken. Instead of being a force that fuels and enriches both our bodies and the planet it depletes them. It makes it incredibly difficult for busy and hard working families across the country to feed their kids healthy food on a budget and is trashing our natural resources around the world in the process.
But what if the healthier thing was the affordable thing? What if families didn't have to choose between feeding their kids healthy food and having enough money to go to the movies? What would it look like if we just started over, making the affordable, delicious, convenient thing a little bit healthier? What if we put truth and justice back into our food?
In this session Andrew Zimmern and Josh Tetrick will discuss what a more just food system looks like and the role that capitalism, public policy and delicious food need to play in using food as a platform for change.
Karen DeSalvo | Default=Health: How Tech Can Refactor Modern Life | 2018
Modern life is good at making us happy, but not at making us healthy. Cheap calories, free parking, 2nd refrigerators: it's created an epidemic of disease from diabetes to cancer. It's time to re-engineer how civilization meets basic human needs – food, shelter, community, transportation – so where we live & what we eat makes us healthy by design. Huge opportunities await innovators willing to go beyond wearables or coaching apps. Let's stop fighting modern life and start refactoring it.
Panelists include Karen Desalvo (U.S. Department of Health and Human Services), Nicholas Chim (Sidewalk Labs), Thomas Goetz (GoodRx), and Ryan Panchadsaram (Kleiner, Perkins, Caufield & Byers).
Tim Ferris | The Four-Hour Body: Hacking the Human Body | 2011
Based on lessons learned during research for the #1 New York Times bestseller, The 4-Hour Body, this session will look at how to systematically hack the human body. From losing 100 pounds to running 100 miles, lifting 500 pounds or holding your breath for 5 minutes — what are the limits? From screw-ups (emergency surgery, anyone?) to importing stem-cell growth factor from Israel for black market injections, Tim will discuss the promises, pitfalls, and methods of cutting-edge self-experimentation.
To see more videos like these, subscribe to the official SXSW Youtube channel. Stay tuned to SXSW News for more SXSW playlist highlights and programming announcements. And don't forget to register to attend SXSW 2019 to experience inspiring sessions from Keynotes, Featured Speakers, and much more from March 8-17.
(L-R) Chef Jose Andres, Andrew Zimmern and Dana Cowin at SXSW 2018 — Photo by Amy E. Price
The post Better Mind & Body: Aimee Mullins, Andy Puddicombe, Andrew Zimmern & More SXSW Sessions [Videos] appeared first on SXSW.