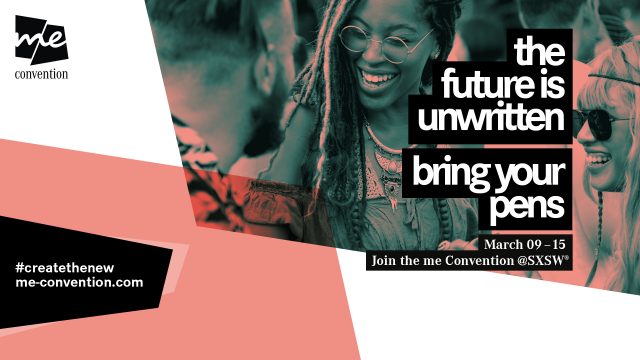 Whether you can't get enough of mind-blowing ideas or just want to kick back and relax, we have some good news: both inspiring and entertaining, the me Convention provides the perfect platform to network, meet peers, and take part in an open discussion about our future to #createthenew at SXSW 2018, from March 9–15. Visit us at the Mercedes-Benz @ SXSW: Connect & Inspire Cube​ at the Austin Convention Center, Level 1, to get an overview and the complete schedule of our program.
At our Palm Park location, start your day mindful, clear and focused with a yoga session, then head to the food court for an energizing snack. Then explore the Pool Stage, where we will host Mystery Talks by me Convention, a brand-new talk format. These unique panels will bring diverse SXSW speakers together in an unusual and exciting setting, for a series of compelling conversations on unexpected topics.
At the Fairmont Hotel, next to Palm Park, we will co-host the SXSW-programmed Intelligent Future Track, where you will be inspired by today's most forward-thinking speakers, pioneers, entrepreneurs, and people from all walks of life. If you prefer to stay outdoors, select sessions from the Intelligent Future Track will be live-streamed to the Pool Stage.
And there's much more to explore! Stay tuned and follow us on Twitter, Instagram, YouTube and LinkedIn.
Further information: www.me-convention.com
Content and image provided by Mercedes-Benz
The post Be a Pioneer. Join the me Convention. appeared first on SXSW.