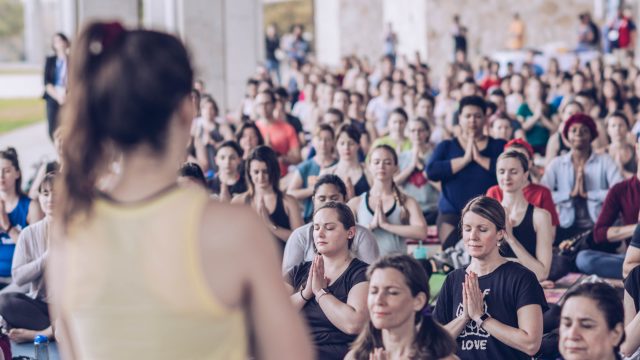 In its third year, the SXSW Wellness Expo returns to fuel your mind, body, and soul. The Expo is the heart of all things Wellness at SXSW. This core gathering of thousands of attendees is comprised of novices, experts, and every level in between. The SXSW Wellness Expo runs March 14-15 at the Palmer Events Center and serves as the hub for panels, conversations, activities and top brands in the industry to showcase and show off. Brand loyalists come to stock up on their favorite goods, while newbies come to have their eyes opened to an exciting new world of healthier and more thoughtful alternatives to their everyday purchases. In 2019, the Wellness Expo saw a two-day attendance of over 13,500 along with 170 exhibitors, and we're still looking for people to apply to exhibit to make this year's expo even bigger.
According to the Global Wellness Institute, the value of the global wellness industry grew from $3.7 trillion to $4.2 trillion between 2015 and 2017. Principles like healthy living, self-care, and many more are dominating the mainstream, and at SXSW our goal is to provide an all-encompassing exhibition that captures the industry's wide range of topics.
The Wellness Expo brings together thousands of SXSW attendees to interact with numerous companies in the fields of health and wellness including (but not limited to):
Athleisure
Herbs & Supplements
Beauty & Spa Equipment
CBD Products
Clean Beauty
Content Creation/Distribution
Spirituality
Travel/Retreats
Wellness Technology
Women's Health
The expo is also host to some exciting stages. The SXSW Wellness Expo Stage features solo and panel programming covering today's most current discussions with industry leaders in the world of wellness. The Stage lets SXSW Wellness Expo attendees expand their health and wellness knowledge by participating in discussions and classes relevant to the industry.
Overlooking beautiful Lady Bird Lake and the charming Austin skyline, the Fitness Stage lets you experience free classes from world-renowned instructors. Classes are for all levels and include yoga, strength and circuit training, and much more.
Conscious Conversations provides highly interactive, wellness-focused activities including meditation, dynamic workshops, and more with industry professionals.
The Wellness Expo is the perfect place to meet and make new connections with like-minded individuals, share ideas and expertise, and discover new trends in the worlds of health and wellness. To get the latest news about the SXSW Wellness Expo — including information about programming, exhibitors, speakers, activities, the advisory board, and more — sign up for updates.
Photo by Matt Bradford
The post Apply to the SXSW 2020 Wellness Expo: Fueling the Mind, Body, and Soul appeared first on SXSW.