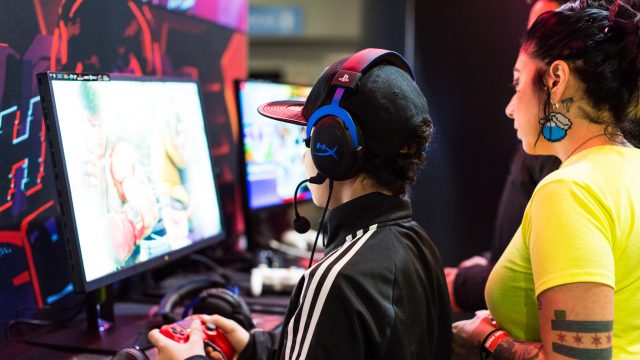 Interested in being a part of the largest gaming hub at SXSW 2020? Then look no further than our SXSW Gaming Expo. Unlike similar gaming conventions, the SXSW Gaming Expo is rooted at the heart of the converging Interactive, Film, and Music festivals which are found exclusively at SXSW. With countless special events spread throughout each of the world-class areas found at the Gaming Expo, no festival provides such a unique and fresh experience for both fans and pros than the SXSW Gaming Expo. In fact, the 2019 SXSW Gaming Expo saw an attendance of over 30,000 industry professionals, consumers, and fans across the three day event.
The Gaming Expo is comprised of several immersive, key components, including the Discovery Stage, Arcade Bunker, and Gaming Tabletop Experience.
Discovery Stage
The Discovery Stage is home to the latest reveals, exciting new ideas, and fan-favorite personalities in gaming! If you're interested in pushing your message out to thousands of hardcore gamers and fans then look no further than the Discovery Stage at the SXSW Gaming Expo.
Arcade Bunker
The arcade is one of the, if not the most, important parts of gaming history and culture. And SXSW Gaming brings it all back each year with its very own arcade at the Gaming Expo. With dozens of the finest classic arcade cabinets, and several newly-fitted rigs featuring the latest games, this unique area brings the rich gaming history of the arcade back to life for thousands of gamers to enjoy.
Tabletop Experience
Every gamer has a special place in their heart for a good tabletop game. The Tabletop Experience lets SXSW Gaming attendees play hundreds of new and classic games for free. The Tabletop Experience also acts as an excellent space for gamers to meet and mingle. Sponsoring the Tabletop Experience puts your brand in front of thousands of gamers of all ages.
If you're interested in learning more about how to be involved at SXSW 2020, and what areas we have available at the Gaming Expo, please visit our official Gaming Expo page. Additional exhibitor opportunities at SXSW can also be found on our Exhibitions homepage.
The post Apply to Exhibit: SXSW 2020 Gaming Expo appeared first on SXSW.