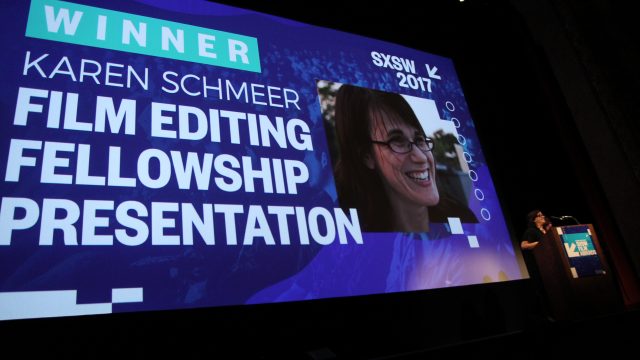 Applications for The Karen Schmeer Film Editing Fellowship are open and will run from August 2, 2017 through September 29, 2017.
The fellowship champions emerging documentary editors by developing their talent, expanding their creative community, and furthering their career aspirations. In collaboration with American Cinema Editors (ACE), Manhattan Edit Workshop, SXSW, the Sundance Institute Documentary Film Program and other partners, the fellowship offers a wide array of opportunities.
Awarded once a year, the fellowship honors the memory of gifted editor Karen Schmeer (The Fog of War; Fast, Cheap & Out of Control; Bobby Fischer Against the World), who was killed in a hit-and-run at the age 39.
Applicants must have edited at least one feature documentary (60 minutes or longer), but no more than three, and plan on living in the US between March 2018 and March 2019.
The winner will take part in a special presentation during the 2018 SXSW Film Awards on Tuesday, March 13 at the Paramount Theatre. The fellowship includes a SXSW Film Badge. Learn about 2017 fellow Leigh Johnson, find out more about benefits, and click here to apply to the Karen Schmeer Editing Fellowship.
Join Us For SXSW 2018
Learn how to successfully enter your film to the 2018 SXSW Film Festival with our How to Submit Your Film video and find out more information about deadlines and fees here.
Join us for SXSW 2018 – register to attend by Friday, September 8 for the biggest savings of the season. Make your hotel reservations through SXSW Housing & Travel for the best available rates. A film badge remains your best bet with primary access to all SXSW Film events including world premieres, roundtables, workshops and parties. We hope to see you in March!
Follow us on Facebook, Twitter, Instagram, and SXSW News for the latest SXSW coverage, announcements, application tips, and updates.
Film Awards Photo By – Christopher Free
The post Apply Now For the Karen Schmeer Film Editing Fellowship appeared first on SXSW.