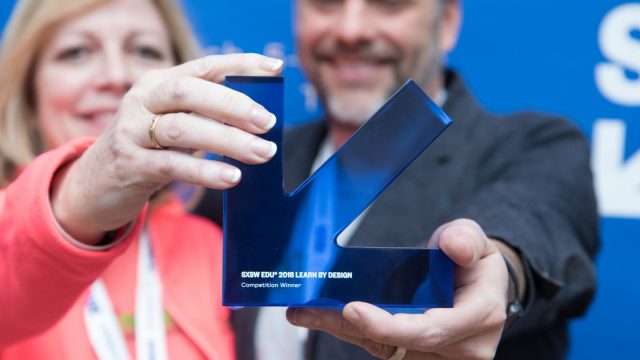 Each year, SXSW EDU celebrates and honors trailblazers who are doing innovative and creative work through a series of fast-paced competitions. The deadline, Friday, November 9, to enter an application for both Launch and Learn by Design is quickly approaching.
Launch
The Launch competition celebrates emerging innovations in learning with a fast-paced pitch competition featuring early-stage startups.
Launch Eligibility Requirements
A company's product or service must:
Have launched no earlier than January 1, 2016.
Have not launched after June 4, 2019.
Be incorporated with a management team, and public-facing website.
Be able to convey a sustainable business model.
Be able to demonstrate user traction, engagement, and adoption metrics.
Not have raised over $5 million in funds from combined funding sources at time of application.
Learn by Design
The Learn by Design competition elevates groundbreaking work in the design of physical learning environments and how it impacts pedagogy and learning outcomes.
Learn by Design Eligibility Requirements
The SXSW EDU Learn by Design competition is open to projects and design solutions that enhance physical learning environments for students at every age. Qualified projects will be considered in the following areas including, but not limited to learning spaces in support of early learning, K-12, higher education, and informal learning (museums, libraries, community spaces, etc.). Please note that both designers and educators are encouraged to apply.
What is SXSW EDU?
The ninth annual SXSW EDU Conference & Festival takes place in Austin, March 4-7, 2019. The four-day event features compelling sessions, in-depth workshops, engaging learning experiences, mentorship, film screenings, startup events, policy discussions, competitions, exhibition, networking, and so much more. Through collaboration, creativity, and engagement, SXSW EDU empowers its global community to connect, discover, and impact.
Register to attend SXSW EDU by Friday, December 7 for $445 or add a SXSW EDU badge onto your SXSW Platinum, Interactive, Film or Music badge purchase during checkout for only $295. Once registered, book your hotel through SXSW Housing & Travel for the best available rates.
SXSW EDU 2018 Learn by Design competition winner, Pathfinder Kindergarten Center. Photo by Steven Snow.
The post Apply Now for SXSW EDU Competitions: Launch and Learn by Design appeared first on SXSW.