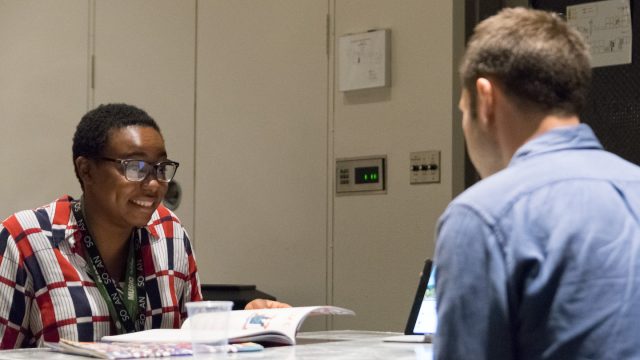 The SXSW Conference is excited to announce the third wave of music mentors, in addition to the newly announced Demo Listening and Round Table sessions for SXSW 2019. If you missed our first and second Music Mentor session announcements, you can view all Mentor Sessions here.
Mentor Sessions are focused one-on-one meetings with music industry professionals ranging from experts who specialize in A&R, artist management and songwriting to synch and licensing, touring and booking, and more. Attendees can gain valuable industry insights, career advice or feedback on specific projects from these high-level mentors.
Historically, the Demo Listening Sessions have provided an opportunity for our registrants and showcasing artists to get direct feedback about their music from a panel of industry experts. For SXSW 2019, our Demo Listening Sessions have transformed into a one-on-one opportunity to meet with these industry experts and get direct feedback on one or two of their music tracks on the spot. Mentors range from producers to music supervisors, agents, to name a few.
An extension of our popular Mentor Sessions, our Round Table Sessions not only allow attendees to learn from the industry experts that sit at each of the three tables in this session but they also allow attendees to learn from the questions and experiences of their peers as well. Our Round Table Sessions will bring together industry experts and SXSW attendees for an enlightening discussion based on specific topics.
Details on the Mentor Sessions RSVP system coming soon. RSVP is required and access is limited to Music Badges, Platinum Badges, and Artist Wristbands.
Check out the third wave of participants below.
2019 Music Tracks Mentors
Adele Ho (Creative Control)
AJ Alvarez (Symphonic Distribution)
Alex Torrez (Torrez Music Group)
Amir Abbassy (Blame the Label)
Andrew Master (Same Plate)
Bela Zecker (Merlin Network)
Brad Kennard (Concord Music)
Cassie Petrey (Crowd Surf)
Dan Coleman (Modern Works Music Publishing)
Dan Gross (McCann)
David Peris (Transmission Media)
Dottie Scharr (Creative License)
Emilee Booher (Light in the Attic Records)
Emma Wellbelove (Rattling Stick)
Eric Lilavois (London Bridge Studio)
Gareth Carter (Crunchy Tunes Publishing)
Greg Smith (Buddha Jones)
Jack Sills (Light In The Attic Records)
Jade Driver (Crowd Surf)
Jazz Atkin (Domino Record Co)
Jeff Liebenson (Liebenson Law)
Jesper "Yebo" Reginal Petersen (Crunchy Frog)
Jessica Ruoti (Independent)
Joel Andrew (CD Baby)
Jon Bahr (CD Baby)
Jonathan Cohen (The David Lynch Foundation)
Joncier Rienecker (TuneCore)
Jorge Brea (Symphonic Distribution)
Josh Zieman (Jullian Records/Inkind Music)
Karolina Hansen (Beatbox Entertainment)
Keanna "KJ Rose" Henson (The Rose Effect)
Kelly Ridgeway (WMA)
Ken Weinstein (Big Hassle Media)
Kevin Breuner (CD Baby)
Kirsten Stubbs (Interscope Records)
Lisa Hresko (A2IM)
Lorrae Therese McKenna (Our Golden Friend)
Mahtab Ahan Neptune (Native Instruments)
Mara Kuge (Superior Music Publishing)
Mike Bachta (Hard 8 Working Group)
Miles Feinberg (Music Rights Group)
Monti Olson (BMG)
Nathan McLay (Future Classic)
Oskar Ekman (YEAR0001)
Patrick Griffin (CD Baby)
Rasmus Damsholt (ATC Management)
Renee Masse (Shout It Out Loud Music)
Robert Brooks (Good Vibes Presents)
Russell Baltera (C3 Management)
Ruth Daniel (In Place of War)
Sarge Sargis (CD Baby)
Shari Hoffman (Transparence Entertainment)
Shelby Kennedy (TuneCore)
Sin Morera (Sinmusica Inc)
Ulrik 'Nalna' Petersen (Crunchy Frog)
Zena White (Partisan Records)

2019 Music Tracks Demo Listening Sessions
Adam Moses (Jazz Refreshed)
Charlie Davis (BMG)
Charlotte Von Kotze (Vice)
Chris Bell (Chris Bell Productions)
Dan Silver (Riptide Music)
Daren Searcy (ReverbNation)
David Hoffman (Shapiro Bernstein)
Eric David Johnson (McCann)
Fabian Halabou (Little Ears Music)
Jackie Palazzolo (VICE)
Jeff Pachman (Domino Publishing)
Jeffrey Neuberger (Glassnote Records)
Justin Polokoff (BMG)
Keith D'Arcy (Kobalt)
Mahmood Shaikh (Concerted Efforts)
Maria Gironas (YouTube)
Michael Smith (Bloodshot Records)
Mike Boris (Jaded Melody)
Nicole Sanzio (Indigi Music)
Paul Rocha (Secret City Records)
Pete D'Angelo (Ernest Jenning)
Randy Lee (Limebeat)
Ted Lowe (Choicetracks Music)
William Foster (Animalxhouse)

2019 Music Tracks Round Tables
Booking a Tour & Becoming a Promoter
International Markets (India, China, & Africa)
Music in Film Licensing
Navigating the Music Startup World

Join Us at SXSW 2019
Interested in sitting down with one of our knowledgeable Music Mentors at SXSW 2019? Register before the February 15 deadline to save $100 on the walk-up rate and book your hotel using SXSW Housing & Travel for the best rates and locations close to the action.
Sign up for SXSW Event Updates and read SXSW News for announcements, deadline reminders, programming features, and beyond throughout the 2019 season.
Follow us on social media for daily updates – Twitter, Facebook, and Instagram.
2018 Music Mentor Session – Photo by Katie Marriner
The post Announcing the Third Round of Music Mentors, Demo Listening Sessions & More for SXSW 2019 appeared first on SXSW.