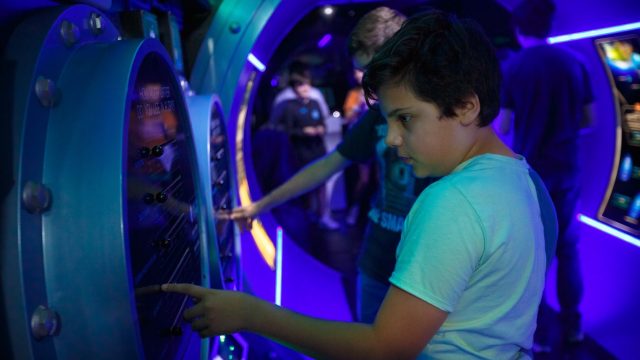 Now in its 20th year, SXSW is proud to announce the Community Service Awards honorees for 2019. Six individuals and six organizations, each chosen for their outstanding commitment to community service, will be awarded grants to continue their work. The Organization Award honors organizations that benefit the communities SXSW serves, while the Individual Award honors the difference one person can make in a community. The awards were created in 1999 to celebrate the life and work of SXSW Interactive co-founder, Dewey Winburne.
"Over the past 20 years SXSW has awarded nearly 200 exemplary individuals and organizations with grants and access to the event to help further their important work," said Chief Brand Officer Jann Baskett. "The recipients selected for the 2019 Community Service Awards are using their creative talents to change the world for the better, and we're honored to celebrate and amplify their efforts at SXSW."
The Community Service Awards will present up to $50,000 in grants in total, in addition to complimentary registration to SXSW to help recipients further their goals. Honorees are selected by an Austin-based committee and SXSW staff, who review nominations with an eye to the qualities of community, compassion, care, and education that Winburne brought to his tenure at SXSW.
Grant recipients will be honored in a ceremony on March 10, 2019, during SXSW. The free and open to the public ceremony does not require a SXSW Badge to attend.
2019 SXSW Community Service Awards Honorees
Individual Recipients
Aideé Granados – Granados was diagnosed with breast cancer in 2012. At the end of 2014, she became a certified as a Wellness Coach and founded Rosa Es Rojo, Inc., a nonprofit committed to educating Latinas on wellness and cancer prevention in America, starting in North Texas. There are no other wellness programs in North Texas reaching the Latino community in Spanish and using their very own cultural context. Over the last two years, Rosa Es Rojo has reached more than 420 families, equivalent to more than 3,800 hours of direct training.
Mauricio Villada Lopera – Lopera left his full time secure job at a leading bank in Colombia to help foster a radically positive change in the social sector ecosystem in Medellin. Deeply committed to working with marginalized communities of all backgrounds in Colombia, Lopera and Beatriz Peña Vasquez created a high-impact project called Expovoluntariado. The project, born out of social research, has impacted more than 120 social organizations in the country. Expovoluntariado hosts an event in the city of Medellin that brings together organizations and projects with volunteers who are willing to donate their time to transform the world.
Rwenshaun Miller – Mental health change agent, Miller, is a therapist, author, and social entrepreneur. He is also the recipient of the American Psychiatric Association Foundation award for Advancing Minority Mental Health. In 2013, Miller founded Eustress, Inc., a nonprofit organization that raises mental health awareness through educational and inspirational content, trainings, workshops, and annual multi-city "Let's Talk About It" walks. Through Eustress, he sheds light on issues that affect our mental health and provides tools and techniques to manage them.
Sheena McFeely – Author, creator, and motivational speaker McFeely has produced, directed, and distributed ASL Nook online, which has reached more than a million hits. Sheena has been featured on The Nate Berkus Talk Show, A&E's Deaf Out Loud documentary, and more. Her work has received acclaims from Austin Woman Magazine, UpWorthy, Mental_Floss, and Ability Magazine. All in the name of authentic representation, awareness, and equality of Deaf people, McFeely is a proud Deaf woman who believes that doing gets you somewhere, while talking gets you nowhere.
Estella Sanchez – The founder and Executive Director of Sol Collective, Sanchez is an artist, activist, educator, and organizer. With an MA in Educational Leadership and Policy Studies, she has dedicated her life to empowering communities using the arts to cultivate the next generation of leaders both locally and globally. Over the past ten years Sol Collective has served as a multicultural hub for Northern California and beyond working to support and cultivate artists, creative businesses, community groups, and arts programming.
Fran Tarr – Breaking Walls Founder and Director, Tarr, is a renowned artist, Arts Educator and creative activist. Launched in 2011, Breaking Walls is a U.S.-based international youth empowerment movement that fosters global dialogue among the leaders of tomorrow by creating artistic, educational and community-building opportunities for youth to become empathetic, system changing leaders.
Organization Recipients
Born2Walk – Born2Walk aims to provide inexpensive, adjustable and modular below-knee prosthetics to developing countries at free of cost. Through the use of 3-D modeling and printing, Born2Walk is able to custom make prosthetic pieces that are then combined to form a leg and most recently, feet.
Black Girls CODE – Since 2011, Black Girls CODE has been committed to providing girls from underrepresented communities access to technology and 21st century skills necessary to become tech leaders. Having reached more than 8,000 young women in 14 chapters around the world, Black Girls CODE's organizational vision is to increase the number of women of color in the digital space by empowering girls of color ages 7 to 17 to become innovators in STEM fields, and builders of their own futures through exposure to computer science and technology.
HRA Studios & Foundation – HRA Studios and Foundation (HRAF) provides music and arts outreach to treatment centers, clinics, schools, shelters, and individuals from ages 3 to 80. Program highlights include establishing a music program at a Tijuana orphanage, recording original music by a young cancer survivor at Hollywood's Capitol Studios, and donating over a thousand instruments and creative tools in our "Play It Forward" program. Recently, HRAF produced a song about the Parkland, Florida shooting that was written and performed by violence-affected youth from across the country.
Lights Camera Discover – Lights Camera Discover is an organization devoted to developing strategies and bringing out positive skill sets within the youth. Lights Camera Discover provides workshops to students throughout the country. Within each workshop, students learn various components of performing and digital arts. The organization teaches a variety of subjects, including acting, digital filmmaking, photography, screenwriting, digital editing, web design, motion graphics and more.
StreetBooks ATX – StreetBooksATX is a mobile lending library for members of the local community with no fixed address. An offshoot of the Portland, Oregon non-profit established in 2011, their mission is to cultivate compassionate inclusive communities through the love of literature. The goal is to provide hope and encouragement to the frequently overlooked members of the Austin community. There are no institutional barriers to entry for those desiring to be part of the library system. StreetBooksATX approaches the issue of displaced Americans through compassion and sharing of stories. As the patrons become more regular, they are building their sense of self and inclusion in Austin.
The Mobile River (Colorado River Alliance) – The Colorado River Alliance champions the long-term vitality of the Texas Colorado River through education and engagement with programs that reach over 14,000 students and community members annually. One of the Alliance's main programs, the Mobile River, is a water-science-center-on-wheels that delivers hands-on aquatic science and water-stewardship education directly to 7th grade students. Its mobility allows the program to effectively bring a field trip to the students, arriving directly at middle schools in Austin and across the Texas Colorado River basin. The program features interactive STEM-based models and engaging, educational video games inside a futuristic 42-foot trailer.
Congratulations to all of our 2019 honorees, we can't wait to celebrate with y'all in March!
Join Us in March 2019
Register to attend SXSW 2019 and book your hotel to begin your SXSW adventure from March 8-17, 2019. Sign up for SXSW Event Updates to always be in the know!
2019 SXSW Community Service Awards Honoree – The Mobile River
The post Announcing the SXSW Community Service Awards Honorees for 2019 appeared first on SXSW.