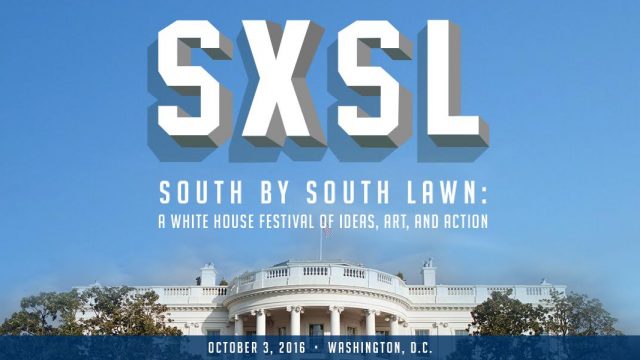 Earlier this year, President Obama's keynote conversation at the SXSW Conference encouraged civic involvement and challenged creative thinkers and entrepreneurs from across the country to help tackle our toughest challenges.
On Monday, October 3, the White House will continue that celebration of the spirit of innovation with an event called South by South Lawn.
South by South Lawn, inspired by South by Southwest, brings together creators, innovators, and organizers who work day in and day out to improve the lives of their fellow Americans and people around the world.
In coordination with the American Film Institute (AFI), C3 Presents, the President's Committee on Arts and Humanities (PCAH), and South by Southwest, the South Lawn event will be comprised of three parts: an Interactive section that will include panel discussions throughout the day and booths encouraging attendees to learn about new technologies and innovations, the 3rd Annual White House Student Film Festival, and music performances by well-known and emerging artists.
President Obama told the audience at the 50th Anniversary of the Selma to Montgomery Marches, "It is you, the young and fearless at heart, the most diverse and educated generation in our history, who the nation is waiting to follow."
In that spirit, South by South Lawn will challenge young leaders to help continue to shape a country that is more fair and full of opportunity.
Do you know someone who's doing great work and should be there? You can nominate yourself or someone you know here.
South by Southwest is honored to be a part of this distinguished event.
The post Announcing South by South Lawn: A White House Festival of Ideas, Art, and Action appeared first on SXSW.