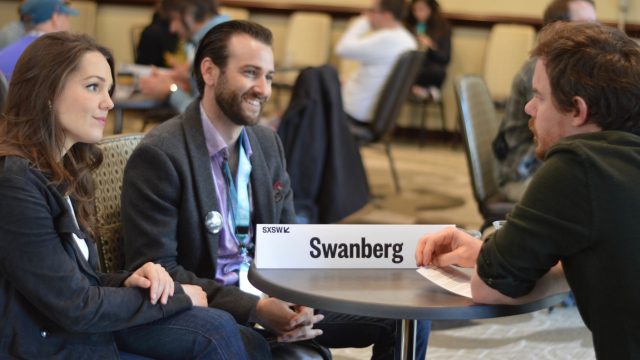 The SXSW Conference is excited to announce our first round of Film Mentors and Round Table participants for the 2019 event. Mentors and Round Tables are an excellent way to get industry advice with a personal touch.
Mentor sessions center around one-on-one meetings with film and entertainment professionals, which range from experts in distribution and filmmaking to marketing and promotion, and more. The Round Table program allows for seven attendees to sit at a table and converse with a rotating group of industry insiders. Not only do attendees get the opportunity to learn from industry experts, but also from the questions and experiences of their peers. Like the Mentor sessions, Round Tables are broken up into different sections such as Sales and Acquisitions, Publicity, etc.
Stay tuned for Mentors and Round Tables sign-up coming in February. Advanced sign-up is required and access is limited to badge type.
Check out our first wave of participants below.
2019 Mentors and Round Tables
Taylor Allen
Kim Bailey (Corporate Witchcraft)
Dante Basco (Rufio Inc.)
Amy Beecroft (Verve)
Brian Behm (Behm Creative)
Opal H. Bennett (DOC NYC)
Matthew Bolish (NYFF/Film Society of Lincoln Center)
Matt Burke (Submarine)
Matthew Campbell (Denver Film Society)
Daniel Cantagallo (Cargo Film & Releasing)
Hervé Cohen (BelleMoon Productions)
Chris Demarais (Rooster Teeth Productions)
Sylvia Desrochers (Big Time PR)
Andrea Dimity (Pannon Entertainment, Inc.)
Jim Dobson (Indie PR)
Erik Donley (The Telexist Company)
Nicholas Elliot (Festival del film Locarno)
James Field (Substance Global)
Andrew Freedman (Substance Global)
Hayden Goldblatt (Frankfurt Kurnit Klein & Selz)
Megan Gilbride (Hidden Candy)
Garrett Greer (Haven Entertainment)
Lisa Holmes (Music Box Films)
Will Jenkins (Civic Advisors)
Alex R Johnson
Doug Jones (Images Cinema)
Ryan Kampe (Visit Films)
Aaron Katz (Oscilloscope)
Marian Koltai-Levine (PMK-BNC)
Greg Kwedar (Marfa Peach Company)
Missy Laney (Adult Swim / Turner Broadcasting)
Sarah Lash (Conde Nast Entertainment)
Keith Leopard (Uncork'd Entertainment)
Mat Levy (Passion River)
Andrew Logan
Kara MacLean (K2 Publicity)
David Magdael (David Magdael & Associates, Inc.)
Cameron Malone (Rooster Teeth Productions)
Kristin McCracken
Kendall McKinnon
Eliza McNitt
Lee Meltzer (PMK BNC)
Patrick Moreau (Muse Storytelling Inc)
David Ninh (Kino Lorber)
David Nugent (Hamptons Film Fest)
Chris Ohlson (Revelator)
Matt Orenstein (ABMO Films)
Layla Hancock-Piper (Cinetic Marketing)
Lina Plath (Frank Publicity)
Jeremy Platt (Grandview)
Simon Pulman (Cowan DeBaets Abrahams & Sheppard LLP)
Orly Ravid (Film Collaborative)
Michael Repsch (Dark Star Pictures)
Greg Rhem (HBO)
Kevin Rowe (Elia)
George Rush (Law Offices of George M. Rush)
Sara Sampson (Sampson PR)
Kent Sanderson (Bleeker Street Media)
Dan Satorius (Satorius Law Firm PC)
Marc Simon (Fox Rothschild LLP)
Eric Sloss (Cinetic Media)
Urszula Śniegowska (American Film Festival)
Nikki Stier (Good Deed Entertainment)
Jacki St. Thomas (Jive PR + Digital)
Yen Tan
Li Tian (Cornerstone Entertainment)
Severine Tibi (Sevana Films)
Basil Tsiokos (Nantucket Film Festival)
Lois Vossen (ITVS/Independent Lens)
Rachel Walker (Sundance)
Sarah Winshall (Smudge Films)
Rich Wolff (Breaking Glass Pictures)
Curtis Woloschuk (Vancouver International Film Festival)
Theresa Won (Won Way Media)
Join Us For SXSW 2019
Register and book your hotel now to save! The Film Badge gets you primary access to all SXSW Film events including Film Keynotes and Featured Sessions, world premieres, round tables, workshops, parties, and more. Over the course of nine days, the SXSW Film Festival hosts over 450 screenings! Film registrants also have primary access to Convergence events, including the Comedy Festival and nine unique conference tracks, as well as secondary access to most Interactive and Music events.
Follow us on Facebook, Twitter, Instagram, and SXSW News for the latest SXSW coverage.
See you in March!
Mentors: Narrative Filmmaking – Photo by Nicole Burton
The post Announcing First Wave of 2019 SXSW Film Mentors and Round Tables appeared first on SXSW.