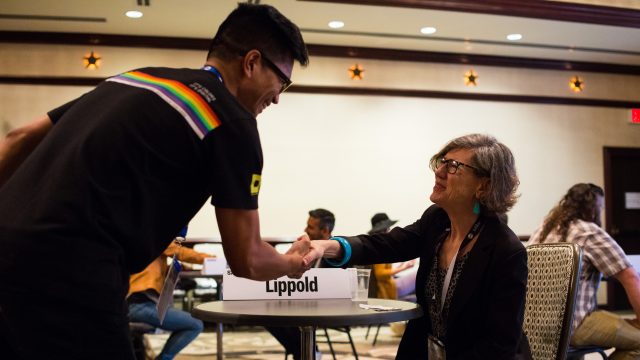 The SXSW Conference is happy to announce our first wave of Film Mentors and Round Table participants for the 2018 event. Mentors and Round Tables are an excellent way to get industry advice with a personal touch.
Mentor sessions center around one-on-one meetings with film and entertainment professionals, which range from experts in distribution and filmmaking to marketing and promotion, and more. The Round Table program allows for seven attendees to sit at a table and converse with a rotating group of industry insiders. Not only do attendees get the opportunity to learn from industry experts, but also from the questions and experiences of their peers. Like the Mentor sessions, Round Tables are broken up into different sections such as Sales and Acquisitions, Publicity, and more.
Stay tuned for Mentors and Round Tables sign-up coming later this season. Advanced sign-up is required and access is limited to badge type.
Check out the initial list of participants below.
2018 Mentors and Round Tables
Angel An (Roadside Attractions)
Diego Avaria (Argentine Film Institute & Film Commission)
Brian Behm (Rooster Teeth)
Peter Belsito
Matthew Bolish (New York Film Festival/Film Society of Lincoln Center
Sharon Brenner (Surowitz Immigration PC)
Daniel Cantagallo (Cargo Film and Releasing)
Leona Chaliha (Open City Documentary Festival)
Jim Cummings
Sylvia Desrochers (Big Time PR)
Jim Dobson (Indie PR)
Amy Elliot (Filmmaker)
Matt Grady (Factory 25)
Hayden Goldbatt (Frankfurt Kurnit Klein & Selz)
Zach Hamby (Gravitas Ventures)
Jasper Hokken (IDFA)
Gill Holland
Lisa Holmes (Music Box Films)
Doug Jones (Images Cinema)
Ryan Kampe (Visit Films)
Alia Quart Khan (Film Independent)
Andy Kleinman (Wonder)
Mike B. Lawson (Sawyer Studios)
Keith Leopard (Uncork'd Entertainment)
Mat Levy (Passion River)
Andrew Logan
David Magdael (David Magdael & Associates, Inc.)
Dan Magnante (Feig Co)
Lee Meltzer (PMKBNC)
Jordana Mollick (Haven)
Sara Murphy (Pastel)
David Nugent (Hamptons International Film Festival)
Kati Nuora (The Finnish Film Foundation)
Chris Ohlson (Revelator)
Charlie Olsky (Cinetic Media)
Linda Olszewski (Oscar Shorts/AMPAS)
Michael Paszt (Raven Banner Ent)
Ray Pena (Moontower VFX)
Mark Peranson (Festival del film Locarno)
Andrew Peterson (Provincetown Film Festival)
Simon N. Pulman (Cowan, DeBaets, Abrahams & Sheppard LLP)
Fernando Ramirez (Law Office of Fernando Ramirez)
Orly Ravid (Film Collaborative)
Michael Repsch (Dark Star Pictures)
Greg Rhem (HBO)
Jen Roskind
Jewerl Keats Ross (Silent R Management)
Robert Rock (Lightning Entertainment Group)
Kevin Rowe (Odenkirk Provissiero Entertainment)
George Rush (Law Offices of George M Rush)
Dan Satorius (Satorius Law Firm PC)
Amy Shatsky (ITVS/Independent Lens)
Weiman Seid (Fat Dot)
Eric Sloss (Cinetic Media)
Melissa Solomon (Verve)
Josh Spector (Gravitas Ventures)
Svante Tidholm (Way Out West)
An Tran (Arri)
Basil Tsiokos (Nantucket Film Festival/Sundance Film Festival)
John Von Thaden (Magnolia Pictures)
Leslie Vuchot (The Festival Agency)
Ryan Watt (Indie Memphis)
Rich Wolff (Breaking Glass Pictures)

Join Us For SXSW 2018
Grab your Film Badge today for primary access to all SXSW Film events including world premieres, roundtables, workshops, and parties. Register to attend by Friday, January 12 and save. Book your hotel through SXSW Housing & Travel for the best available rates. Stay tuned for the 2018 SXSW Film Festival lineup which will be announced in January.
Follow us on Facebook, Twitter, Instagram, and SXSW News for the latest SXSW coverage, announcements, and updates.
See you in March!
Mentors: Funding/Artist Support Photo by Kit McNeil
The post Announcing First Wave of 2018 SXSW Film Mentors and Round Tables appeared first on SXSW.