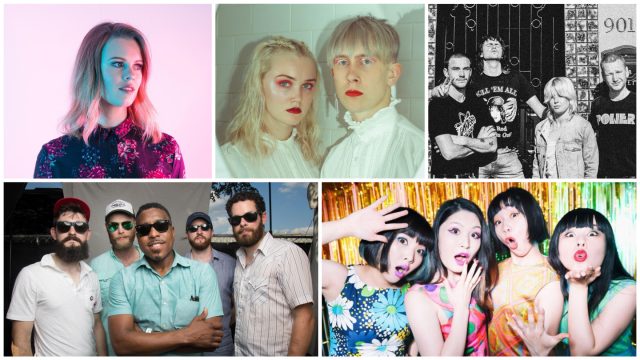 And so it begins! The good times and great performances from SXSW 2018 are still fresh in our minds, but with 2019 just around the corner, it's time to reveal the first wave of 240 Showcasing Artists who will perform at the SXSW Music Festival, March 11-17, 2019. While this is the first Music Festival announcement of the year, the SXSW Conference already announced a Keynote Conversation between Shirley Manson (Garbage) and Lauren Mayberry (CHVRCHES), Featured Speakers Amanda Palmer and Ross Golan, and 600+ Conference sessions including plenty of Music Tracks sessions addressing a variety of relevant topics in both the modern music industry and the industry of the future.
Showcasing Artists include Amanda Palmer (also a Featured Speaker at SXSW 2019), 90's shoegaze legends Swervedriver, Argentina's breakout trap star Ecko, and Against Me! Lead-singer Laura Jane Grace's new band – Laura Jane Grace & the Devouring Mothers. We've also added modern UK jazz acts Ezra Collective and Yussef Dayes, Korean post-rock group Jambinai (who stunned global audiences with their performance at the 2018 Winter Olympics closing ceremony), frenetic Japanese punk outfit Otoboke Beaver, up-and-coming San Marcos based rap collective PNTHN, and SF garage punks Oh Sees. Also joining the list are New Zealand indie acts The Beths and the ever-influential cult band The Chills, robotics engineer and techno mad-scientist Moritz Simon Geist, electro-infused Palestinians 47SOUL, London based synth-driven post-punk duo The KVB, Haitian-American hip-hop legend Wyclef Jean, and Australian garage punks Amyl & The Sniffers. View the full list of Showcasing Artists below.
We know you're eager to start digging through the full list. To help you find the artists you'll love, we offer these tools for musical discovery:
Follow the official SXSW 2019 Music Festival playlist on Apple Music and Spotify
Jam SXSWfm's specialty show highlighting artists from today's announcement
Surf through our SXSW 2019 Showcasing Artists Music Videos playlist on YouTube
Dig into the Showcasing Artist lineup on the SXSW Schedule and favorite the artists you are interested in seeing at SXSW 2019
Even though we've started our Showcasing Artist announcements for 2019, we are still eager to hear more music. The final deadline to apply to showcase is on Sunday, October 28, 2018 at 11:59PM PT, so don't delay. To give artists an idea of what a successful application looks like, the Music Festival team has prepared a few tips. Additionally, here are a few reasons why showcasing at SXSW 2019 will benefit your career.
Join Us in March 2019
Lock in your spot in the middle of all this great music programming by registering to attend SXSW 2019. Timing is everything, of course, and registering before the October 26 deadline will save you a cool 30% on the walk-up rate – not to mention how much easier it is to stay within your budget on airfare and lodging when booking well in advance. For the best available rates and locations, book your accommodations through SXSW Housing & Travel. SXSW attendees can save between 35%-50% using SXSW Housing's contracted hotel rates compared to direct bookings and online travel agencies.
With the Music Badge you'll get primary access to all showcases, Music and Convergence Tracks at the SXSW Conference, and Comedy Festival Showcases and Events as well as secondary access to Film programming and Interactive Tracks, Keynotes, and Featured Speakers. It's a lot, and that's not even all of it, so keep this access chart handy when making your agenda for SXSW 2019.
Keep your finger on the pulse – sign up for SXSW Event Updates and follow us on social media for regular updates – Twitter, Facebook, and Instagram.
2019 SXSW Showcasing Artists
Everything subject to change.
47SOUL (London UK-ENGLAND)
Acharné (Sydney AUSTRALIA)
Alexandra Cardenas (Berlin GERMANY)
Amanda Palmer (Boston MA)
Amaru Tribe (Melbourne AUSTRALIA)
Amyl & The Sniffers (Melbourne AUSTRALIA)
Annabel Allum (Guildford UK-ENGLAND)
APRE (London UK-ENGLAND)
Arkansas Dave (Austin TX)
Art School Girlfriend (Wrexham UK-WALES)
audiobooks (London UK-ENGLAND)
Ayelle (Stockholm SWEDEN)
Bad Bad Hats (Minneapolis MN)
Bane's World (Long Beach CA)
Baseball Gregg (Bologna, ITALY)
Baywaves (Madrid SPAIN)
Be Forest (Pesaro ITALY)
Berndsen (Reykjavik ICELAND)
The Beths (Auckland NEW ZEALAND)
Big Phony (Seoul SOUTH KOREA)
BIRTHH (Florence ITALY)
Black Rheno (Sydney AUSTRALIA)
Blood Cultures (Jersey NJ)
Bloods (Sydney AUSTRALIA)
Blushing (Austin TX)
Body Type (Sydney AUSTRALIA)
Bohemian Betyars (Miskolc HUNGARY)
Bones Garage (Tel Aviv ISRAEL)
Boy Azooga (Cardiff UK-WALES)
Breathe Panel (Brighton UK-ENGLAND)
Brett Newski & the No Tomorrow (Milwaukee WI)
Bror Gunnar Jansson (Gothenburg SWEDEN)
Bubble Puppy (Austin TX)
Capsula (Buenos Aires ARGENTINA)
Castlecomer (Sydney AUSTRALIA)
Catherine Britt (Newcastle AUSTRALIA)
Cats On Trees (Toulouse FRANCE)
Ceramic Animal (Philadelphia PA)
Charli Adams (Nashville TN)
Charlie Belle (Austin TX)
Charlie Faye & The Fayettes (Austin TX)
The Chills (Dunedin NEW ZEALAND)
Chkbns (Saint Petersburg RUSSIA)
Cilantro Boombox (Austin TX)
Cones (Los Angeles CA)
Creamer (Nashville TN)
Damien McFly (Padova ITALY)
Darkbird (Austin TX)
David Boring (Hong Kong CHINA)
David Keenan (Dundalk IRELAND)
Dawn Avenue (Mexico City MEXICO)
Death Bells (Sydney AUSTRALIA)
Deeper (Chicago IL)
Diego Guerrero (Madrid SPAIN)
Drahla (Leeds UK-ENGLAND)
Drinking Boys and Girls Choir (Daegu SOUTH KOREA)
DSTR (Leipzig GERMANY)
The Dunts (Glasgow UK-SCOTLAND)
Dwagie (Tainan TAIWAN)
DYGL (Tokyo JAPAN)
Ecko (Buenos Aires ARGENTINA)
Ellis (Hamilton CANADA)
el Tambor de la Tribu (Guatemala GUATEMALA)
Emily C. Browning (Christchurch NEW ZEALAND)
Emily Fairlight (Wellington NEW ZEALAND)
eX-Girl (Planet Kero Kero JAPAN)
Ezra Collective (London UK-ENGLAND)
Faded Ghost (Shanghai CHINA)
Fanclub (Austin TX)
FAVX (Madrid SPAIN)
Feels (Perth AUSTRALIA)
FEMME (London UK-ENGLAND)
Flohio (London UK-ENGLAND)
Foa (Eugene OR)
Fontaines D.C. (Dublin IRELAND)
Forever (Montreal CANADA)
French for Rabbits (Wellington NEW ZEALAND)
French Vanilla (Los Angeles CA)
The Fur. (Taipei TAIWAN)
fuvk (Austin TX)
Gaddafi Gals (Munich GERMANY)
Gaelynn Lea (Duluth MN)
Georgi Kay (Perth AUSTRALIA)
GIUNGLA (Bologna ITALY)
The Gooch Palms (Newcastle AUSTRALIA)
Goo Munday (Sydney AUSTRALIA)
Grim Streaker (Brooklyn NY)
Gudrun Gut (Berlin GERMANY)
Gustavo Casas y Los Que Buscan (Caracas VENEZUELA)
Gypsy Kumbia Orchestra (Montreal CANADA)
HÆLOS (London UK-ENGLAND)
Hala (Detroit MI)
Hans. (Auckland NEW ZEALAND)
Hayden Pedigo (Amarillo TX)
Hazey Eyes (Philadelphia PA)
Her's (Liverpool UK-ENGLAND)
Her Skin (Modena ITALY)
Hickeys (Madrid SPAIN)
Hot Flash Heat Wave (San Francisco CA)
Husky Loops (London UK-ENGLAND)
I'm Glad It's You (Redlands CA)
I am waiting for you last summer (Ryazan RUSSIA)
Jackie Bristow (Gore NEW ZEALAND)
Jambinai (Seoul SOUTH KOREA)
Jazzy Amra (The Bronx NY)
Joe Armon-Jones (London UK-ENGLAND)
Jonathan (Rijeka CROATIA)
JonZ (Tel Aviv ISRAEL)
JP THE WAVY (Shonan JAPAN)
Kabul Dreams (Kabul AFGHANISTAN)
Kandle (Victoria CANADA)
KHALIGRAPH (Nairobi KENYA)
Kidsmoke (Wrexham UK-WALES)
King Kaka (Nairobi KENYA)
King Kanja (Kensington MD)
Kite (Jessheim NORWAY)
The Klitz (Memphis TN)
Kofi Black (Staten Island NY)
KOLARS (Los Angeles CA)
Koran Streets (Berkeley CA)
The KVB (London UK-ENGLAND)
L3ON (Benito Juárez MEXICO)
La Mojarra Electrica (Bogotá COLOMBIA)
Laura Carbone (Berlin GERMANY)
Laura Jane Grace & the Devouring Mothers (Chicago IL)
Laurel (London UK-ENGLAND)
LE BIG SUR (Bogotá COLOMBIA)
Leyla McCalla (New Orleans LA)
Linying (Singapore SINGAPORE)
Lion Heights (Austin TX)
Litany (Harrogate UK-ENGLAND)
Locate S,1 (Athens GA)
Lost Under Heaven (Manchester UK-ENGLAND)
LOS WILDS (Madrid SPAIN)
Louis Prince (Nashville TN)
Lowly (Copenhagen DENMARK)
LUCIA (Glasgow UK-SCOTLAND)
Lucia Tacchetti (Buenos Aires ARGENTINA)
Lucy Lu (London UK-ENGLAND)
Lunar Vacation (Atlanta GA)
Madge (Los Angeles CA)
Madison Cunningham (Orange County CA)
Magnolian (Ulaanbaatar MONGOLIA)
Mamalarky (Los Angeles CA)
Marina Maximilian (Tel Aviv ISRAEL)
The Mauskovic Dance Band (Amsterdam NETHERLANDS)
Maybe April (Nashville TN)
Mikal kHill (Charlotte NC)
MIKNNA (Los Angeles CA)
Mirella Cesa (Guayaquil ECUADOR)
Moira Mack (Madison WI)
Moritz Simon Geist (Dresden GERMANY)
My Life as Ali Thomas (Bangkok THAILAND)
Naiboi (Nairobi KENYA)
Nerija (London UK-ENGLAND)
New Fame (Da Nang VIETNAM)
The Ninth Wave (Glasgow UK-SCOTLAND)
NOIRE (Brisbane AUSTRALIA)
Nsimbi (Los Angeles CA)
The O'My's (Chicago IL)
Oh Sees (Los Angeles CA)
ORI (Jerusalem ISRAEL)
Otis Wilkins (Austin TX)
Otoboke Beaver (Kyoto JAPAN)
PABST (Berlin GERMANY)
Palberta (New York NY)
Palo Duro (Austin TX)
The Parrots (Madrid SPAIN)
PASTEL GHOST (Austin TX)
Phy (Nairobi KENYA)
PNTHN (San Marcos TX)
Polyplastic (Los Angeles CA)
PowerSolo (Aarhus DENMARK)
Private Island (Los Angeles CA)
Puerto Arena (Montería COLOMBIA)
Puma Blue (London UK-ENGLAND)
Quiet Company (Austin TX)
The Rain Within (Charlottesville VA)
Raquel (Boston MA)
Reptaliens (Portland OR)
Riley (New York NY)
Rob Markman (Brooklyn NY)
Ruby Rushton (London UK-ENGLAND)
Ruth Koleva (Sofia BULGARIA)
Sarah Tandy (London UK-ENGLAND)
Say Sue Me (Busan SOUTH KOREA)
Seán Barna (Brooklyn NY)
Seratones (Shreveport LA)
Shadowparty (Manchester UK-ENGLAND)
The Sha La Das (New York NY)
Skegss (Byron Bay AUSTRALIA)
Slow Caves (Denver CO)
Slow Pulp (Madison WI)
Sneaks (Baltimore MD)
Sofie Winterson (Amsterdam NETHERLANDS)
Soft Streak (Los Angeles CA)
SONTALK (Nashville TN)
Sphynx (Austin TX)
Stealth (Birmingham UK-ENGLAND)
STEREOGIRL (Chofu-City JAPAN)
Steve'n'Seagulls (Jyväskylä FINLAND)
Subhi (Chicago IL)
Summer Cannibals (Portland OR)
Swallow the Rat (Auckland NEW ZEALAND)
Sweet Crude (New Orleans LA)
Swervedriver (Oxford UK-ENGLAND)
T$HEGO (Mafikeng SOUTH AFRICA)
Tamino (Antwerp BELGIUM)
Theodore (Athens GREECE)
Tia Gostelow (Mackay AUSTRALIA)
Tirman Kid (Buenos Aires ARGENTINA)
TOFLANG (Barcelona SPAIN)
Tomar and the FCs (Austin TX)
Trudy and the Romance (Liverpool UK-ENGLAND)
Twin Tribes (Brownsville TX)
Twist (Toronto CANADA)
Unge Ferrari (Oslo NORWAY)
UPSAHL (Phoenix AZ)
Viagra Boys (Stockholm SWEDEN)
Viva Non (Winnipeg CANADA)
Vlad Holiday (Jersey City NJ)
WAAX (Brisbane AUSTRALIA)
WAFIA (Brisbane AUSTRALIA)
Warm Drag (Los Angeles CA)
Warmduscher (London UK-ENGLAND)
Warm Human (Chicago IL)
Weakened Friends (Portland ME)
Westerman (London UK-ENGLAND)
Western Youth (Austin TX)
Whyte Horses (Manchester UK-ENGLAND)
William Harries Graham (Austin TX)
William Wild (Knoxville TN)
Willie J Healey (Oxford UK-ENGLAND)
Wyclef Jean (New York NY)
XETAS (Lockhart TX)
yahyel (Tokyo JAPAN)
YEHAIYAHAN (Shanghai CHINA)
Yorka (Santiago CHILE)
Yussef Dayes (London UK-ENGLAND)
ZRN (Aarhus DENMARK)

Everything subject to change.
Photo credits, clockwise from top left:
Emily C. Browning – Photo by Charlie Rose Creative
The Ninth Wave – Photo by Neelam Khan Vela
Amyl & The Sniffers – Photo by Jamie Wdziekonski
Otoboke Beaver – Photo courtesy of the Artist
Tomar and the FCs – Photo by Jorge Sanhueza Lyon

(Teaser photo) Otoboke Beaver – Photo courtesy of the Artist
The post Announcing 240 Showcasing Artists for the 2019 SXSW Music Festival appeared first on SXSW.