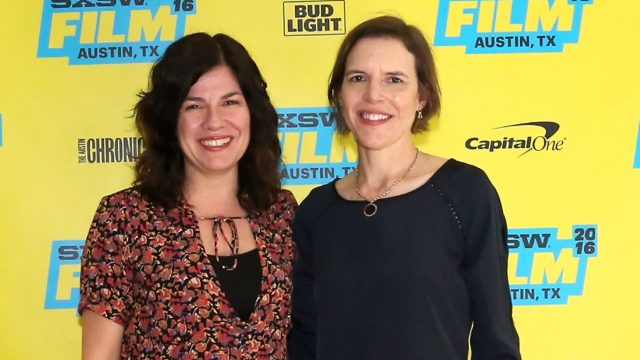 At SXSW 2018 we celebrated the 25th Edition of the SXSW Film Festival and had the pleasure of sharing stories, memories, and reflections from our distinguished alumni. We had a blast telling these tales and want to keep the party going! Today we spotlight Annie J. Howell and Lisa Robinson.
Howell and Robinson have co-directed, co-produced, and co-written two feature films together that have world premiered at SXSW. Small, Beautifully Moving Parts (2011) and Claire in Motion (2016), both of which premiered in the Narrative Feature Competition. Recently, Howell wrote episodes for the TV series A Crime to Remember and Robinson directed episodes for the series as well, which aired on Investigation Discovery. Additionally, Howell directed the short Dolly at SXSW 2001 and co-directed the short Futurestates which world premiered at SXSW 2010. Read their stories below!
Annie J. Howell
"I am so proud to call SX my festival home. Janet [Pierson] and her amazing team of programmers create something so wildly precious – a gorgeous elixir of the far-flung, the out, the in, the loud, the quiet, and the sublime. I showed a few shorts in the 2000s, a warm up act for the honor of being part of the competition line-up with our first feature, Small, Beautifully Moving Parts. Little did we know that we had the queen of SX in our movie, Anna Margaret Hollyman – who also graced the bumpers that year in one of the very best, Joe Nicolosi's The Line – which, watching now, makes me want to spend my own life in line at SX! Having the lights go down on our movie's premiere at The Paramount, electricity in the air – ranks up there as one of the most exciting moments I've had, ever."
Lisa Robinson
"It has been so exciting to premiere two features at SXSW. When I think of this festival I think of the energy. SXSW is the opposite of static…everything, everyone, the films, the music is all just bustling and it has such kinetic possibility making it a fantastic launch pad for work. For our recent film Claire In Motion we had so many members of our amazing crew and cast attend, including Betsy Brandt and SX frequenter Anna Margaret Hollyman. We had last seen each other in a quiet town in Ohio on sleepy streets and dusty hills and there we were in Austin…celebrating the premiere in this electric firecracker – like atmosphere. So besides all the amazing films and people…this is what I like about SXSW. Thanks Janet and team!"
Join Us For SXSW 2019
Register and book your hotel now to save! The Film Badge gets you primary access to all SXSW Film events including Film Keynotes and Featured Sessions, world premieres, round tables, workshops, parties, and more. Over the course of nine days, the SXSW Film Festival hosts over 450 screenings! Film registrants also have primary access to Convergence events, including the Comedy Festival and nine unique conference tracks, as well as secondary access to most Interactive and Music events.
Follow us on Facebook, Twitter, Instagram, and SXSW News for the latest SXSW coverage.
See you in March!
Annie J. Howell (L) and Lisa Robinson attend the premiere of Claire in Motion – Photo by Diego Donamaria/Getty Images for SXSW
The post Annie J. Howell and Lisa Robinson – SXSW Film Festival Alumni Stories appeared first on SXSW.