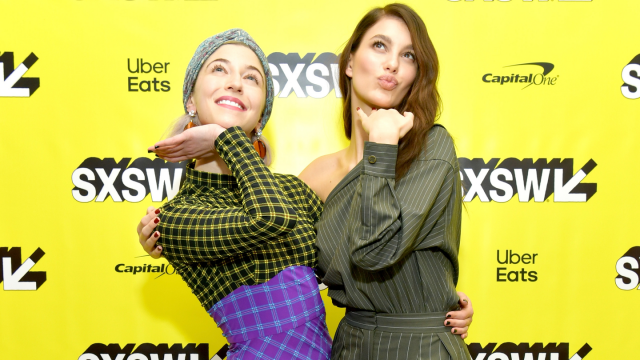 Director and screenwriter Annabelle Attanasio's feature debut Mickey and the Bear world premiered at the 2019 SXSW Film Festival in Narrative Feature Competition. The film tells the story of headstrong teenager Mickey Peck (Camila Morrone) who is doing what she can to keep her single, veteran father (James Badge Dale) afloat. However when Hank's controlling, jealous behavior turns destructive, Mickey must decide between familial obligation and personal fulfillment as she puts everything on the line to claim her own independence.
"I admire the way SXSW is unafraid to take chances on first-time filmmakers like myself, as well as fresh faces onscreen, like our leading lady Cami Morrone…SXSW embraces new, unusual voices and a homegrown approach to filmmaking, and we were so proud to be part of both traditions."
Read our interview with Attanasio below and keep a look out for Mickey and the Bear, which will be released later this year! You can watch the trailer here.
Don't forget the Late Deadline to submit the festival is October 17!
Interview with Annabelle Attanasio
In your own words, what does this film mean to you?
Annabelle Attanasio: The dichotomy between familial obligation and personal growth is something I've been wanting to share in a film for a very long time. My teenage years were consumed by this sense of obligation I had towards my parents. I felt my family's problems were my sole responsibility to fix, and spent a great deal of adolescence mediating between my parents and attempting to take on their emotional dysfunction. The movie feels like a culmination of those chaotic years of my childhood. What's been perhaps most meaningful to me about the process of making this movie is the way it brought me closer to my Dad. It's ironic, because the movie itself is about an incredibly codependent and fraught relationship between a girl and her father, and stemmed from a very personal place within my own experience with my family. But throughout the many years I've been with this story, nobody has stood by my side more than he has.
What motivated you to tell this story?
AA: There are so many father-son stories, but only a handful of father-daughter stories where the daughter is more than a vehicle for her father's emotions. I am so grateful that recent films like Eighth Grade and Leave No Trace exist, and I hope Mickey and the Bear falls into the expanding canon of films that explore the complexity of the father-daughter bond.
My film contributes something somewhat darker, somewhat outré to that canon. What happens when you are 17, your mother's dead, and your Dad is single, unstable, and self-medicating with booze and pills? Mickey alternates between traditional feminine roles — daughter, wife and mother — in order to keep her father's mercurial moods and addictions at bay. Sometimes she nurtures him like she's his mom. Sometimes she makes him feel important like she's his little girl. And sometimes, she inadvertently lets her father cross a boundary so he can fill the void of his late wife.
Since writing the script I have met so many girls and women who have gone through some version of this pattern. I hope Mickey feels like a mosaic of all those girls and women who went through varying degrees of the same experience.
What do you want the audience to take away?
AA: The abuse in this film is insidious. It lives in the suspenseful, dreadful space when you're just waiting for the other person to explode. I hope people take away that sometimes, the subtlest of abuse can be the most terrifying, for it is just a symbol of what is yet to come. Beyond that, I hope the film reminds the audience that dignity and selfhood is a lot more important than loyalty to someone who causes you harm. It permits the audience to let go of what holds them back.
What were you doing when you found out you were coming to SXSW?
AA: It was the middle of the night and I was in Paris for the first time ever. Lizzie, my producer, called me out of the blue and told me the news. We spent a good half hour freaking out in disbelief!
What made you choose SXSW to showcase your film to the world?
AA: First off, it made me so thrilled to see that seven of the ten filmmakers in competition have female artists at the helm in some capacity! Secondly, I admire the way SXSW is unafraid to take chances on first-time filmmakers like myself, as well as fresh faces onscreen, like our leading lady Cami Morrone. In fact, pretty much everyone in a major role on our crew was stepping up into that position for the first time. That includes the dozens of Anacondans who got involved in our film, without whom the film would not exist today. SXSW embraces new, unusual voices and a homegrown approach to filmmaking, and were so proud to be part of both traditions.
Do you have any advice to filmmakers submitting to SXSW or any advice to first-time filmmakers?
AA: Work tirelessly on your cut. It does not need to be final or perfect by any means, but put absolutely all you can into it! Host test screenings, show it to your close friends and family as well as strangers, get feedback, incorporate sound design and temp score, if there are VFX, try to give the essence of what they will be in their final form. You want the viewers to feel like they are watching the closest thing to a finished film even if they know it will still change. And be brutal with your cuts – do not be afraid to kill your darlings. Remind yourself what the core story you are trying to tell is, and if there are any moments that don't contribute to that, you may need to say goodbye to those for the sake of the cut. We submitted a rough cut to SXSW in 2018 and it still changed between our submission and premiere, mostly in terms of music, but the cut we sent in was truly the best version of the film we felt we could put forward at that point in time.
Other than that, I would encourage first-time filmmakers to reach out for help. Don't be shy! I asked probably 50 people to watch various cuts and give feedback on what wasn't working for them. We were in an especially crunched timeline – we wrapped principal photography at the end of September in 2018 and I believe we submitted close to a month after that – so I had zero down time between shooting and editing. I knew I needed fresh eyes to help me hone the timing, tone and reveal of information in the cut. Ultimately, the feedback that resonated became incorporated into my cut, and the feedback that didn't fell away. Each note helped me get closer and closer to my intended vision.
Finally, once you've submitted, try to feel proud of yourself – it is a huge accomplishment to finish a film! Give yourself a day off and maybe do something nice for yourself, whatever that may be. And then, get back into the edit!
Join Us for SXSW 2020
We are open for business! Registration and housing are now available for the 2020 SXSW season. Get inspired by previous Keynotes, Featured Sessions, Red Carpets, and Q&A's on our YouTube Channel.
Follow us on Facebook, Twitter, Instagram, and SXSW News to stay current with all things SXSW.
See you in March!
World Premiere of Mickey and the Bear – Photo by Danny Matson
The post Annabelle Attanasio Talks About Her Debut Feature Mickey and the Bear – SXSW Interview appeared first on SXSW.