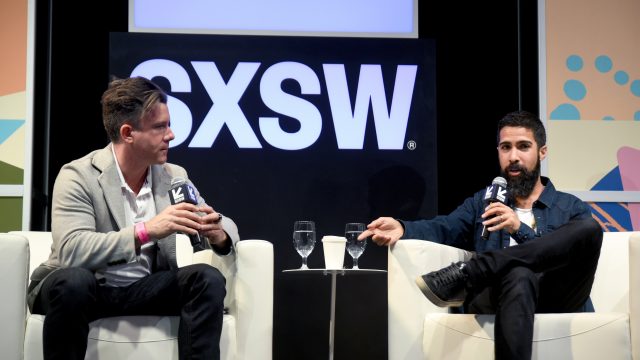 The Music Industry & Culture Track explores music's rich history to remind us that creativity and innovation are deeply embedded in its DNA.
"Music Industry & Culture serves as a gathering of the industry thought leaders and cultural icons to illuminate trends, emerging issues, new tech, and cultural shifts within the world of music," said SXSW Programmer Bobby Nall. "We're in a time of massive, rapid change in the business, and artists, labels, songwriters, and other stakeholders need to know what's around the corner. Other talks will elucidate that eternal back and forth between the creators and the systems that promote them, the growing trend of independence, and the bridges between creativity and industry, the artist and the community, the past and future."
Explore the Music Industry & Culture Track to learn about topics like modern A&R, music in television and film, the politics of punk and more. Music Industry & Culture Track sessions take place March 12-16 with primary access to Music and Platinum Badges; secondary access to all other badges.
Music Industry & Culture Session Highlights
Modern Adventures in A&R
Speakers: Carlos Cancela (Interscope Records), Greg Katz (Defend Music), Amanda Samii (Kobalt Music Publishing), and Carrie West (Atlantic Records)
Artists can now reach the entire world with the click of a button, so it's probably the best time in history to make music independent of a label or publisher. Yet A&Rs still wield influence over who gets signed and how their careers develop creatively, and the competition for talent is fierce. On this panel, A&Rs from both labels and publishers talk about their view of the nature of their jobs and the industry; how they find and sign artists; and how labels and publishers can still contribute value to artist development in 2019 when artists have more control over their fate than ever.
Self-Sovereignty, Open Protocols & Future of Music
Speakers: Imogen Heap (Mycelia), Grainne McNamara (PwC), Panos Panay (Berklee College/Open Music Initiative) and Janet Snowdon (IBM)
As art and money become increasingly reduced to data, and thus increasingly fluid, how will rights-holder data be tracked, who will own it, and how might an open protocol enable artists to better track and monetize the content they create? Technology such as blockchain and distributed ledgers are creating new opportunities for self sovereignty, whether in supply chains, emerging nations, or for the new media industry. Hear from a cross-industry panel that convenes experts from the worlds of blockchain, data science, and auditing on how the future music industry can deploy these methods to track digital assets, and open new artistic opportunities, especially as remixing and user-generated content becomes the rule rather than the exception.
Trailerized: Music in Film & Television Marketing
Speakers: Rudy Chung (Pusher), Leigh Henrich (Sweets & Pop), Sanaz Lavaedian (mOcean), and Julia Trainor (Project XA/V)
Musicians and pitch professionals know something about the hustle to get music into the right hands in the hopes of landing a placement, but we don't always consider what the hustle is on the other side. In this panel, we'll delve into the world of placing music in film and TV marketing and find out why it's so competitive for trailer houses and music supervisors to land marketing campaigns. We'll also learn how the competition for jobs informs the type of music that is ultimately used in campaigns. Top experts who work on music placement for trailers and television marketing will also share with us what their process is from conception to final placement, advise on the challenges they face and share some tips on writing music for marketing and getting your music into their hands.
The Politics of Punk in the Era of Trump
Speakers: Judith Peraino (Cornell University)
Right-wing media outlets have dubbed Donald Trump "The Punk Rock President" to validate his rule-breaking crudeness and appeal to white working-class rage. How did this happen? What can we do about it? This presentation will confront the complex and often contradictory politics of punk songs, symbols, and representations of race and sexuality, drawing on Cornell University's extensive punk rock archive of flyers, zines, posters, t-shirts, and ephemera. I will discuss archival materials from the Sex Pistols, Crass, the Germs, Wasted Youth, Crucifix, Atrocity, as well as Austin's own MDC and the Dicks, among others, to show how punk history can be a tool for political conversation and engagement in the present.
youtoo? Creating a More Inclusive Music Industry
Speakers: Richard James Burgess (A2IM), Shirley Manson (Garbage), Vanessa Reed (PRS for Music Foundation), and DJ Target (BBC)
The music industry's track record in gender equality and diversity is now a regular topic of conversation. Thanks to this increased awareness we are beginning to see the signs of real change; from social media campaigns, gender balance pledges, and grass roots, anti-harassment movements, it's no longer acceptable to look the other way. But where does responsibility lie when it comes to building on this progress and creating a more inclusive industry? What needs to change first and who will drive this? Does the music industry need more national or international collaborations? And what practical things can we do as individuals to create a more balanced, successful industry? Hear from leading artists & industry execs on what we can do now as the next generation pushes for change.
Browse All Music Industry & Culture Sessions
Join Us For SXSW 2019
Register and book your hotel now to save on the walk up rate. The Music Badge will provide you primary access to all showcases, Music and Convergence tracks at the SXSW Conference, and Comedy Festival Showcases and Events, as well as secondary access to Film programming and Interactive tracks, Keynotes, and Featured Speakers.
Follow us on Facebook, Twitter, Instagram, and SXSW News for the latest SXSW coverage.
Benjamin Groff and Featured Speaker Savan Kotecha at SXSW 2018 – Photo by Dave Pedley/Getty Images for SXSW
The post Adventures in A&R, the Politics of Punk, and Music on the Blockchain: Music Industry & Culture Track Sessions for SXSW 2019 appeared first on SXSW.