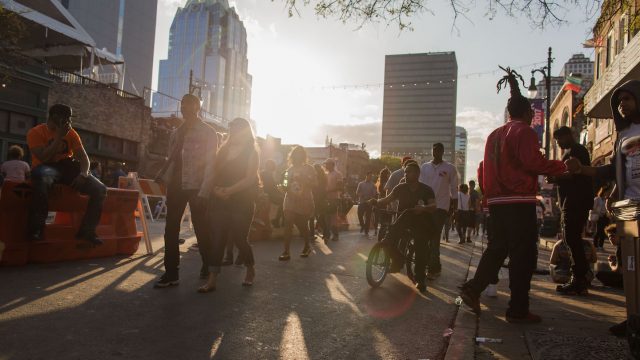 Day One of the inaugural Cities Summit has arrived!
The Cities Summit at SXSW is an opportunity for civic leaders, creative citizens, and urbanists of all disciplines to learn, strategize, and form partnerships to create more equitable, resilient, and livable cities. With two days of dynamic programming, performance, pop-up exhibits, and events exploring the future of our cities, there is no shortage of excitement to look forward to.
The bulk of the Cities Summit programming will be found at the Four Seasons hotel, with a handful of events such as book signings scheduled at the Austin Convention Center.
Monday, March 12: Cities Summit Highlights
8:30AM – 9:30AM – Coffee Break
Presented By ICMA
9:30AM – 10:30AM – Biotech and the Megacity
9:30AM – 6:00PM – Making Tech Work for People: NYC@SXSW
Hosted by Mastercard
9:30AM – 1:45PM Mentor sessions
9:30AM – 6:00PM – UNESCO Media Arts Exhibition
9:55AM – 10:40AM – New Localism: Reimagining Power in a Populist Age
10:30AM – 12:00PM – Rethinking Resilience in the Smart City
10:35AM – 11:00AM – Making Cities Inclusive, Equitable and Sustainable
11:00AM – 12:00PM – Redefining Sanctuary Cities
11:00AM – 12:00PM – Reimagining the Civic Commons
12:05PM – 12:30PM – AR/VR Fireside Chat
12:30PM – 1:30PM – AI and the City Meet Up
12:30PM – 12:50PM – Wanted: A Civic Generation to Solve Climate Change
2:00PM – 3:00PM – The Case for Culture: Art & Tech in UNESCO Creative Cities
3:30PM – 4:30PM – How Cities will Drive Autonomous Vehicles
3:45PM – 4:30PM – Superheroes and the City
4:35PM – 5:00PM – Women in Leadership
6:00PM – 8:00PM – HappyHourLab with Citylab, featuring artist Tunde Olaniran
Presented by The American Cities Practice at the Kresge Foundation
Sign Up for the CityLab Daily Newsletter
Through sharp analysis, original reporting, and visual storytelling, CityLab focuses on the biggest ideas and most pressing issues facing the world's metro areas and neighborhoods. Be sure to subscribe to the CityLab Daily Newsletter to receive all the information you need to make your city better.
Sixth Street at sunset during SXSW 2017. Photo by Christina Pradhan.
The post Activists, Artists, and Superheroes Unite: Day One Highlights at SXSW Cities Summit appeared first on SXSW.