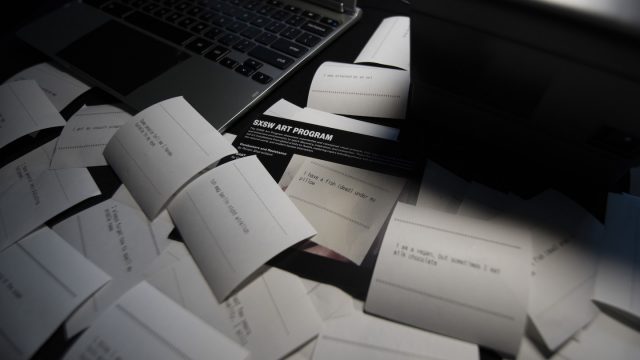 The SXSW Art Program is back for the third year of programming experiential and conceptual visual artworks exploring emerging technology to inspire creativity and inspiration for the SXSW community. The program invites emerging and established artists to apply to exhibit and is looking for work that embodies the values of SXSW – creativity, culture, storytelling, and innovation.
Exhibiting at SXSW offers an excellent platform for artists to share their vision with creatives in diverse fields such as music, film, tech sectors, and more. The SXSW community converges at Austin each March to look into the future of tech and culture, and the Art Program provides a platform for artists to make their vision a part of this process.
Apply today to exhibit your art at SXSW 2019. Here are a few tips to help make the most of your application to exhibit. Additionally, please be aware of this year's deadlines – September 20 (early application deadline) and October 11 (final application deadline.) We can't wait to read about your work!
Tips for Applying
Think in 3D
With creatives of all stripes in attendance at SXSW, we are looking for works that push the envelope in terms of interactivity and immersion. The SXSW creative community draws inspiration from the works of art on display at the event, and uses that inspiration to inspire innovation in their respective fields, so we urge all applicants to the Art Program to think in 3D.
Be Innovative
Accepted works will be displayed in non-traditional spaces, such as conference-style rooms, so use that to your advantage by creating a one-of-a-kind installation that will transform the space. Additionally, the diverse audience at SXSW wants to see works that take chances.
Go Big
Both the indoor and outdoor exhibition spaces are large. We encourage artists to take full advantage of these spaces to best represent their work in a format that will appeal to our audience of thousands of creatives, global professionals, industry leaders, and more.
Be Thorough
The SXSW Art Program team spends months looking over applications to find the best work. Please take the time to provide the best application you possibly can, and also thoroughly proof your work before sending it in. This way we can make our decision based on the quality of the idea, not the quality of the application. Check out the detailed description about the art application and process before you start prepping your application.
Registration for SXSW 2019 and Housing is now open – join us next March 8-17 in Austin, TX.
SXSW Art Program: The Future of Secrets – Photo by Ann Alva Wieding
The post 4 Tips to Apply to the 2019 SXSW Art Program: Early Deadline September 20 appeared first on SXSW.