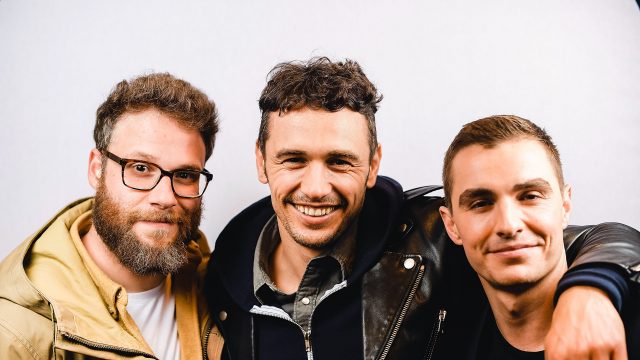 To commemorate the 25th edition of the SXSW Film Festival, we will spotlight careers launched, artists discovered, powerful performances, and more from our alumni. This week's featured artist, actor, director, writer, and producer is Seth Rogen.
Rogen has appeared in six features at SXSW. One of the most popular and talked about films from the 2017 festival was the Work-In-Progress screening of the The Disaster Artist, which he worked on with frequent collaborators James and Dave Franco. The film is set to be released in December via A24, you can check out our Q&A from the event here.
Other comedies that screened at SXSW include Knocked Up (2007, Work-In-Progress), Observe and Report (2009, Headliner), Neighbors (2014, Headliner), and the adult animated film, Sausage Party (2016, Work-In-Progress). Additionally, Rogen co-wrote, co-produced, and lends his voice talents in Sausage Party.
In 2016, SXSW also presented the world premiere of Preacher, a series developed by Rogen, Evan Goldberg, Garth Ennis, and Sam Catlin. Rogen has directed and written numerous episodes of the hit AMC TV show. At this year's film festival Rogen, Ennis, and Catlin came back to speak on the panel, Inside the Making of Preacher.
We are thrilled to share his #SXSWFilm25 story with you.
"I love SXSW because they are the only festival that puts comedy on an equal stage with other genres. They've been the perfect place to launch a number of our movies and I'm sure those movies wouldn't have found their audience the way they did without the support of the festival."
Stay tuned to SXSW News each week for more 25th edition stories.
Join Us For SXSW 2018
Grab your Film Badge today for primary access to all SXSW Film events including world premieres, roundtables, workshops, and parties. Register to attend by Friday, October 20 and save before prices go up in November. Make your hotel reservations through SXSW Housing & Travel for the best available rates. We hope to see you in March!
Follow us on Facebook, Twitter, Instagram, and SXSW News for the latest SXSW coverage, announcements, application tips, and updates.
The Disaster Artist – Photo by Matt Winkelmeyer/Getty Images for SXSW
The post 25 Years of SXSW Film Festival – Seth Rogen appeared first on SXSW.