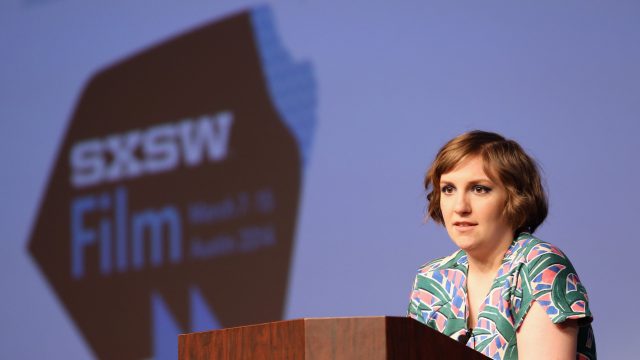 To commemorate the 25th edition of the SXSW Film Festival, we continue our weekly alumni spotlight on careers launched, artists discovered, powerful performances, and more with actress, writer, and filmmaker Lena Dunham.
Dunham's first feature as writer, director, producer and star, Creative Nonfiction premiered at the SXSW Film Festival in 2009. She returned in 2010 with Tiny Furniture where it won numerous accolades including the Narrative Feature Jury Award and the SXSW Chicken & Egg Emergent Director Award.
Dunham next teamed up with Jenni Konner and Judd Apatow to produce the HBO series Girls. SXSW presented the world premiere of the first three episodes in 2012. The show was an instant triumph earning numerous awards and nominations. Dunham received two Golden Globes for the series and her performance, she was also the first woman to win a Directors Guild of America Award for Outstanding Directing – Comedy Series. Girls ran from 2012-2017 and played for six seasons.
A creative powerhouse, Dunham was an obvious choice for one of the inaugural SXSW Film Keynotes in 2014. That same year she released her book Not That Kind of Girl: A Young Woman Tells You What She's "Learned," which went on to become a New York Times Bestseller. In 2015, Dunham and Konner created the feminist online publication, Lenny Letter, which covers an array of topics from politics to culture.
We are thrilled to share her #SXSWFilm25 story with you.
"Janet Pierson is my champion. From the beginning, she has believed fiercely in both my work and the work of so many others who might have given up had they not been illuminated by her true and generous passion for anything new, exciting, and uncelebrated. If I hadn't found a home at SXSW (and a true home it was) for my film Creative Nonfiction in 2009, I never would have met the producers, actors, and collaborators who helped me make Tiny Furniture in 2010. I also never would have been lucky enough to meet Janet. She is a treasure hunter, an artist, a fighter, an ally to women in film, and a friend. We should all be so lucky to have Janet on our side."
Stay tuned to SXSW News each week for more 25th edition stories.
Join Us For SXSW 2018
Grab your Film Badge today for primary access to all SXSW Film events including world premieres, roundtables, workshops, and parties. Register to attend by Friday, November 17 and save. Book your hotel through SXSW Housing & Travel for the best available rates.
Follow us on Facebook, Twitter, Instagram, and SXSW News for the latest SXSW coverage, announcements, and updates.
See you in March!
2014 Lena Dunham Film Keynote – Photo by Hutton Supancic/Getty Images for SXSW
The post 25 Years of SXSW Film Festival – Lena Dunham appeared first on SXSW.