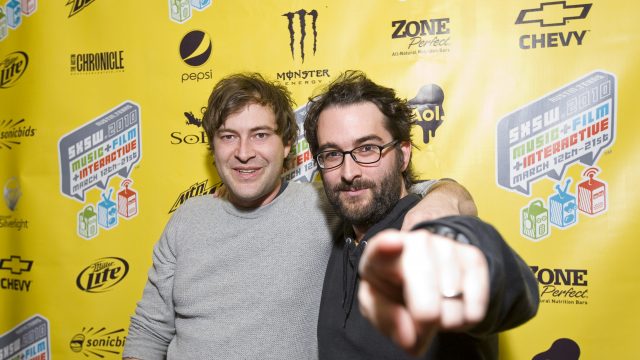 To commemorate the 25th edition of the SXSW Film Festival, we continue our weekly alumni spotlight on careers launched, artists discovered, powerful performances, and more with actor and filmmaker Jay Duplass.
Duplass has acted in, produced, and directed many films that have shown at SXSW, including the short films This is John (2003) and Kevin (2011). His feature directorial debut The Puffy Chair screened at SXSW in 2005 and won the Audience Award for Emerging Visions. Duplass frequently collaborates with his brother Mark Duplass, and the pair were in a 2016 SXSW Featured Session, A Conversation with the Duplass Brothers. The brothers co-directed the films Baghead (2008), Cyrus (2010), and The Do-Deca Pentathlon (2012). Their most recent production, the series Room 104, is currently streaming on HBO and has been renewed for a second season.
We are thrilled to share his #SXSWFilm25 story with you.
"Because I went to college in Austin and lived there for 12 years, SXSW has meant so many different things to me over the years. But the one consistent thing it's always meant, and I think it will always mean, is CINEPHILIA.
SXSW embodies that pure love of film that was undoubtedly the starting point for all of us no matter how we get there."
Stay tuned to SXSW News each week for more 25th edition stories.
Join Us For SXSW 2018
Grab your Film Badge today for primary access to all SXSW Film events including world premieres, roundtables, workshops, and parties. Register to attend by Friday, January 12 and save. Book your hotel through SXSW Housing & Travel for the best available rates.
Stay tuned for the 2018 SXSW Film Festival lineup which will be announced in January.
Follow us on Facebook, Twitter, Instagram, and SXSW News for the latest SXSW coverage, announcements, and updates.
See you in March!

Duplass Brothers at the screening of Cyrus – Photo by Scott Melcer
The post 25 Years of SXSW Film Festival – Jay Duplass appeared first on SXSW.