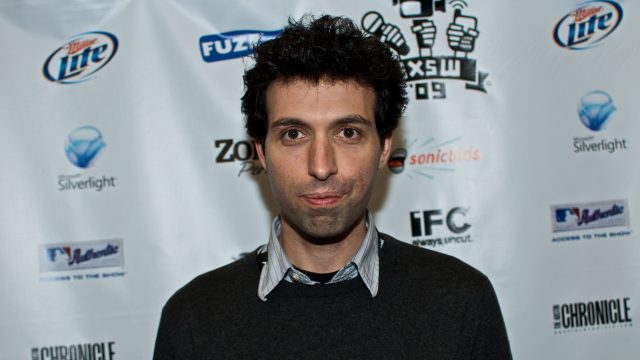 To commemorate the 25th edition of the SXSW Film Festival, we continue our weekly alumni spotlight on careers launched, artists discovered, powerful performances, and more with actor and filmmaker Alex Karpovsky.
Karpovsky has appeared in numerous films at SXSW from 2010 Narrative Feature Competition Jury Winner Tiny Furniture to 2017 selection Fits and Starts. His second directorial feature, Woopecker world premiered at SXSW 2008 and the following year he debuted his first documentary film, Trust Us, This Is All Made Up. He's appeared in many films by Austin filmmakers including Beeswax (2009) by Andrew Bujalski, Lovers of Hate (2010) by Brian Poyser, and Wuss (2011) by Clay Liford. From the years 2012-2017 he played the role of Ray Ploshansky on Lena Dunham's hit HBO drama Girls, which was the first television series to premiere at SXSW. Karpovsky will appear in the films, You Can Choose Your Family and The Front Runner in 2018.
We are honored to share his #SXSWFilm25 story with you.
"I'll never forget crossing 8th Street and Brazos at 10 in the morning. It was SXSW 2009 and I was negotiating with a colossal hangover. A friend of mine was talking to a young woman across the street and waived me over. He introduced me to Lena Dunham. 'Hello'. 'Hello'. He told me that her debut feature was playing at the festival and it was shot almost entirely in her dorm at Oberlin. She was a whip-smart self-deprecating 22-year-old goofball, and she kept cracking me up. I was living in Austin at the time, but we stayed in touch, swapped DVDs, and I watched all her bizarre yet mesmerizing short films and web series. Who was this weirdo? I moved back to NYC, we hung out a bit over that summer, and in November she wrote a part for me in her new movie, Tiny Furniture. Just a few months later, we premiered it at SXSW and were lucky enough to take home the audience award, which helped open the door for Girls, which we then showed at SXSW the following Spring.
Lena is her own singular and fearless force, but she is one of many people I've met over the years at SXSW that have changed my life in very significant ways – friends and collaborators that, I'd like to think, have showed me how to work in a way that is not only more honest and original, but also how to have more fun doing it. I'm very grateful there is a corner in central Texas where, for one week a year, goofballs and weirdos and guerillas and introverts and lightweight drinkers can all collide and say hello."
Stay tuned to SXSW News each week for more 25th edition stories.
Join Us For SXSW 2018
Grab your Film Badge today for primary access to all SXSW Film events including world premieres, roundtables, workshops, and parties. Register to attend by Friday, January 12 and save. Book your hotel through SXSW Housing & Travel for the best available rates.
Stay tuned for the 2018 SXSW Film Festival lineup which will be announced in January.
Follow us on Facebook, Twitter, Instagram, and SXSW News for the latest SXSW coverage, announcements, and updates.
See you in March!

Alex Kaprovsky – Photo by Tyler Nutter
The post 25 Years of SXSW Film Festival – Alex Karpovksy appeared first on SXSW.