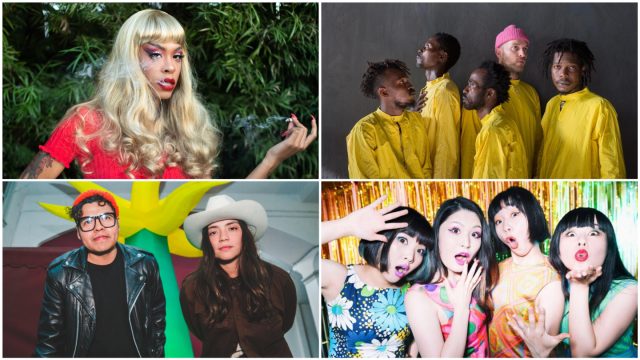 The SXSW Music Opening Party sponsored by Music.com will take place on Tuesday, March 12 at The Main & The Main II from 6-9pm. Come help us kick off the 2019 SXSW Music Festival – we'll provide great musical talent on two stages and complimentary beverages.
The lineup includes DC "sugar trap" act Rico Nasty, Damnably's Japanese punks Otoboke Beaver, Congolese afro-techno group KOKOKO!, German robot maestro Moritz Simon Geist, and sunny electro pop duo Reyna Tropical. The SXSW Music Opening Party is open to Music and Platinum Badges as well as Artist Wristbands. We hope to see you there!
Register to Attend
SXSW is around the corner! Register to attend SXSW 2019 soon and start planning out how you'll spend your time in Austin. Book your accommodations through SXSW Housing & Travel and you'll save compared to direct bookings and online travel agencies.
Music badgeholders receive primary access to all showcases, Music and Convergence Tracks at the SXSW Conference, and Comedy Festival Showcases and Events, as well as secondary access to Film programming and Interactive Tracks, Keynotes, and Featured Speakers.
Sign up for SXSW Event Updates and follow us on social media to stay in the know – Twitter, Facebook, and Instagram.
Photo credits, clockwise from top left:
Otoboke Beaver – Photo courtesy of the artist
KOKOKO! – Photo courtesy of the artist
Moritz Simon Geist – Photo courtesy of the artist
Reyna Tropical – Photo by Farah Sosa
The post 2019 SXSW Music Opening Party Lineup Announced appeared first on SXSW.