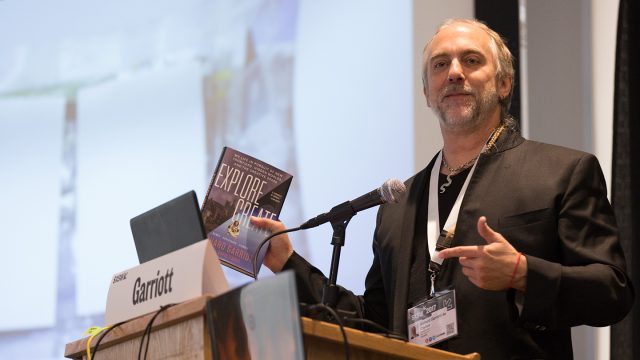 SXSW 2019 is just about to start and we couldn't be more excited! During the event be sure to explore the recently expanded SXSW Book Reading Sessions. These hour-long, informative and illuminating presentations revolve around the launch of a recent or upcoming book and are a great way to gain some insight into the author's thought and writing process.
New for 2019, SXSW Book Readings will take place in rooms 9ABC and 10AB of the Austin Convention Center from March 8-14. Each SXSW Book Reading is followed by a book signing at the SXSW Bookstore, sponsored by BookPeople. Meet your favorite authors and speakers during book signings at the SXSW Bookstore. With hundreds of titles from SXSW and SXSW EDU speakers, the SXSW Bookstore offers a convenient opportunity to network and pick up copies of your favorite speakers' books.
Check out 10 Book Readings to add to your schedule below and browse the full list of 2019 Book Readings and Signings.
1) The Art & Science of Respect with James Prince
Respect isn't given, it's earned. For decades, serial entrepreneur James Prince presided over Rap-A-Lot Records, one of the first and most successful independent rap labels. In his memoir, he explains how he earned his reputation as one of the most respected men in Hip Hop. By staying true to his three principles of heart, loyalty, and commitment, and an unwavering faith in God, he has defeated many adversaries. Whether battling the systemic cycle of poverty, record label executives, boxing promoters, or corrupt DEA agents, Prince has always emerged victorious.
2) Moving Beyond the Buzz of Purpose & Impact
Join The Honest Company Co-Founder Christopher Gavigan and Perspectives on Purpose author & IDEO designer Nina Montgomery for an intimate fireside chat on the shifting role of business in society.
As we move deeper into the 21st century, we've see corporations questioning whether the profit-maximizing priorities that enabled them to compete and prosper in decades past will continue to serve them in the decades to come. 'Purpose' has become a buzzword for caring about more than just your bottom line, but what does it actually look like to build a more human-centered and socially-aware future for business?
3) Remembering the Life and Career of Robin Williams
From his rapid-fire stand-up comedy riffs to his breakout role in Mork & Mindy and his Academy Award-winning performance in Good Will Hunting, Robin Williams was a singularly innovative and beloved entertainer. Dave Itzkoff shares a fresh and original look of the beloved comic and how Williams's comic brilliance masked a deep well of conflicting emotions and self-doubt, which he drew upon in his comedy and in celebrated films roles that revealed the true range of his talent.
4) Wisdom@Work: The Making of a Modern Elder (at Airbnb)
At age 52, after selling the company he founded and ran as CEO for 24 years, rebel boutique hotelier Chip Conley was looking at an open horizon in midlife, and, then he received a call from the young founders of Airbnb, asking him to help grow their disruptive start-up into a global hospitality giant. He had the industry experience, but Conley was lacking in the digital fluency of his 20-something colleagues. Chip's bestselling book tells the story of the emerging "modern elder" who is both a wise mentor and a curious intern and why every company could use a few modern elders. Experience is making a comeback.
5) The Nordics: The New Global Hub for Impact Startups
Startup Guide has just launched its first book in one of the most highly skilled and innovative regions in the world: the Nordics. Consisting of five countries (Denmark, Finland, Iceland, Norway, and Sweden), the Nordic region consistently scores high ratings for quality of life and a stable political environment. Not only is the democratic infrastructure reflected in working practices that espouse flat hierarchies, gender equality, and the inclusivity of all voices, young and old, but also the recent trends toward supporting startups with an impact agenda.
6) Contact High: A Visual History of Hip-Hop
Photographs, like music, are imprinted onto our collective consciousness. Contact High spotlights the photographers who have played critical roles in bringing these visuals onto a global stage. Music photographers document key moments in teh culture and create iconic moments that define our individual and cultural identities and help shape how we view the world and ourselves. In the case of hip-hop, a medium that encompasses so many transformative moments from politics to race to style, both the visuals and the music become a part of us.
7) The Insider's Guide to Making Money in the Music Biz
Music, Money and Success: the Insiders Guide to Making Money in the Music Business is the industry bible and the ultimate guide to making money in the music business. Music is a business of money, contracts, decisions and making the most of every opportunity. To succeed—to make money—to have a career—you have to know what you are doing in both music and business. This invaluable book tells you how the business works, what you must know to succeed, and how much money you can make in films, television, video games, and more.
8) RENOVATING DEMOCRACY: A New Framework for Governance
In this session, Berggruen Institute founders and coauthors of Renovating Democracy: Governing in the Age of Globalization and Digital Capitalism, Nicolas Berggruen and Nathan Gardels will discuss their alternative framework for governance with fierce clarity and conviction. To truly renovate our global systems, the authors argue for empowering participation without populism by integrating social networks and direct democracy into the system with new mediating institutions that complement representative government.
9) DUPED: Double Lives & The Con Man I Almost Married
Secret lives are all around us. Flip on the TV or surf the web and tales of gross betrayal will assault you: The highly respected Wall Street financier operating a billion dollar Ponzi scheme. Or "Family values"-preaching politicians who solicit men in airport bathrooms. While leading a double life would seem to be the exclusive province of psychopaths, spies, secret agents and undercover operatives with indeterminate accents, plenty of seemingly 'normal' people—both men and women–keep extraordinary secrets from the people closest to them
10) Own the Day, Own Your Life: A Guide to Optimization
Own the Day, Own Your Life is an empowering handbook that guides readers to optimize every moment of the day, from waking in the morning, through work and play, until bedtime each night. Join author Aubrey Marcus – thought-leader and Onnit founder/CEO – as he dives into the overarching themes of the book and share personal anecdotes on how to get the most out of our mind and body. Aubrey will also answer questions and breakdown the pragmatic, effective strategies that empower the everywoman or everyman to enjoy life, take charge of their health, and own the day.
See You Soon!
We're looking forward to seeing you at SXSW 2019!
If you still haven't purchased your badge for SXSW 2019, there's still time to join us! Register to attend and book your hotel to begin your SX adventure and help us write the next chapter of SXSW from March 8-17. To continue learning from and getting inspired by a multitude of diverse visionaries coming to SXSW 2019, check out our list of 10 Books to Read in 2019 by SXSW Speakers.
Follow us on Facebook, Twitter, Instagram, and SXSW News for the latest SXSW coverage and 2019 updates.
Photo by Jay Nicholas
The post 2019 SXSW Book Readings and Signings appeared first on SXSW.