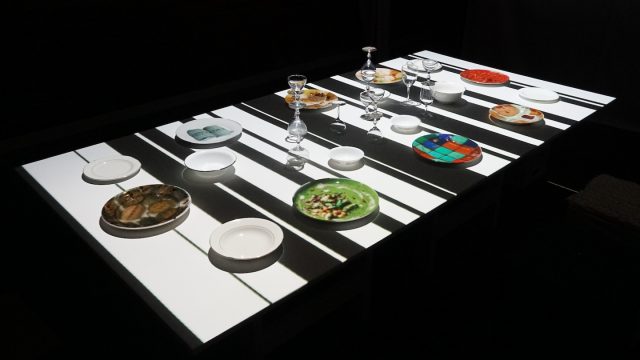 Announcing the second annual SXSW Art Program, including a lineup of six curated installations. The SXSW Art team chose the 2018 selections with the help of a group of creative advisors, including Sara Fitzmaurice of Fitz & Co, Julia Kaganskiy of New Inc and Andrea Mellard of the Contemporary Austin.
The SXSW Art Program showcases experiential art installations utilizing emerging technologies and immersive environments created by artists from all over the world. This year's selections explore topics including privacy and surveillance, industrialization, the natural world, and modern human interaction, and aim to facilitate discussion around the role of visual and digital media arts in culture, technology, and the public realm.
The 2018 SXSW Art Program includes: Conductors of the Resistance by Ronen Sharabani, FEAST by Caitlin Pickall, The Future of Secrets by Sarah Newman, Jessica Yurkofsky, and Rachel Kalmar, Life Underground by Herve Cohen, MTA: Floating Destiny by Wan Who (Xiaoxiao, Cai He and Soulspeak), and Colossal Wave by Marshmallow Laser Feast. This lineup of Artists joins events across the entirety of SXSW that showcase innovation, diversity, and creativity in visual and media arts including The Contemporary Austin, Meow Wolf, ArtPrize, and more.
In addition to this year's art installations, SXSW presents a variety of programming that highlights innovation in visual arts and storytelling. Listed below are Conference highlights for anyone interested in learning about art, design and the creative process.
Sessions
AI Creativity in Art, Neuroscience, and the Law
Beyond Bars: Art and Incarceration
Breaking the 4th Wall: Drone Swarms in Art
Decrypting the Universe: Science and Art at CERN
Immerse Yourself: AR & VR in Museum and the Arts
LET'S GET REAL: Practical Uses of Art & Science
Life Underground: Meet Subway Riders of the World
Radical Public Space: A New Design Approach
Why Machine Learning is the Next Frontier for Art
Place by Design: Art, Tech & Interaction

See all these inspiring art installations, sessions, and much more at SXSW 2018 from March 9-18 in Austin, TX. Register to attend before Friday, February 9 and save. To stay close to the action, book your hotels through SXSW Housing & Travel for the best rates and hotel availability.
2018 SXSW Art Installation, FEAST by Caitlin Pickall
The post 2018 SXSW Art Program Installations Announced appeared first on SXSW.