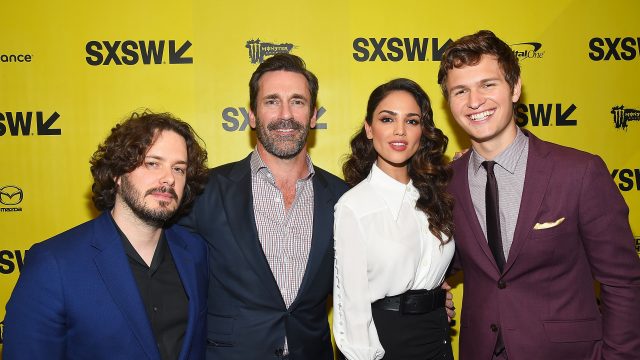 "There's no way to describe it and that just says, it's a unique, special movie. You haven't seen something like this before," said cast member Eiza González.
Baby Driver takes audiences on a dramatically charged ride fueled by car chases, young love, and a high octane soundtrack spanning era and genre. The film has a standout ensemble cast including: Ansel Elgort, Kevin Spacey, Lily James, Jon Bernthal, Eiza González, Jon Hamm, and Jamie Foxx.
Edgar Wright is best known for co-writing and directing Shaun of the Dead, Hot Fuzz, Scott Pilgrim vs. the World, and The World's End. Wright was previously at SXSW for Attack the Block (2011), where he served as a producer.
Baby Driver took our SXSW patrons by storm, see why this film won our Audience Award – Headliner by watching it in theaters starting today! Read our interview with Wright below, as he discusses why he made this thrilling joyride of a movie.
Q: Tell us a little about your film?
EW: It's a car movie that is driven by music.
Q: What motivated you to tell this story?
EW: Twenty four years ago, I became obsessed with the rock song "Bellbottoms" by Jon Spencer. I dreamt up the opening scene of what was to become Baby Driver while listening to the song obsessively. Now I've finally made the action movie set to music that was rattling around in my head for the last two decades and I'm excited to share it with the festival.
Q: What do you want the audience to take away from this film?
EW: It was made to be seen large and played loud, so I hope the audience have as much of a blast watching it as we had creating it.
Lastly, check out coverage from the world premiere, including scenes from the red carpet and a Q&A with Wright and the cast, moderated by Austin's own, Robert Rodriguez.
Explore More Content From SXSW 2017
Get inspired by a multitude of diverse visionaries at SXSW – browse more 2017 Keynotes, Featured Sessions, Red Carpets, and Q&A's on our YouTube Channel.
Follow us on Facebook, Twitter, Instagram, and SXSW News for the latest SXSW coverage, recaps, late-breaking announcements, and updates.
SXSW 2017 World Premiere of Baby Driver – Photo by Matt Winkelmeyer/Getty Images for SXSW
The post 2017 SXSW Film Festival Headliner Baby Driver In Theaters Now [Video] appeared first on SXSW.