SXSW Comedy is proud to share this year's official poster. Created by celebrated artist Kevin Tong, this beautiful screen-printed poster will be available at the Austin Convention Center for the duration of the event. Each 18″x24″ poster is signed and numbered by the artist.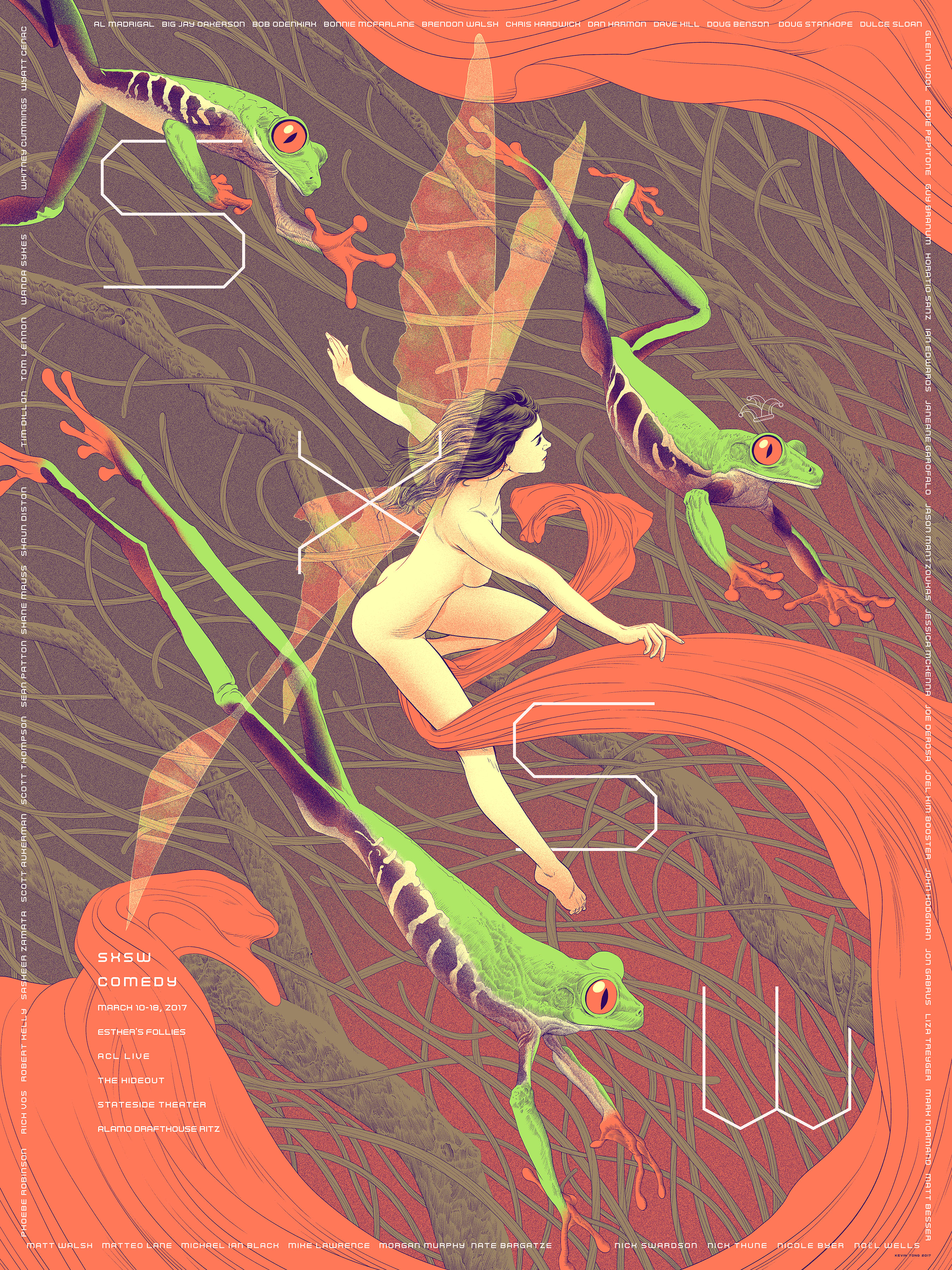 On his design, which is bordered by the 2017 SXSW Comedy lineup, Kevin Tong says: "It's a real honor to do this poster for SXSW Comedy because I love stand-up comedy. This year's lineup is incredibly diverse, so I wanted to choose imagery and a mood that would appeal to the universal aspects of humor. It was important for me to create a playful, carefree, spontaneous, and kinetic poster, one that would match the traits many of us like best in our comedians."
Kevin Tong and his works will be at this year's Flatstock event at the Austin Convention Center, March 16-18.
The SXSW Comedy lineup included on this year's poster (each will receive a blue-frog variant exclusively made for SXSW performers): Al Madrigal, Big Jay Oakerson, Bob Odenkirk, Bonnie McFarlane, Brendon Walsh, Chris Hardwick, Dan Harmon, Dave Hill, Doug Benson, Doug Stanhope, Dulce Sloan, Glenn Wool, Eddie Pepitone, Gary Gulman, Guy Branum, Horatio Sanz, Ian Edwards, Janeane Garofalo, Jason Mantzoukas, Jessica McKenna, Joe DeRosa, Joel Kim Booster, John Hodgman, Jon Gabrus, Liza Treyger, Mark Normand, Matt Besser, Matt Walsh, Matteo Lane, Michael Ian Black, Mike Lawrence, Morgan Murphy, Nate Bargatze, Nick Swardson, Nick Thune, Nicole Byer, Noël Wells, Phoebe Robinson, Rich Vos, Robert Kelly, Sasheer Zamata, Scott Aukerman, Scott Thompson, Sean Patton, Shane Mauss, Shaun Diston, Tim Dillon, Tom Lennon, Wanda Sykes, Whitney Cummings, Wyatt Cenac.
---
Related News:
The post 2017 SXSW Comedy Poster by Kevin Tong appeared first on SXSW.