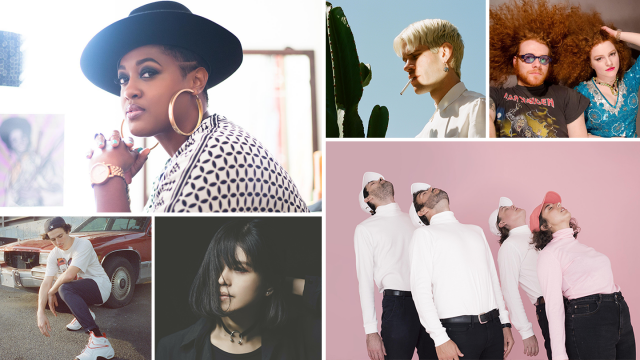 With Thanksgiving around the corner, we're kicking off the season of sharing in style. Today we are adding over 160 Showcasing Artists who will be performing at the SXSW Music Festival in March. In addition to this, we listed 200+ Showcasing Artists in October and recently announced 700+ Conference sessions with plenty of interesting Music Tracks programming to dig into on topics like Streaming Music Strategy, The Modern Reissue Boon, and China's Music Industry to name a few. Stay tuned for more exciting SXSW Conference announcements very soon.
Showcasing Artists include 2017 Polaris Music Prizewinner for Canadian Album of the Year Lido Pimienta, Grammy-nominated Jamla/RocNation artist Rapsody, Polyvinyl act Hazel English, and Australia's motown-revivalists The Teskey Brothers. Party-rocker Andrew W.K. will perform in anticipation of his first new album since 2010, indie pop band Now, Now will showcase on the back of two successful single releases in 2017, new Dead Oceans signing Shame will return to SXSW after a great showing at the 2017 festival, and many more.
Discover Showcasing Artists
Though we know you have been keeping up, we would be remiss not to share the resources we have curated to help you discover the artists that you definitely won't want to miss:
SXSW 2018 Registration Info
As fun as it is to delve into the list of musical talent, it's a lot more fun to catch live performances from the artists with the SXSW Community in March. Register for a Music Badge to get the most out of your SXSW experience. If you register before the the November 17 deadline, you will save $300 on the walk-up price.
Not only will you have access to hundreds of live performances, you'll also gain access to:
Primary access to all Music and Convergence Tracks sessions at the SXSW Conference
Secondary access to Interactive and Film Tracks sessions at the SXSW Conference
Most Film Festival screenings and Comedy Festival events
SXSW Social for pre- and post-event networking
Most networking events and parties
The best available rates when you book your hotel through SXSW Housing & Travel
Newly Announced 2018 SXSW Showcasing Artists
Everything subject to change.
Acid Tongue (Seattle WA)
AHI (Brampton CANADA)
AKA (Johannesurg SOUTH AFRICA)
Alex Napping (Austin TX)
Ali aka Mind (Bogotá COLOMBIA)
Alice Ivy (Melbourne AUSTRALIA)
Andrew W.K. (New York NY)
Anemone (Montréal CANADA)
Annabel Allum (Guildford UK-ENGLAND)
Anna Wise (Brooklyn NY)
Arin Ray (Cincinnati OH)
Autostrad Band (Amman JORDAN)
Barbara Nesbitt (Austin TX)
Basement (London UK-ENGLAND)
Bat Fangs (Washington DC)
BAUM (Los Angeles CA)
Beating Heart (London UK-ENGLAND)
Better Person (Berlin GERMANY)
The Black Sorrows (Melbourne AUSTRALIA)
Blackwulf (Oakland CA)
The Blind Suns (Angers FRANCE)
Bloods (Sydney AUSTRALIA)
Bodega (Brooklyn NY)
Bohemian Betyars (Miskolc HUNGARY)
Boy Harsher (Northhampton MA)
BOYTOY (Brooklyn NY)
Caddywhompus (New Orleans LA)
Candace (Portland OR)
Capitan Cobarde (Sevilla SPAIN)
Catholic Action (Glasgow UK-SCOTLAND)
Charles Fauna (Brooklyn NY)
Combo Chimbita (New York NY)
Curtis Roush (Austin TX)
David Halley (Austin TX)
Dead Horses (Milwaukee WI)
Didirri (Melbourne AUSTRALIA)
Doe (London UK-ENGLAND)
Don Trip (Memphis TN)
Dwagie (Tainan City TAIWAN)
The Dwarves (San Francisco CA)
The Elliotts (Melbourne AUSTRALIA)
ELSZ (Sydney AUSTRALIA)
Eureka California (Athens GA)
Faith Healer (Edmonton CANADA)
Faux Ferocious (Nashville TN)
Floating Room (Portland OR)
The Fontaines (Los Angeles CA)
Gordi (Canowindra AUSTRALIA)
Great Electric Quest (San Diego CA)
The Greeting Committee (Kansas City MO)
Guts Club (New Orleans LA)
Haley Heynderickx (Portland OR)
Hazel English (Oakland CA)
The Heart Collectors (Tyalgum AUSTRALIA)
HEX (Wellington NEW ZEALAND)
Hiccup (Brooklyn NY)
Hollis Brown (Queens NY)
Holly Miranda (Detroit NY)
Holy Motors (Tallinn ESTONIA)
Hovvdy (Austin TX)
I am waiting for you last summer (Ryazan RUSSIA)
India Ramey (Nashville TN)
Jiggy Drama (San Andres Island FL)
Joasihno (Munich GERMANY)
Joe Crepúsculo (Barcelona SPAIN)
John Grvy (Madrid SPAIN)
José Biggs (Santiago CHILE)
Joshua Burnside (Belfast UK-N IRELAND)
Kari Faux (Little Rock AR)
Kemba (Bronx NY)
Kino Kimino (New York NY)
Knox Fortune (Chicago IL)
Kyle Avallone (New York NY)
Lachane (Austin TX)
Leon Of Athens (Athens GREECE)
Leyya (Vienna AUSTRIA)
Lido Pimienta (Toronto CANADA)
Liza Anne (Nashville TN)
Liz Cooper and the Stampede (Nashville TN)
Lois (Madrid SPAIN)
Lucy Spraggan (Manchester UK-ENGLAND)
Madison Cunningham (Orange County CA)
The Magic Gang (Brighton UK-ENGLAND)
Makana (Honolulu HI)
Makeness (London UK-ENGLAND)
Mal Blum and The Blums (Brooklyn NY)
Mallrat (Brisbane AUSTRALIA)
Mantra (London UK-ENGLAND)
Mary Ocher (Berlin GERMANY)
Men I Trust (Montreal CANADA)
Miss Eaves (Brooklyn NY)
Moaning (Los Angeles CA)
Mokoomba (Victoria Falls ZIMBABWE)
Molly Burch (Austin TX)
Moon King (Detroit MI)
Mothers (Athens GA)
Mozart La Para (Las Minas DOMINICAN REPUBLIC)
Nadia Rose (London UK-ENGLAND)
Nat Simons (Getafe SPAIN)
Nea Agostini (Saniago CHILE)
Nilüfer Yanya (London UK-ENGLAND)
Novella Inc (Santiago CHILE)
Now, Now (Minneapolis MN)
The Nude Party (Livingston Manor NY)
Núria Graham (Barcelona SPAIN)
Otzeki (London UK-ENGLAND)
Palm (Philadelphia PA)
Pardoner (San Francisco CA)
Pedro Menendez Fusion Ensemble (Buenos Aires ARGENTINA)
Peter Oren (Columbus IN)
Pia Fraus (Tallinn ESTONIA)
Playa Gótica (Santiago CHILE)
Pommez Internacional (Buenos Aires ARGENTINA)
PoeTeK (Taipei TAIWAN)
Porches (New York NY)
Pure Bathing Culture (Portland OR)
The Qualitons (Budapest HUNGARY)
Queen of Jeans (Philadelphia PA)
Quiet Slang (Philadelphia PA)
Rapsody (Snow Hill NC)
Rat Fancy (Los Angeles CA)
Rayland Baxter (Nashville TN)
Rocky Banks (Houston TX)
Ronnie Heart (Fort Worth TX)
Ruby Fatale 鹿比 ∞ 吠陀 (Taipei TAIWAN)
Ruby Haunt (Laguna Beach CA)
Sam Fender (Newcastle Upon Tyne UK-ENGLAND)
Sangpuy (Taitung TAIWAN)
Shame (London UK-ENGLAND)
Small Island Big Song (Melbourne AUSTRALIA)
SNST (Chicago IL)
Sonia Calico (Taipei TAIWAN)
Soviet (Los Angeles CA)
Spendtime Palace (Costa Mesa CA)
Starlito (Nashville TN)
Stone Wheels (Austin TX)
Sudan Archives (Los Angeles CA)
Sweet Crude (New Orleans LA)
Tancred (New England ME)
Tank and the Bangas (New Orleans LA)
Tedy Andreas (Houston TX)
Ten Bears (Madrid SPAIN)
The Teskey Brothers (Melbourne AUSTRALIA)
Thandi Phoenix (Sydney AUSTRALIA)
Thunder Dreamer (Evansville IN)
Tino Drima (San Francisco CA)
Tori Forsyth (Congewai AUSTRALIA)
Ume (Austin TX)
Uncle Meg (Brooklyn NY)
Vacations (Newcastle AUSTRALIA)
Van Ness Wu (Taipei TAIWAN)
Varsity (Chicago IL)
Vita and the Woolf (Philadelphia PA)
Vundabar (Boston MA)
Walker Lukens (Austin TX)
Wallows (Los Angeles CA)
Wesley Jensen and The Penny Arcade (Denton TX)
White Mystery (Chicago IL)
WILD (Los Angeles CA)
WILSN (Melbourne AUSTRALIA)
Wrongonyou (Rome ITALY)
Yahyel (Tokyo JAPAN)
YBN Nahmir (Birmingham AL)
Yonaka (Brighton UK-ENGLAND)
Zara McFarlane (Dagenham UK-ENGLAND)
Zenizen (Brooklyn NY)

Everything subject to change.
Photo credits, clockwise from top left:
Rapsody – Photo by Creative Silence
Porches – Photo by Jason Nocito
White Mystery – Photo by Diane Alexander White
Alex Napping – Photo by Helmut.Studio
Ruby Fatale 鹿比 ∞ 吠陀 – Photo courtesy of the Artist
Tedy Andreas – Photo courtesy of the Artist

The post 160+ Showcasing Artists Including Rapsody, Knox Fortune, Porches, and Many More for SXSW 2018 appeared first on SXSW.