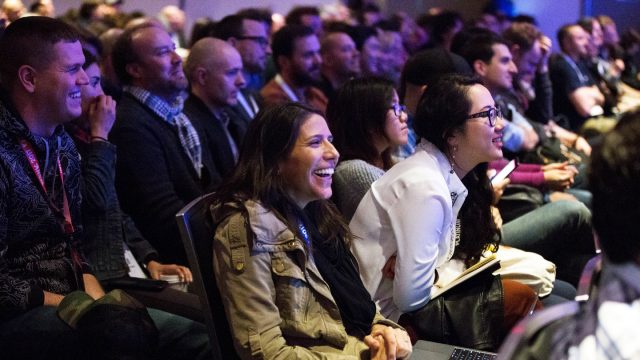 People from across the globe and every corner of the interactive, film, and music industries come to SXSW each March looking for new ideas, new collaborators, and an opportunity to create meaningful connections. We want to help you take your company to the next level and make amazing new connections and discoveries while saving big on group registration rates.
Fostering creative and professional growth alike, SXSW is the premier destination for global professionals and discovery. Experience 10 days of sessions, exhibitions, screenings, showcases, startup competitions, workshops, and much more. Watch our Spotlight on SXSW 2018 video for a preview of what's in store for you and your team this March and then register your group today for big savings by filling out the Group Registration Form below.
If you haven't decided who will be attending yet, you can still purchase registrations using placeholder names. Once your group is registered, book hotel accommodations through SXSW Housing & Travel. Our local team of travel professionals is available to help you with your large group housing needs throughout the season. It is always a good idea to get an early start if you plan to bring a large group, as rooms are available on a first come, first served basis.
Join us March 9-18 in Austin, Texas for SXSW 2018 and be a part of one of the most diverse, collaborative, and inventive communities in the world. Fill out the Group Registration form below then browse the SXSW Schedule and SXSWeek® Timeline to start planning your team's customized SXSW experience!
Group Registration Form
Audience at the 2017 SXSW Conference – Photo by Alexa Gonzalez Wagner
The post Take Your Team to the Next Level with Group Registration Rates appeared first on SXSW.